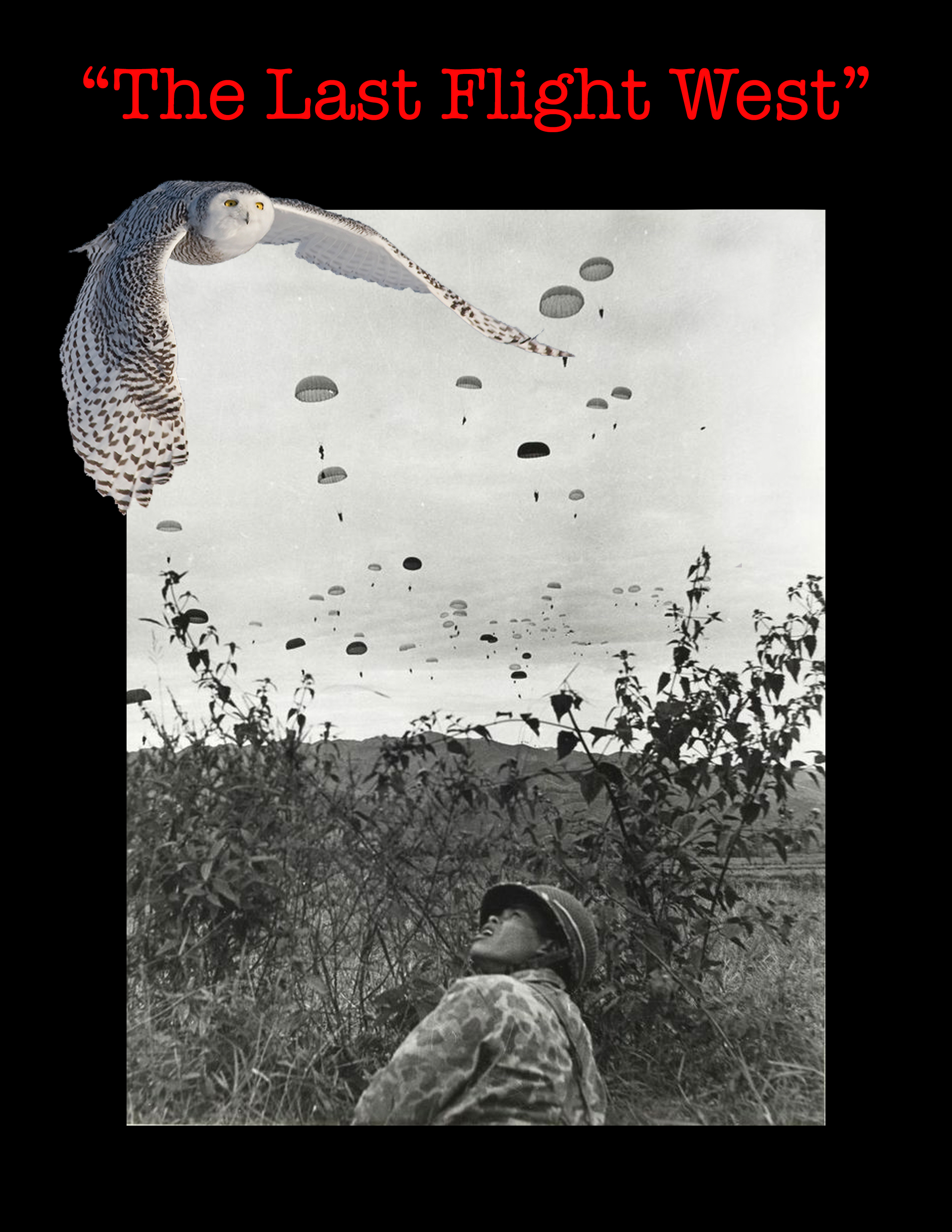 THE LAST FLIGHT WEST
IF THEY ARE TRANSFERRED TO THE HA GIANG AREA AND STAY A WHILE
THEY COME BACK MUCH CHANGED, SOME NOT EVEN DRINKING WINE.
Anonymous French Foreign Legion Officer
1936
IF YOU ARE TOLD YOU HAVE BUT A LITTLE TIME TO LIVE, GO TO A
DANGEROUS AND EXOTIC PLACE AND WALTZ WITH DEATH.  SHE WILL SEE
YOUR JOY AND EMBRACE YOU BEFORE THE BAND STOPS PLAYING—YOU WIN!
Harry C. Batchelder, Jr.
Ha Giang, Vietnam
2014
DELUSIONAL BEGINNINGS
Cancer is a terrible disease.  It is painful, physically disfiguring, gnaws
constantly at your psyche and raises hell with travel plans, even plans that
were delusional and impossible to fulfill before the cancer took hold.  None of
this was on my mind as I stepped off a treadmill in the spring of 2013, reason-
ably satisfied with my performance as I made preparations to walk a loop in
northwest Vietnam along the China border.  As events would subsequently
show, this trip was poorly planned, wildly overly ambitious physically, and, if I
had been able to complete it, would have taken three to four months rather than
the five weeks I had allotted.  A classic pipe dream with Vietnamese ribbons.
A short time after stepping off the treadmill I began to sleep for long
stretches, waking unrefreshed.  Upon waking the room would spin and I would
find it difficult to make it to the bathroom without grabbing at the walls for
stability.  In my mind those walls were closing in.
I constantly wanted to sleep in the most inappropriate places, including
jails, and at times during Red Sox games.  Navigating subways became a chore,
with women as well as men offering me their seats.  My walking became un-
steady and my feet made the slapping sound of patients with tertiary syphilis.
Once again women as well as men held the door for me at the entrance to my
apartment building.  Finding myself suddenly old and sick was inconvenient
and a bitch.
One morning I awoke on a bathroom floor covered with broken glass.  My
shoulder was badly cut and I had no recollection of how it happened.  I checked
myself into the emergency room of a prominent New York hospital where I re-
mained on a gurney in a hallway for six days wearing the same clothes I had on
the day I checked in.  I later found out I had been somehow lost in the system and
my so-called "treating physician", a graying middle-aged hysteric, was heading
out to San Francisco for a six month rotation.
I put myself through law school working as a hospital orderly so it did
not cheer me to hear one of the orderlies say he was waiting around to see
when "Batchelder exploded."  The treating physician informed me that I had at
least three lymphomas, and one was near the pancreas; I knew if it was on the
pancreas it was tap city.  He told me that I was being discharged—to what?—and
that I should call an oncologist to make an appointment, in my mind just to see
how long I had to live.
Cancer engenders more fear than nuclear warfare, especially in someone
who at the age of twelve watched his mother die under horrifying circumstances.
Fortunately, two friends took over pretty much every aspect of my care.  I will
not go into the details of the "treatment" except to say that at the initial meeting
with the doctor he advised me that if I did nothing I had at best four months to
live, and it was anyone's guess as to how long I had if I took the "treatment" that
was proposed.  Carol, a cancer survivor, urged me to give it a shot, and, like a
guardian angel, went with me every step of the way, including providing the
entertainment to get me through the treatment sessions.  As the weeks crawled
along I became intimate with Poirot, Inspector Morse, Foyle's War, and Inspector
Lewis and Sergeant Hathaway, absorbing the violence of each episode along with
the poisons being dripped into my body.
In the late 1950s when I was on my way to Australia for training, one of
my minders introduced me to the "House of the Dead" in Singapore.  The practice,
which I thought barbaric at the time, was for families to bring their loved ones to
a house where others were dying so that they might live out their last days never
being alone.  On mature thought I now believe they may have been ahead of their
time: families of the dying were always around, and no one was isolated or left
alone to experience death.
The words "infusion center" sound innocuous enough, but in fact describe
the room where patients are scheduled to receive their poison.  I had the infusion
center experience six times and each time it became more gut wrenching.  The
scheduling staff are all smiles, sweetness and light, but within that room raw
fear, screaming pain, despair, terror, love, compassion and spartan courage
clash like an emotional pinball machine: lights flashing, bells clanging, flippers
jerking, numbers frantically climbing in a universe out of control.  If you are ever
depressed, feel like the world has not treated you fairly, and life seems not worth
living, go to an infusion center and just sit for fifteen minutes; it will save you
thousands in therapy.
After two treatments of the scheduled six I was told that most of the lym-
phomas were destroyed, but one was still slowly growing.  I decided to carry on
through the next four treatments.  Same prognosis as after the second treatment;
come back in four months and we will see how you are doing.  Hey, good news, but
why did I feel like I was out of breath just going up the subway stairs?
Unfortunately, heart problems are one of the "side effects" of the poisoning
treatment and although I was riding the six-months-almost-cancer-free train, the
AFib/congestive heart failure train had entered the station.  Again, my guardian
angel appeared: Carol's significant other had gone through two serious heart
attacks and she knew all about AFib and congestive heart failure.  Good news—
I would not die doped up or screaming in bed with cancer as had my mother.  I
could now stroke out or end up a drooling paralytic—not a cheery future.  Bottom
line, I now take so many heart pills that I oft times confuse one with another, also
not a good thing.
Despite all of the medical developments my dream of L'Affaire Tonkinese
Alps did not die, although it had dimmed considerably and was flickering ever so
slightly when I raised it with my doctors.  One initially asked, why not Italy?
Still, to my surprise they gave grudging assent.  Admittedly, I wasn't completely
candid about what the trip would entail because I myself didn't know, but one
thing for sure: if I could get on an airplane I was going.
Travel Plans: "The Last Flight West"
The genesis for this trip sprang from discussions with Comrade Chris on
the "Street Without Joy" outing.  She shared some of my disillusion with Saigon
and suspected that I might find Hanoi more to my liking.  My ideological stop-
watch immediately shot her suggestion down, but as time passed I went back to
"Lonely Planet" and the section on "Roads Less Traveled" in the northwest region
of Vietnam.  The voices of the Tonkinese Alps and the tribal regions beyond Ha
Giang and along the Chinese border called, and now with a renewed sense of
urgency.
My plan, and it was beyond stupid (delusional would be a better word) was
to make the loop from Hanoi to Dien Bien Phu up to Sapa, then to Dong Van, then
to Meo Vac and back to Hanoi.  I thought if I carried my own sleeping gear I would
not encounter the "people to people" problem I had on my earlier adventure.
Sure, I would be carrying close to sixty-five pounds, not speaking a word of the
language, and would, in my mind, be able to do twenty kilometers a day.  Clearly
"The Others" were piping nitrous oxide into my apartment; and did I mention, I
gave myself only five weeks to complete the loop?  Knowing what I know now, I
would have been lucky to have reached Sapa alive within a month, and I would
have had to be in Ranger shape to do it—just slightly north of mad to have even
considered it.  Cancer and congestive heart failure changed all that.
Next, I, not having ridden a motorcycle for sixty years, became enamored
of the idea of a motorcycle escapade employing an old Belarus Minsk motorbike.
The travel gurus at Lonely Planet loved the idea, but more later on about how this
particular notion crashed and burned.  However, the lunacy was still alive and
well as I started to prepare for the trip.  In fact it was Plan A.  Put simply, I was
to learn to ride an unreliable Soviet—this for starters—motorbike and set off into
some of the most dangerous terrain in all Indochina, not speaking a word of the
language.  That day the nitrous flowed freely.  Tish, tosh!  What stumps me is
why my friends did not have me committed.  True, I had not spoken with them
in depth about my plans, but if I was blind to the insanity they clearly, smart as
they are, were not.  Nevertheless, there must be something to the power of per-
suasion of the last wish on the bucket list that overcomes common sense, casting
a glow of the possible around the dark moon of the impossible.
In my delusional mind all I had to do was to learn to ride an essentially
unreliable thirty- or forty-year-old motorcycle, take off for the Tonkinese Alps on
treacherous roads and, sick as I was, live happily ever after for about five weeks
before returning to civilization, and, dare I add again, not speaking a word of the
language.  These thoughts were not front and center as I boarded the plane.  Pas
de problème, I would have four days after I arrived to sort it all out.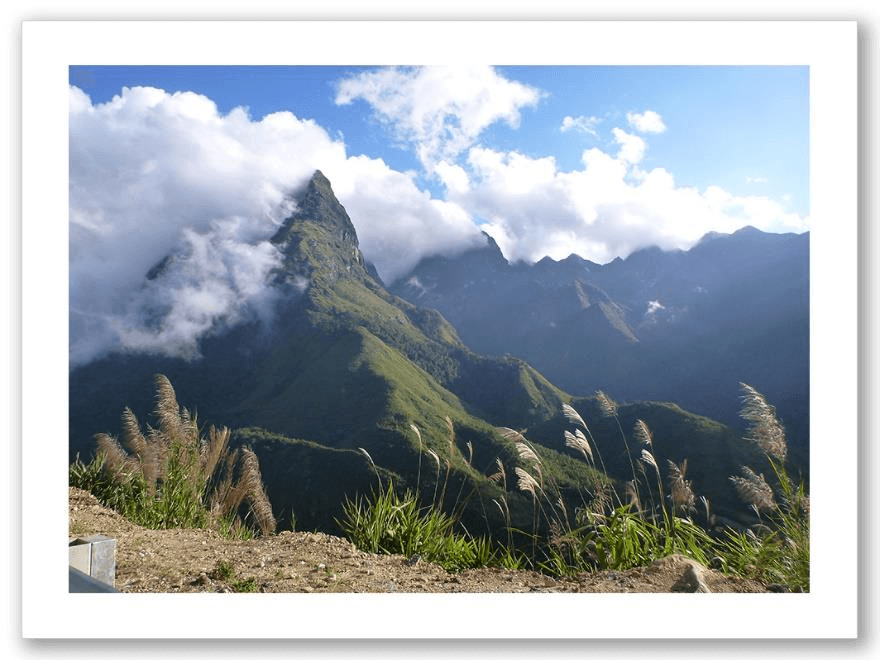 THE LAST FLIGHT WEST
Day One
Twenty-six hours airborne
I boarded my Air Vietnam flight (best to fly in with the enemy) and for
twenty-six hours flying time I watched the image of the little plane move across
the screen. Frankly, I never thought I would make it, never mind to a country
whose political ideology was such an anathema to me. As we approached Hanoi
late at night I tried to imagine what it must have been like flying into the most
heavily defended city in modern air warfare with SA-2s, ZSU 4s and just granny
on her back shooting at nothing, all blazing away. I lost two pilot acquaintances
to the Hanoi defense system and I was not in a loving mood. On the descent and
approach I noticed vast swathes of darkness, and as I glimpsed Hanoi itself it did
not appear to be a large metropolis. I had failed to figure in the late (midnight)
time of arrival.
The plane door opened and for some reason a couple from Minnesota
latched on to me, asking me to help them navigate Customs and Immigration.
They were coming to visit their daughter who was working in Hanoi. By the tone
of their words I believed they considered this development somewhat akin to a
death sentence. I assured them, without a shred of evidence, that Hanoi was
very modern and they would love it. Fate intervened as there was a problem
with my passport and the couple disappeared into the wilds of Hanoi never to
be seen or heard from again.
Thanks to my friends, and for only the second time in my life, I was met by
a car. I quickly realized I had packed for cold temperatures and instead it was
hot and humid. As we left the airport I noted a massive construction project, a
joint venture between the Taesi Company of Japan and the Vietnam government.
I bought Taesi stock in 1968 on the recommendation that they would be able to
get just such contracts and I was pleased that my dividend of $34.00, which has
not gone up in thirty years, was presumably safe.
I then went into Hanoi's "Old Quarter" and even at that late hour the am-
bience of old Saigon bloomed, and it embraced me. The street level entryway to
my hotel was flanked by four parked motorbikes; the lobby was a flight up with
no porter to carry the bags. It was 1:30 in the morning, but it had nonetheless
not escaped my notice on the way in from the airport that a spanking new Honda
dealership, almost a block long, had just opened; with lights blazing full on I
could hardly see the cars for the wattage.  As I staggered to the hotel's front
desk, fate fortuitously rolled the dice again.  I was greeted by a Scotsman with a
brogue so thick you could cut it with a knife.  This chance meeting was to have
incalculable consequences for my trip and for me personally.
The ex-pat stated he was just covering the front desk for a moment; two
other hotel employees were asleep on couches.  We started chatting about Scot-
land and I asked him how he had voted on the referendum.  He said "Yes" which
allowed me to put my political feet on firm ground.  By chance, he saw my folder
which bore the caption "The Last Patrol" and he, not in a prying manner, said
"there must be a story there."  I told him what I was trying to accomplish and he
indicated he had just spent two days with a motorcyclist and maybe he could
help.  He told me to wait while he searched for the guy's flyer.  After fifteen min-
utes he returned and said he had thrown the flyer in the wastebasket and that's
why it took so long.  Lucky for me the housekeeper had not taken out the trash.
I looked at the flyer and took it with me to the room.  Because of this chance
encounter Comrade Stone was soon to enter my life, and what a fun ride it was
to be.
As I lay down to sleep I noticed the following statement laminated to the
nightstand.  I quote verbatim:
"We understand your room is facing the street, it
has alots of noisy from the street which commons
happen in Hanoi.
"We are served ear plugs at reception, pls call us
and return them at reception when you check
out."
Although weak, dead tired and above the seventeenth parallel, I knew I
was going to like this hotel, and, despite my deep political reservations, probably
this town.
Day Two
Hot, humid
Revolutionary fervor on high flame
Promptly at 06:00 a harsh high-pitched female voice began to bellow out
the news to one and all.  It has always seemed to me that Hanoi deliberately
breeds these harpies with their shrill penetrating voices, a technique straight
out of Camp 13.  Me, I could care less as breakfast was free, and as my last wife
taught me, among other things, nothing is more important than free food.  Up
to the fifth floor to a charmless little restaurant serving six tables, with the
loudspeaker located not far down the block.
A couple was there before me: he racing towards fifty, and he had such a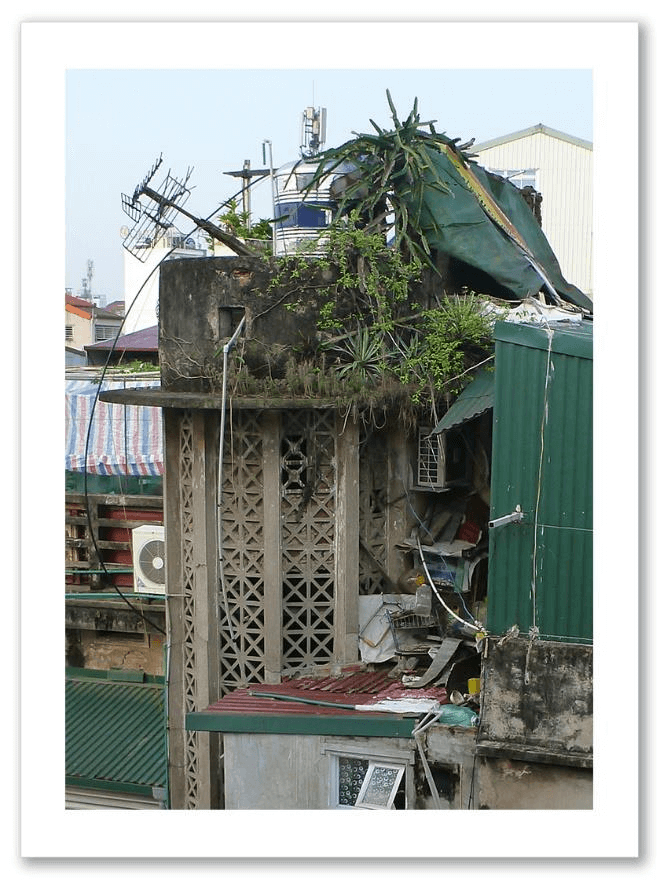 good time last night he didn't shave; she,
quite a bit younger, wearing a dress that
begged to be consigned to the flames.  She
was, as my mother would say, "fast."  He
wants more; she has had enough.  Each
retreats to a cell phone to communicate
their displeasure, to whom I could only
imagine.
Both are chatting away too long and
too loud until she spies a lady of the night
enter with a rather attractive thirtyish
Caucasian male.  She lays down a stare of
napalm two feet wide on the floor of the
restaurant.  At first hubby doesn't notice
the lady of the night but when he does,
cell phone chatter stops.  Game on.  Up-
on being seated, lady of the night does
not fire back a stare but takes a lovely
manicured foot from her sandal, toenails painted fire engine red, and angles it
toward husband for him to admire.  Matron is onto, not her cell phone now, but
iPad, and husband is in another world, or soon will be, as they leave.  Me, I am
clearly watching conceptual art—note the TV antenna which dominates one of
the dining room views—living, breathing art.  Not a bad start to the day as the
revolutionary loudspeaker broadcast wraps up with some very European
sounding marches.
I cannot find an English language newspaper, so I decide to pick up some
revolutionary propaganda posters and am told the shop I want is just a five min-
ute walk away.  I promptly get lost in the "Quarter" and as I wander around I
cannot understand why shops selling the same goods are all cheek by jowl on
the same street.  I subsequently learn that this arrangement has historical ante-
cedents, but how do you make your selection?  I am clearly going nowhere fast,
so I ask directions from a clothing store owner who turns the store over to his
associate and tells me to jump behind him on his bike.  After a ten minute hair
raising ride in Hanoi "Quarter" traffic he deposits me in front of a shop.  When I
offer him payment he refuses, and roars off, yet another of many courtesies I
continuously receive in Vietnam, both north and south.
As I alighted I noticed another propaganda poster shop right across the
street.  Capitalist warfare between propaganda shops (!)  although I doubt that
they enjoy a booming business.  I meet a charming salesgirl, I would say about
twenty, dressed in red.  Given her age we will have none of the reminiscences
generated during my visit to Lotus in Saigon.
From gentle questioning, and based upon my review of the posters, it was
clear she was clueless about the revolution.  I selected several posters, some
classics, for my left-leaning friends back home, and I then had the temerity to
ask about the shop across the street.
With a slight arching of her eyebrow that would liquidate any "leftist
deviationist", "rightest deviationist" or "roader"—in fact, anyone suspected of
the slightest revolutionary impurity—she opined that the rival shop was not
"authentic."  I found this interesting as her competitor prominently displayed
several of the same posters I had just bought, two of which are classics.  Having
been suitably chastised I knew it would be foolhardy to cross the road to explore
the other shop.  Even in a revolutionary context capitalist competition does
strange things to people.
As it was nearing mid-morning the sidewalk cafés were doing a brisk
business, with cycles parked end to end and everyone engaged in earnest dis-
cussion of the human condition.  Hey, I was in Hanoi.  I was hoping for a little
more proletarian ambiance and did I ever get it.
I wandered around and found a conjunction of three roads opposite a dis-
tributor for Heineken, no less.  The New Hampshire beer crowd would dismiss
my selection, Becks drinkers to a man.  The distributor was far from the madding
crowd and had a store, if you can call it that, about four feet wide and ten feet
deep, with four shaky stools of Chinese manufacture meant to support Lillipu-
tians.  Granny was asleep without a mat on the floor, and I asked for a Teddy,
which is a fake orange Minute Maid drink, almost pure sugar, but in my condi-
tion did I care?  I sat down to watch the action.
To speed up my welcome I bought eleven yellow roses for granny from a
flower pole seller. (N.B.  All Hanoi pole sellers are women.)  Things started to
heat up as, unbeknownst to me, one of the streets running off the square is an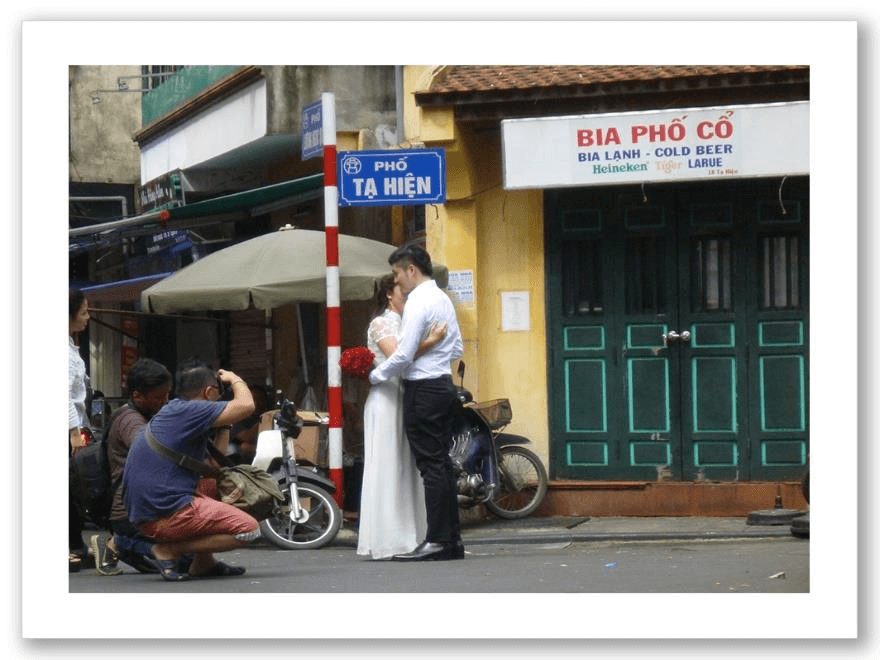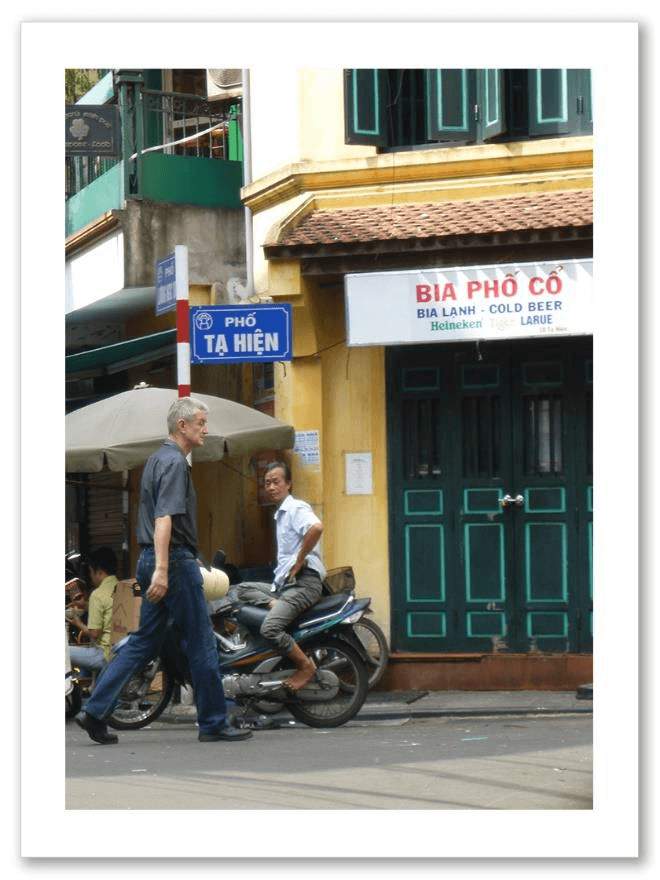 oft photographed locale, where soon to be
married couples pose to have their pictures
taken.  This ghastly Old Hanoi street with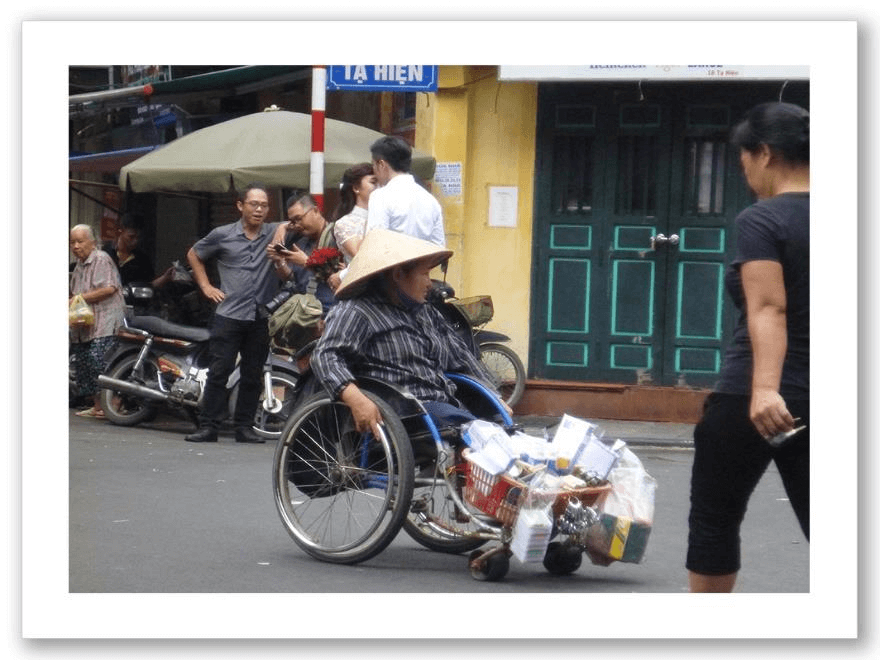 all the charm of Bridgeport or
Bayonne: why there?  I never
got an answer.  A somewhat lost
soul indicated he was waiting
for the Heineken bar to open up
and would I stand him a lunch.
I did so.
"Le Mouvement" in the
Quarter was very interesting.
The pole sellers who serviced
the more upscale section of the
Quarter passed by on their way
to the more affluent streets two blocks away.  Granny's neighborhood was very
tight knit, and when word came down that the police were cracking down on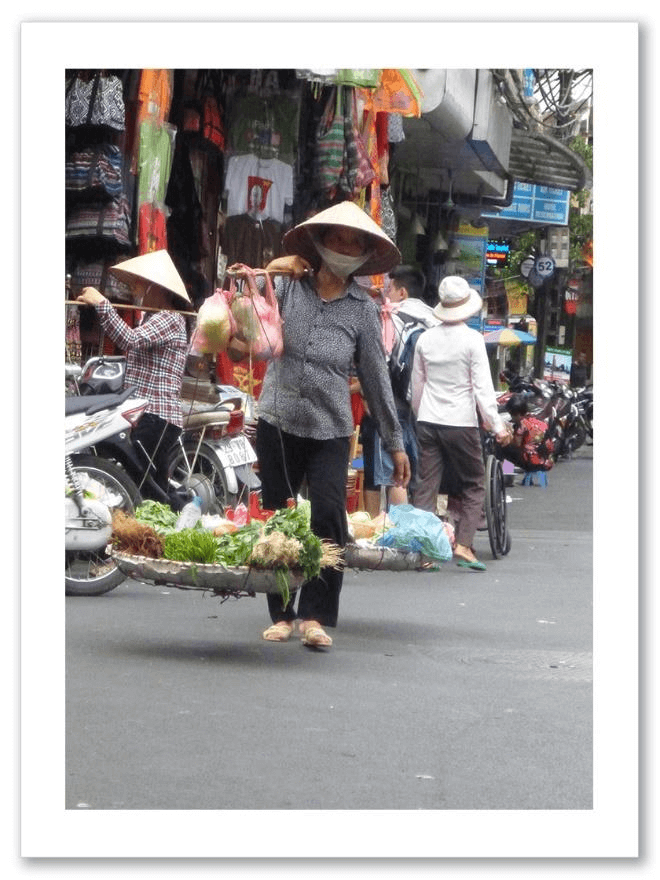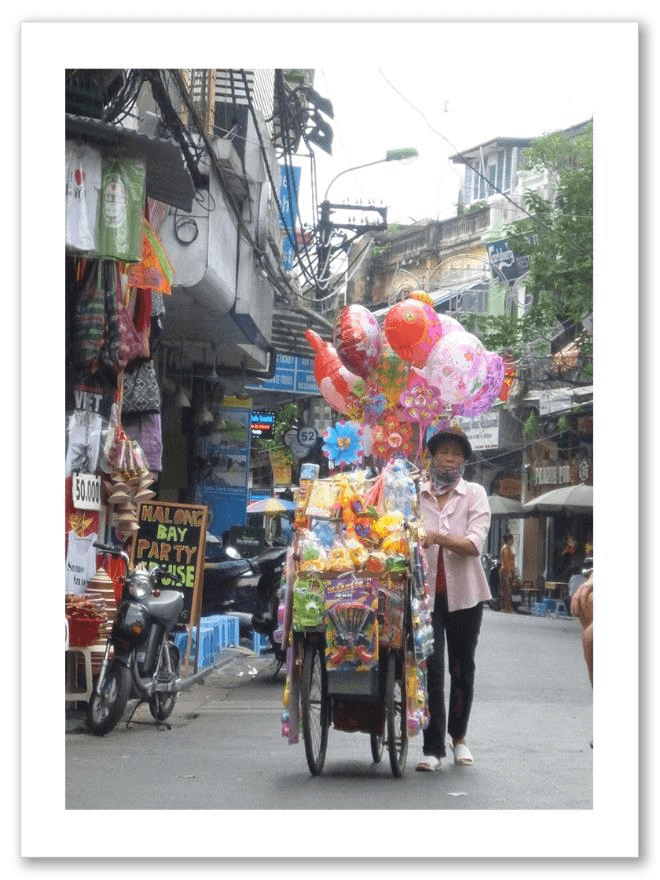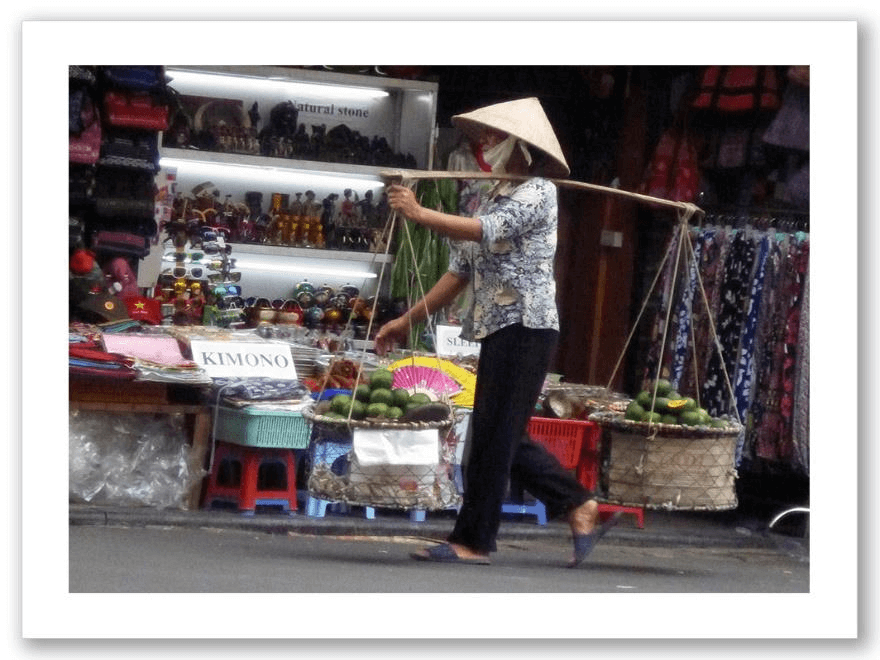 customers drinking beer
from the tiny shops my chair
was seized from under me.
I stayed by the shop pretty
much the whole day and gran-
ny only sold three beers.
You know you have
arrived when after two hours
the street vendors who offer
to glue your shoes and the
fake Zippo lighter guys pass
you by with a knowing smile.
Jet lag was catching up to me
as were the heat and the humidity, so I headed back to the hotel, got lost again,
eventually found the hotel, and turned in early, secure in the knowledge that
propaganda harangues and revolutionary music would start my day tomorrow.
Before I turned in I made a call to Comrade Stone who said he was available to
ride tomorrow.  One of the best calls I ever made.
Day Three
Hot, humid
No revolutionary fervor
When I arrived in the lobby I was greeted by a middle-aged man, physically
looking tough as nails.  He was wearing jeans, and otherwise nondescript clothes,
but sporting a rakish pirate bandana.  He told me his name was so difficult to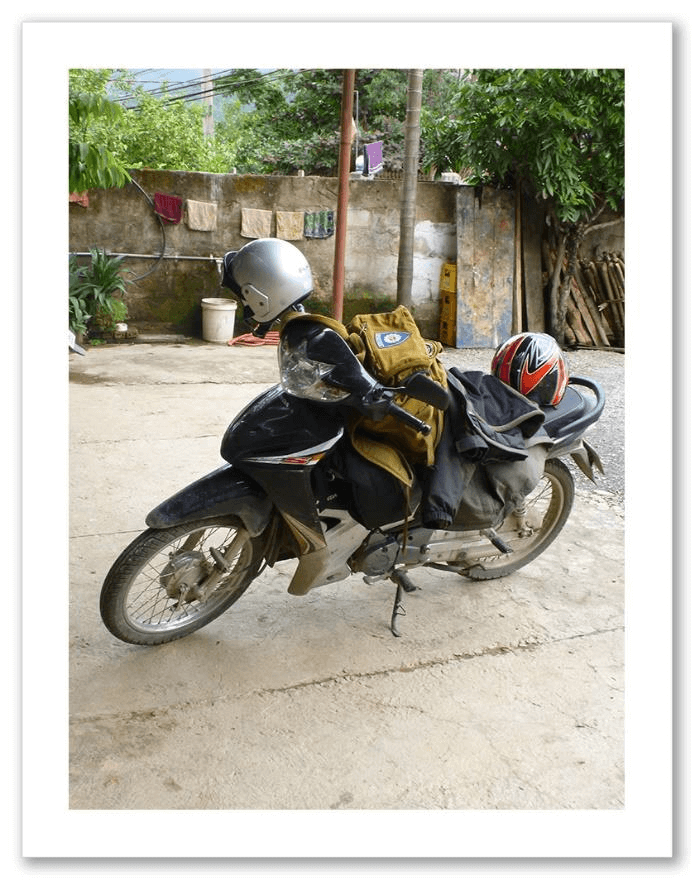 pronounce his teacher had named him
Stone, and I pronounced him Comrade
Stone.  This exchange launched what I hope
will be a lasting friendship.  After initial
introductions he asked where I wanted to
go.  I had a list prepared and I told him the
Tao of the List would get us through.  Over
the next four weeks the Tao of the List
would be our touchstone.  We mounted his
bike which I christened, despite its being
black, "Red Rage" and we dove into Hanoi
traffic, headed for Ho's mausoleum; as it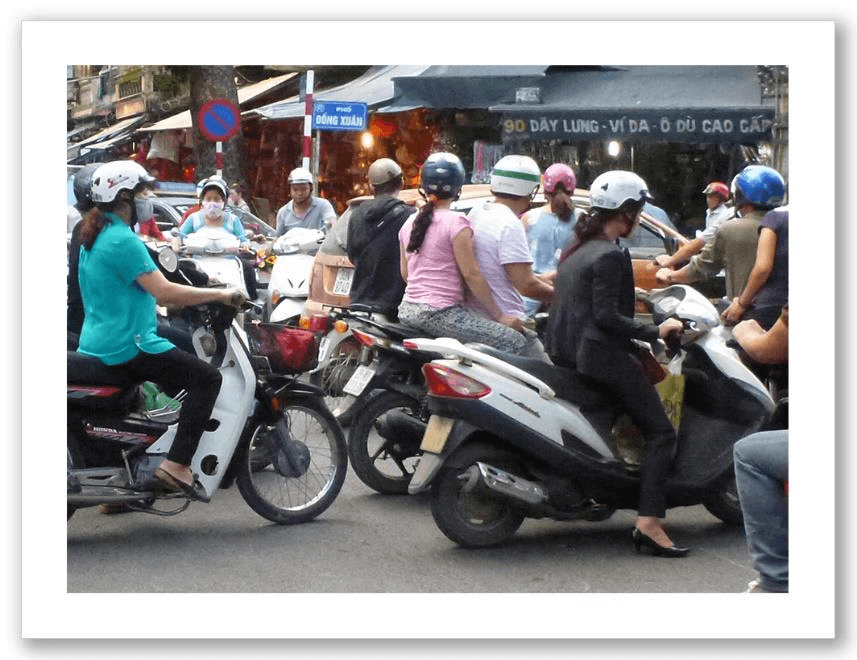 was Sunday, we were far from
alone.  Indeed, I was scared half to
death just getting there, as Hanoi
traffic is chaotic and breathtak-
ingly dangerous.  I had never
ridden tandem on a motorcycle
before.  Comrade Stone told me to
"just hold on."  I did just that, but
changed my pants four times as we careened through the traffic.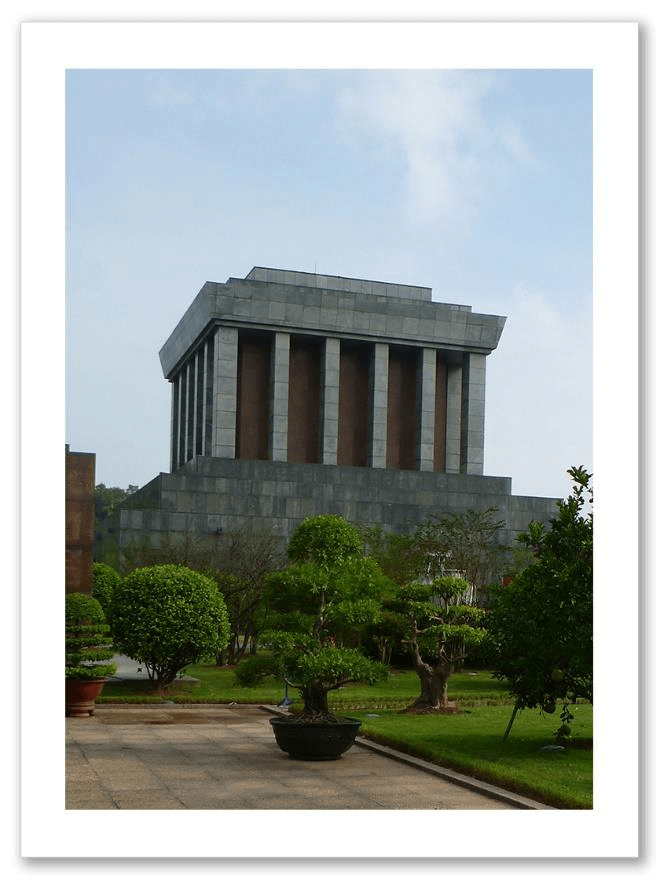 The mausoleum is a soulless
Soviet style monstrosity and was in
fact not open to the public as Ho's body
was, at that time, being chemically fine
tuned by Vietnamese specialists.  This
was a matter of great pride to the Viet-
namese because in the past the body
had always been taken to Russia.  The
grounds were pleasant enough with
the magnificent French architecture
of the former Governor General's
home, but the real story is to be found
in the three Spartan scholar-like rooms
from which Ho conducted the war
against America.
I stayed for quite some time
contemplating the American way of
waging war as revealed by former Secretary of Defense Robert Gates compared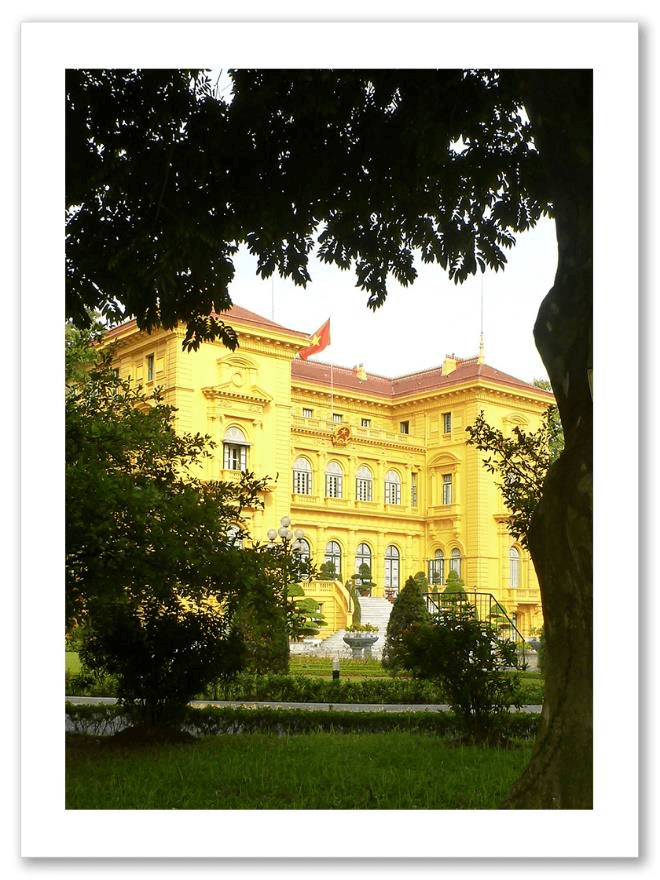 to the Vietnamese way of waging war.
Three rooms with six pieces of furniture—
hardly fit for a staff sergeant—yet they
won the war.  There is a lesson here, Bob!
The three rooms would barely fit in a
Pentagon broom closet, and pose a stark
contrast to the opulence of the Washington
and Northern Virginia war establishment.
The aesthete with the small borrowed
sword routed and ignominiously defeated
a decadent heavy metal American military
machine.  Forget the mausoleum.  The
story is in those three Spartan rooms.
We then went from war to the heart
of Confucian education—the Temple of
Literature.  Impressive grounds and much
kerfuffle as it was graduation day for one
of Hanoi's best universities.  I was puzzled by the fact that female graduates
outnumbered males ten to one. Comrade Stone had the key—girls work harder
than men, and the faculty graduating was accounting which attracts many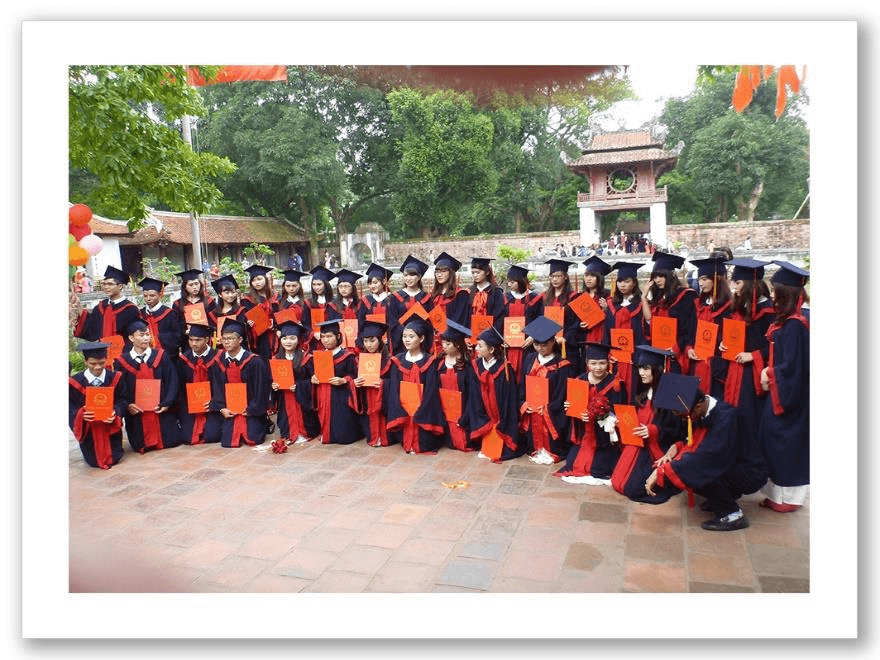 females. Somewhere I knew
Germaine Greer and Gloria
Steinem were beaming.
No gold chains, no boom
boxes on shoulders, no vulgar
shirts or petulant child non-
sense—simply proud parents
and serious students celebra-
ting a day that a few years
prior was unimaginable. All of
the young women wore ao dais
as they posed for traditional
style photographs.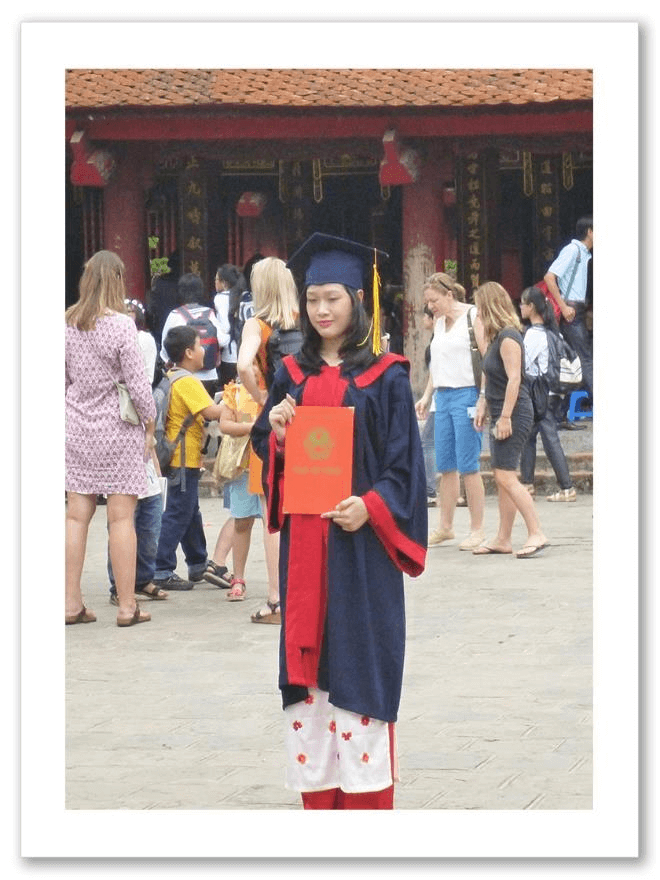 I wistfully watched proud parents
and their reserved and gracious sons and
daughters. I thought of the challenges
their parents had faced from the Colossus
of the North, and how the revolution, no
matter how bitter its Marxist political pill,
had produced these dignified graduates.
Nowhere here an event sullied by self-
indulgent rabble with bared breasts and
caps on backwards, their rowdy cat-calls
drowning out the graduation speakers.
We could learn a few things from these
grateful, graceful young men and women.
A calligrapher was in attendance
and having no business he was engrossed
in reading a Vietnamese pulp magazine.
With Comrade Stone's assistance we were
able to converse, and he told us that very few average Vietnamese come to the
Temple, more likely foreign tourists who were not interested in his art. The last
American customer requested he put Mickey Mouse into calligraphy. He con-
fided that he created something vulgar but that the tourist didn't realize what he
had done.  I applauded his intellectual guerilla warfare.  I then requested he
depart from traditional calligraphy and using a broad brush make a powerful
"tiger" with little or no refinement.  This he agreed to do, and after three at-
tempts he was satisfied.  It is a most powerful piece which would later become
my parting gift to Comrade Stone.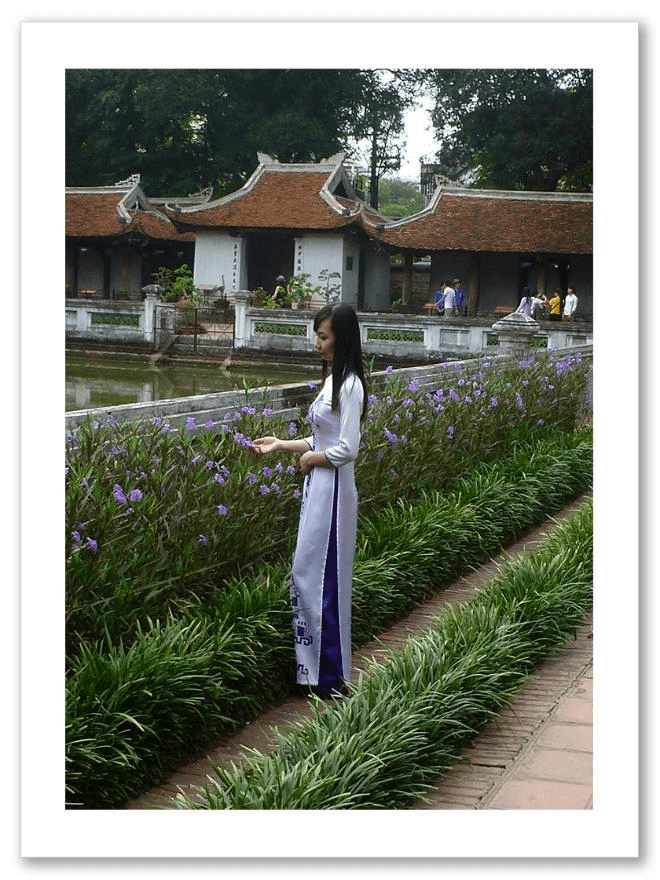 As we departed the Temple we en-
countered a young Vietnamese woman
in an ao dai examining the flowers—and I
am immediately transported back fifty
years to the white schoolgirl ao dai.  Viet-
namese American author Viet Thanh
Nguyen in his recent book Sympathizers
asserts that western writers take the ao
dai as an implicit metaphor for Vietnam
as a whole: "wanton and yet withdrawn,
hinting at everything and giving away
nothing in a dazzling display of demure-
ness, a paradoxical incitement to temp-
tation, a breathtakingly lewd exhibition
of modesty."
I am of a more simple bent.  The ao
dai is simply the most elegant, sexy dress
ever made without displaying an inch of flesh except above the neck and below
the cuffs; the cheongsam and other folds of cloth come in at a far distant second
place.
Buoyed by this vision and the intellectual ether, we headed to a street
featuring military and war detritus to search for a Vietnamese Red Army belt
buckle requested by a Russian friend.  This was a most interesting experience.
These shops are lined up one after another for two blocks.  Despite the fact I was
in East German garb with a Spetznaz hat, two shopkeepers would not deal with
me, flatly waving me away.  But one vendor was willing and I purchased a mod-
ern "Communist" buckle as none of the "real" army ones are left.  I asked the
shopkeeper about business and he said it was lousy as the young men were only
interested in western clothing and hip-hop garbage.  He said all the shops were
just hanging on.
Next we went to Craft Link, a fair trade store that markets ethnic goods.
The approach is somewhat unusual in that you go upstairs, climb out a window,
walk along a verandah to another room, then up a flight of stairs to the third
floor.  First store in the world I have been in where you had to be a bit of an
acrobat to get to the merchandise, but it was worth it.  I was the only customer
and the saleswoman was attentive.  She explained the tribal embroideries, and
the significance of the rectangle, and the various wall hangings which she
described as a passageway to the soul of the mountains.  She asked about our
destination and was pleased when we told her the Ha Giang area and beyond.
She said not many Europeans go there and predicted that I would like it as
there were many friendly spirits.  I bought one of the wall hangings for a friend,
although I wanted it for myself.
Over dinner I advised Comrade Stone of my plans and he was decidedly
subdued, advising me that the Minsk bike was a non-starter and gently suggest-
ing that, given my lack of skill, the whole solo bike thing was bordering on crazy.
He said it was mandatory that I train on the bike as the planned itinerary in-
volved some stretches that were dangerous as well as physically demanding.
He proposed we should run a test to see just what skills I had but we should only
use a bike manufactured by the wonderful people who bombed Pearl Harbor.  He
informed me that the bike would probably speak excellent Mandarin as well as
Japanese; the Chinese were flooding the market with Honda parts.  We prepared
a Tao list for the morrow, which involved drinks on the verandah of the Metro-
pole, the B52 museum, aircraft wreckage, the revolutionary museum; the Tao list
was growing!  At seventy-eight I was preparing for mental and physical tests any
seven-year-old, or perhaps even younger, could pass.  The pressure was on.
That evening I strolled Pho Hang Giay, the "night market", from end to end.
One big tourist trap of western clothing, but the shoppers were overwhelmingly
Vietnamese.  The whole event, although commercial, appeared to be essentially
social with side streets doing a booming sidewalk food business.
I am again shocked at how the Five Year Plan boys can let this continue.
I understand they want to move people out of the Quarter, but it is such a money-
maker the uproar would be heard in Lenin's tomb—more of those devilish Marx-
ist contradictions.
Day Four:  Early
Hot, humid
No revolutionary fervor
Comrade Stone decided that before we went to the Metropole we should see
the B52 Museum, the B52 in the Lake, and the Air Military Museum. We started
with the preserved portion of a B52 undercarriage in a small pond in a quiet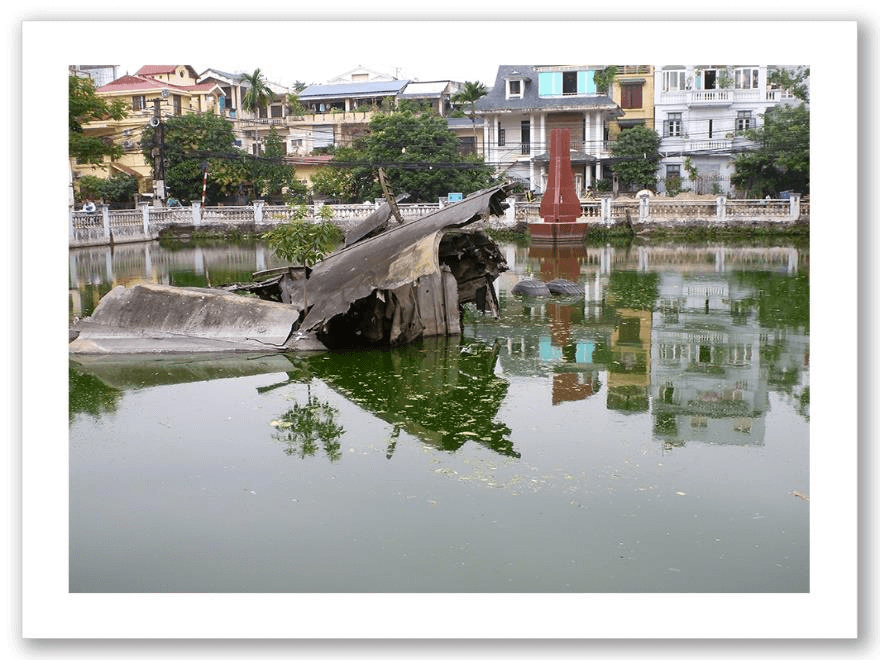 Hanoi neighborhood. I spent
some time looking at the
engineering of the undercar-
riage and, although I am not
an engineer, it is clear the
B52 is a sophisticated piece
of equipment. The question
that formed in my mind was
how, in less than a generation,
could Vietnam go from a plow
economy to a sophisticated air
defense system capable of
defeating the most highly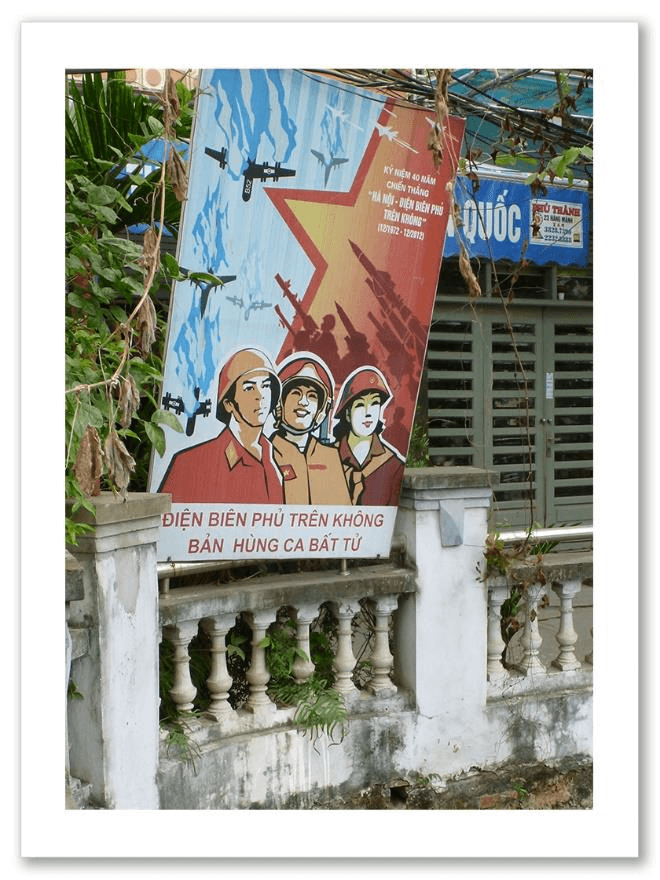 developed electronic countermeasures.
The answer is an intense education based
upon strict meritocracy, and because the
Vietnamese students, unlike today's dec-
adent American youth, want it more.
Next, Comrade Stone and I went
to the Museum of the B52 and the Army
Museum, and the question rang louder
because running an effective Fansong
and Tall King radar required sophisti-
cated training—from simple farming to
air defense in less than a generation
proves what dedicated education can
do if the students are anxious for the
knowledge. Whether they fought for the
right or wrong ideology, their education
then and now defeats America's hands
down.  The museums were well-planned and laid out, and the wreckage is wreck-
age; the story is how the wreckage came to be.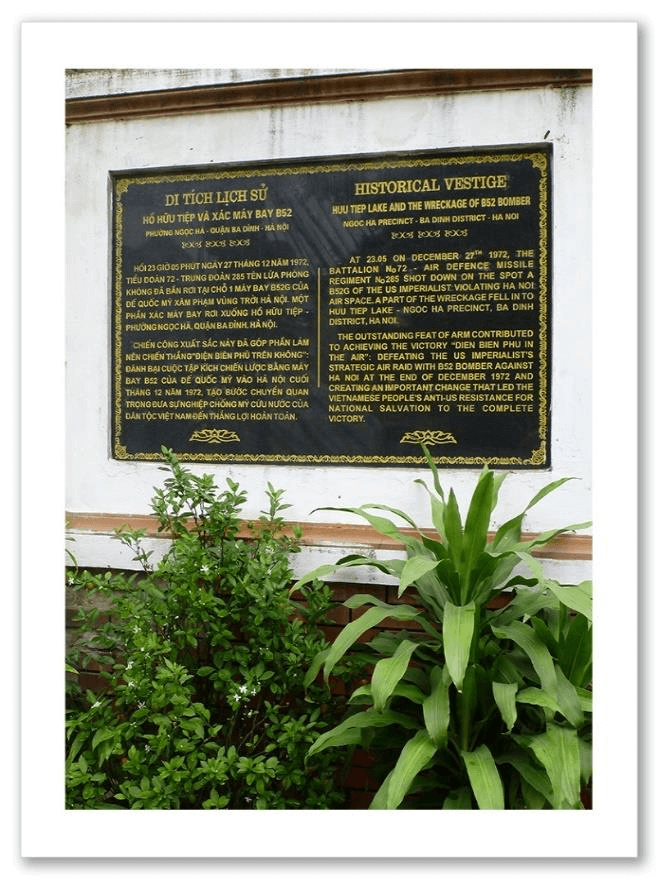 HISTORICAL VESTIGE
Huu Tiep Lake and the Wreckage of B52 Bomber,
Ngoc Ha Precinct , Ba Dinh District, Ha Noi.  At
23.05 on December 27th 1972, the Battalion No72,
Air Defence Missile Regiment No285, shot down on
the spot a B52G of the US imperialist violating
Ha Noi air space.  A part of the wreckage fell into
Huu Tiep Lake, Ngoc Ha Precinct, Ba Dinh District,
Hanoi.  The outstanding feat of arm contributed to
achieving the victory "Dien Bien Phu In The Air":
defeating the US imperialist's strategic air raid
with B52 bomber against Ha Noi at the end of
December 1972 and creating an important change
that led the Vietnamese people's anti-US resistance
for national salvation to the complete victory.
We are losing the educational race
at a rate that is beyond alarming, and that
presages more wreckage to come.  This
small pond should be a required stop for
American military planners, including
those displaying five rows of ribbons and
other fancy badges—all in losing causes.
After absorbing the war's detritus it was time to seek out lighter fare, and
we headed off to the veranda at the Metropole.
Before continuing, a background note is in order.  I was in a fraternity,
yes I confess to it, and one of the events every Sunday morning was to rate the
engagements and the brides: who made the cut and who didn't.  The rating ses-
sions were raucous, bawdy, neither totally fair nor totally unfair, but nonethe-
less an indirect way to strike a blow against one's social betters.  It was in this
spirit that I approached the Metropole, one of the last great hotels in the world.
Our entrance was unconventional and perhaps not fully appreciated.  We arrived,
me riding tandem, on a Honda christened "Red Rage", that spoke Chinese, driven
by a Vietnamese affecting a piratical flair—a maître d's nightmare.  As we ap-
proached the hotel we noted at least twenty brides heading the same way, and
I couldn't figure it out.
Comrade Stone waved off the hand orders of the chief of parking secur-
ity, who was immaculately dressed in a uniform that could have belonged to
a Mexican or South American general, (missing only the medals for killing
defenseless Indians.)  We dismounted and left Red Rage in solitary splendor
on a beautiful gravel walkway that led to the veranda.  The maître d', who I will
refer to as René, could not have been pleased to see us.
Up to that moment I had not paid too much attention to Comrade Stone's
garb, but I soon realized that his bandana and overall pirate affect would make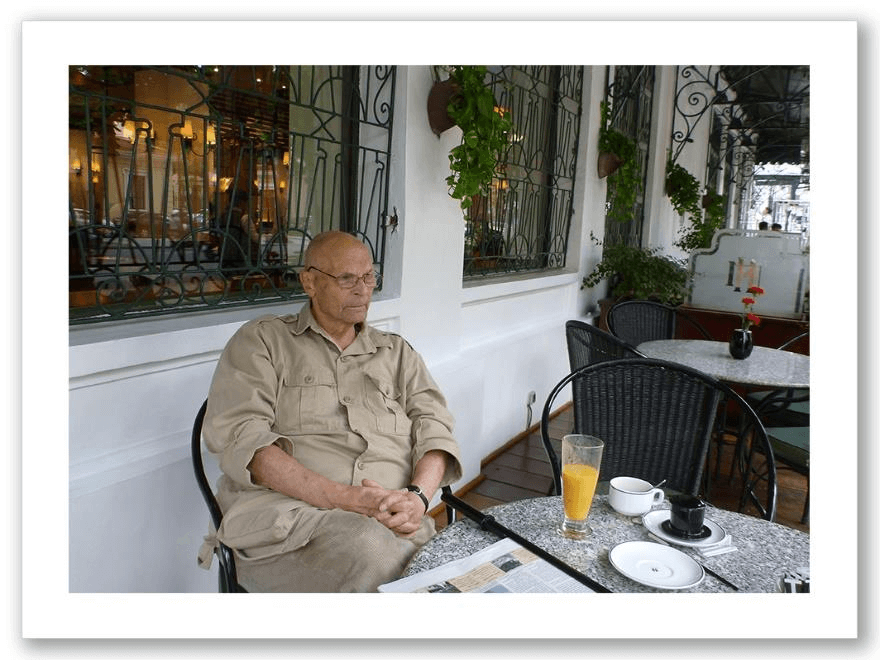 any maître d' shudder.  As
for me, I wasn't exactly
sporting Brooks.  Never-
theless, we moved in with
calculated nonchalance.
Now René, although
Vietnamese, is French to his
toes, and he is cursed with
the knowledge that he must
attend obsequiously to guests
he knows to a certainty are
his inferiors on all fronts.
However, he must keep the
knowledge buried deep down in his psyche because to let even a whiff bubble to
the surface will result in his dismissal.  This intellectual straightjacket results,
as it must, in a roiling cauldron of psychic magma that is beyond volatile.  The
situation manifests itself in both entertaining and unpleasant ways and, as many
a refined woman will tell you, to be put down by a French maître d' early in the
evening sounds a death knell to the prospect of sexual favors later that night.
The maître d' understands this, and if you don't you should, because contrary to
SI and NV's beliefs, there are some things money cannot buy.
Comrade Stone, now somewhat less piratical in appearance having dives-
ted himself of his bandana, and I worked our way through several bridal shoots
on our way to the veranda.  We are sure to be photoshopped out of at least a
dozen bridal pictures.
I told Stone straight out that I thought the veranda of the Continental now
scarcely deserved mention as an Affaire Nostalgique, and I had heard that true
insouciant hedonism existed only at the Metropole and nowhere else.  We wanted
the table at the apex to control two fields of fire, as I had in the old days at the
Continental.
René seated us and thus began two hours that were beyond lots of fun.  I
asked him about the conga line of brides who were descending on the Metropole
and he explained that the Metropole was "the place" for a backdrop to their
wedding photos.  Comrade Stone advised that it was a Vietnamese custom to
have the wedding pictures taken about a month before the event.  Having been
burned three times in this arena I asked him, terribly ungallant, what happens
if the couple split up?  Comrade Stone did the hissing sound favored by Arabs—
simply too outré for words—subject closed.  René remarked, with just a slight
arch of the eyebrow, that some brides went to the Ethnological Museum, but
not many, and that silent arch clearly indicated they might as well have gone
to Siberia.  The drinks arrived and what could they be but superb—it is the Metro-
pole, you know.
We studied the brides and then the rating game seriously began.  We
watched young Vietnamese men maybe 5' 2" tall struggle with their more zoftig
Vietnamese ladies, trying to lift them up, assuming poses that bordered on the
ludicrous.  It was all there, and the game was on.  Soon after we arrived an elder-
ly Australian couple took a nearby table, and for the next hour they were putting
them away at a good clip.  The Australians began to exhibit near hysterical laugh-
ter at the Vietnamese couples, especially those engaged in the weight lifting con-
tests.  They were becoming loudly drunk.
Comrade Stone, because I had my back to her, pointed out an elegant, old-
er Vietnamese lady, hard to tell her age, maybe forty-something, but you couldn't
escape the price of the outfit, about $5,000, who was jabbering away on her cell
phone.  I asked Stone what was the big deal, and he said she will start sobbing in a
moment, and as if on cue she did.  Big deal.  However, what followed was a bigger
deal in that a considerably younger Caucasian man, looking like a Brooks model,
ever so "embassy-like", appeared in a Brooks 346 blazer and sat down by her
side.  Speaking English no less, he poured oil on troubled waters, or appeared to
try to.  Loud enough so I could hear the endearments, platitudes and clichés pour
forth from him like so much gentle rain.  I could have written the script.  If he
would just take her home all would be right in the world.  Love bloomed as she
called for her car.  I was pleased to see it was a black Mercedes.  She got in the
driver's seat—fatal mistake—but I was also pleased to see she had on a wedding
ring; clearly "home" was not on the menu.  A public denouement and patch-up on
the veranda of the Metropole.  This never would have happened at the Continen-
tal, although I have viewed what might be considered scenes on the Continental
veranda, she stabbing a fork into his hand for example, but the French generally
keep their spats closer to the vest.  As my first wife would say, "one just doesn't
do that!"
The grading of brides was proceeding at a furious pace but I thought I
would have a little talk with René about the recent rapprochement.  The Aus-
tralian couple were blotto by this time and I sensed if René could have hauled
them off in grain sacks he would have.
I queried René about the events, and ever the epitome of discretion he
opined, seulement entre nous, that such transactions were becoming more
common, and that this couple, he an "embassy type," had been at it for some
time.  Discretion prevented me from seeking a precise definition of "it", but who
says you can't have fun in John Kerry's State Department.  René confided that
the most spectacular melodrama had involved an Italian couple, starting with
wine in the face and moving on to vulgar screaming that could be heard in Sai-
gon.  I asked if this was not bad for business and he said perhaps, but is there a
better venue for romantic meltdowns than the Metropole veranda?
The bride grading continued, and the couple that took it—she a bit older
with fine bones and wearing an off the right shoulder number, he considerably
taller, with soft Gucci loafers and no socks.  He prominently displayed his no
socks approach to fashion by crossing his feet so everyone would see his Don
Johnson ankles.  We told René it looked ridiculous and he agreed.  The Austral-
ian couple were beyond recall and I told René he had better get them off the ver-
anda as they were bringing down the tone of the neighborhood.  Who says local
color has to be ethnocentric?
"It's so easy a child can do it!"
 I then took my first motorbike lesson and failed to master a few funda-
mentals, such as how to downshift, how to brake and, better still, how to turn
right.  Other than one slow crash when I tried to stop the bike going over by
braking with my hand, it was an unmitigated disaster.  I did not break my wrist
but I did a more than adequate imitation.  At this rate I would be a menace not
only to myself, but to everyone else.  I told Comrade Stone, a most patient man,
that I would try it again tomorrow, but that we were now going to implement
Plan D.  He asked what Plan D was and I told him it sure as hell didn't involve
me driving a bike over 2,000 kilometers of mountain roads.
Great day, great sport and I learned that a competent Vietnamese seven-
year-old has better coordination and bike skills than do I.
Day Four:  Later
 Cool, wet
Revolutionary fervor on full blast
While riding around a park we came across a cockfight in progress being
watched closely by a small crowd.  I asked Comrade Stone whether this was a
common occurrence and he said yes.  The birds were heavy in oriental blood, and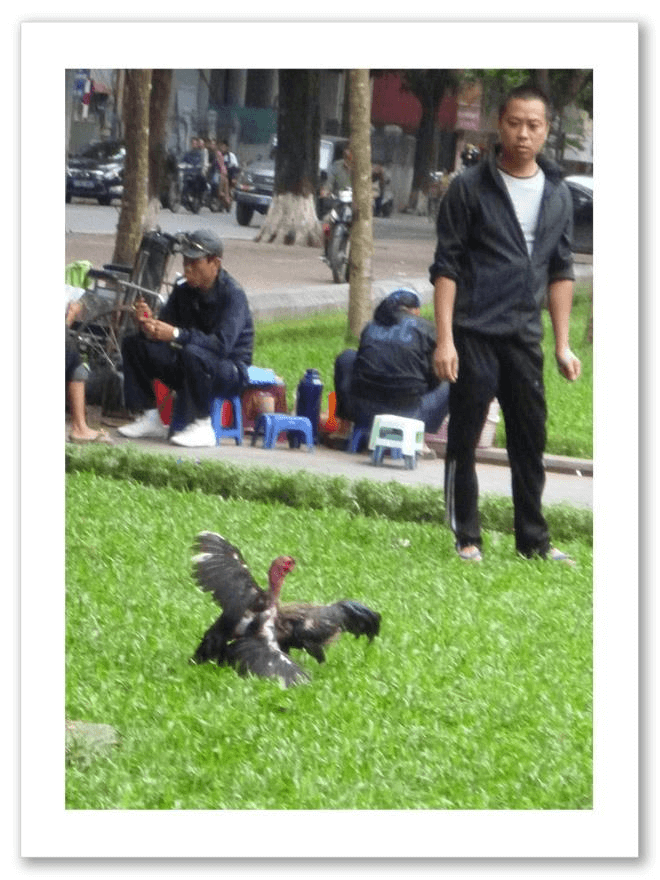 I did not notice whether they had spurs,
but if they did they were lousy cutters.
I could not grasp the rules, but I did
notice that during a break both sides put
lots of water on their birds, an absolute
no-no to American cockers.  Sotto voce
Stone observed that one of the spectators
looked worried; most probably he had a
sizeable bet.  I checked out the spectators
but I could not detect any overt concern
on anyone's face.
When I asked Stone about the
wisdom of putting lots of water on the
birds he answered that the water was
laced with a stimulant that lasted about
five minutes.  During the war years,
Dan Deffenbach, an American cocker,
shipped a lot of roosters to South Vietnam, and the grey rooster in particular had
all the markings of an American gamecock.  I am sure Dan is long gone, but here
in a communist country his legacy lives on.  Strange that cockfighting is banned
yet the fighting is in a very public park.
Yesterday evening I advised Comrade Stone that I wished to pray at a
Buddhist shrine with my family, and there must be no Jade Pagoda circus-like
atmosphere.  He said he understood, and would find a quiet, contemplative place.
We hit the flower market, nothing like Bangkok, picked up yellow roses for two
dollars, and off we went.  Stone delivered me to the Pholing Temple where we
were the only worshippers.  Small, in the process of restoration, the temple
presented an altar with a series of lesser Buddhas leading to what I must assume
was the top Buddha.  None of the menacing size and quasi-terrifying aspect of the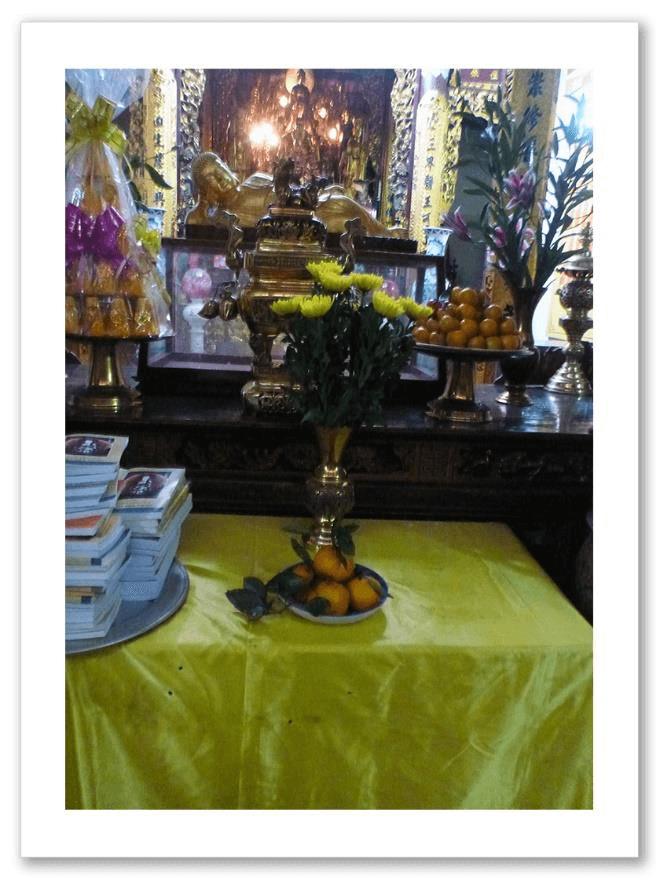 Japanese temples, but this temple
was mine, and when the acolyte placed
my eleven yellow roses I got busy com-
municating with my family and Mab,
especially Mab, as I told her everything I
was planning.  For an hour that seemed
like minutes, we four were together as if
nothing had changed.  No one came to
disturb the reverie.  However, as I left,
a cold blast of the West blew in when a
Bebe girl made her appearance.  I knew
all about that spiritual ether or lack
thereof—I married one!  I walked out
stronger than when I went in, and
looking forward to the challenge.  Mab
lives and forgives me for "going north."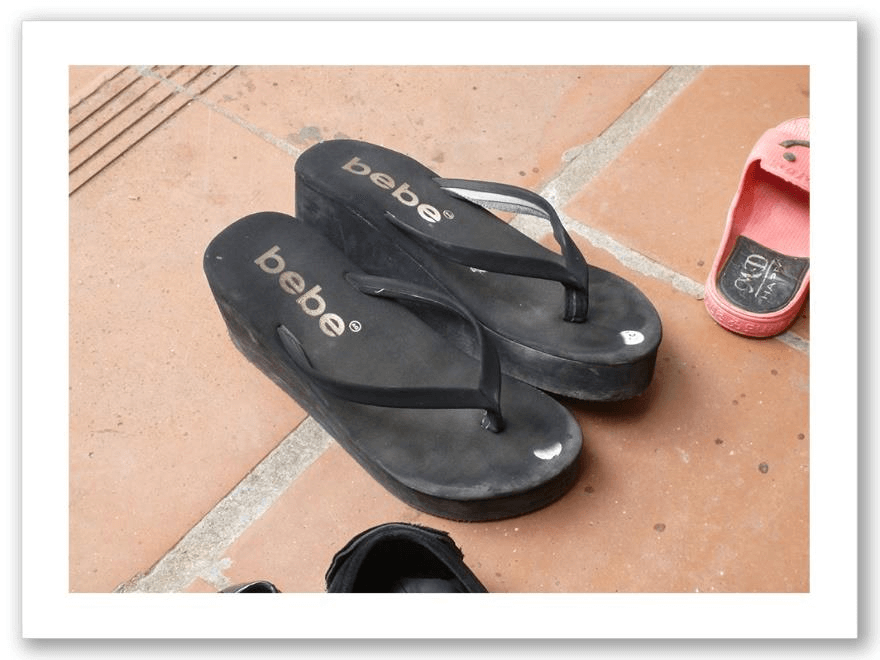 There is no good Eng-
lish language newspaper
in Vietnam so I had to rely
on Comrade Stone's phone.
With no BBC, New York
Times or Guardian, the re-
maining news reports were
heavily filtered by the
government.  Stone and I
started a game called WWIII
in which he was tasked with
relaying all the news that
came through and decide
whether it counted or not.  On this day I was tasked with explaining to him our
bicameral form of legislature and, even though I did not have much to go on, how
a particular vote swing might change U.S. foreign policy.  First thing every morn-
ing Stone reported on the day's world crises; I began to care less and less as I
realized I could not influence any event of consequence.  I had become, and was,
insignificant.
On my very first trip to Europe at the age of nineteen I was dropped into
Paris where I was so green I took a cab from Orly to the Hôtel de l'Opèra, failed to
grasp the distinction between old francs and new francs, was yelled at merci-
lessly for the size of my tip, and almost had to be rescued by the doorman.  I was
a wreck.  I was so shaken I took to hanging out at a sidewalk café that faced the
Opera House.  I discovered glace vanilla, a lovely water-based French ice cream
which hits home even today—expensive, but worth every penny.  I sat myself
down each day and the waiter would come up and say "la même chose" and I
would nod gravely and my courage came back.  Subsequently I learned that my
café was the world famous Café de la Paix, and the French waiters were attend-
ant to my needs and even explained the country to me.
I thought, what better place to explain my government to Stone than an
old converted French Colonial office that served glace vanilla and a host of other
flavors.  The place was called Fanny's and over the next three hours and several
dishes of ice cream I slogged through the fields of bicameral government.  I don't
believe I did too well.  In a one party system, which was all Stone had ever
known, the chairman of the Party had the one and only say, and that was that.
How could the Politburo or Central Committee go against the Party, especially
since most of them owed their allegiance to the Party chairman?  How, indeed!
How could executive orders from the Oval Office go against the will of the Cong-
ress—how, indeed!  I failed miserably with my civics lesson, but the ice cream
was great, though Comrade Stone considered it wildly extravagant.  I did too,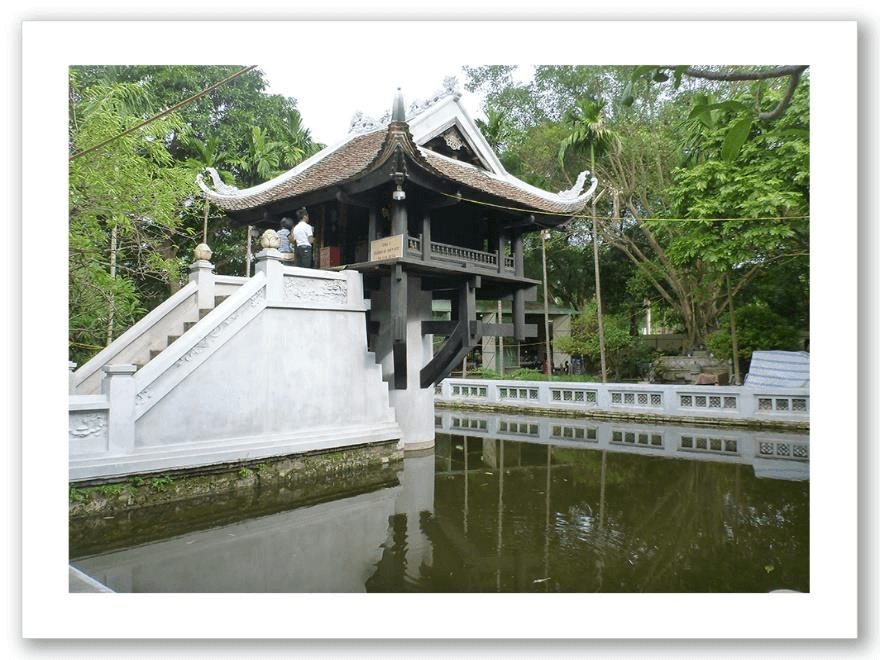 but can anyone put a price on
traveling back fifty-eight years
to a Parisian street café where
the same glace vanilla held
sway.  As the MasterCard ad
used to say, "Priceless."  Hanoi
was subtly seducing me.
It was late in the after-
noon, and Stone said only a
few tourists would be out and
we should visit the One Pillar
Pagoda.  Spot on—nobody
there, and it was an oasis of peace I could not have imagined.  Hard to believe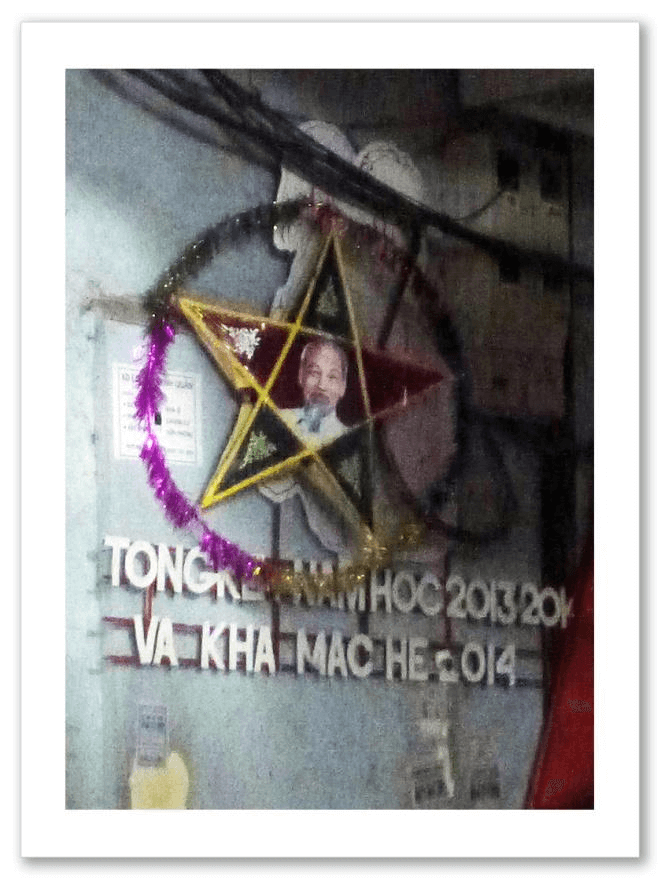 that such a place merited being
burned down by the French.  Even
harder to imagine that an atheist
Communist government would re-
build it.  Contemplate that contra-
diction for a moment.
We next repaired to the
parking lot where I repeated the
previous day's failure by slowly
crashing the bike into a sidewalk
railing and pinning my leg under-
neath it.  It did not break the skin,
but would lead to an infection which
required I be treated, for the next
five weeks, in remote mountain
towns by the cutest pharmacists.
At this juncture I advised Comrade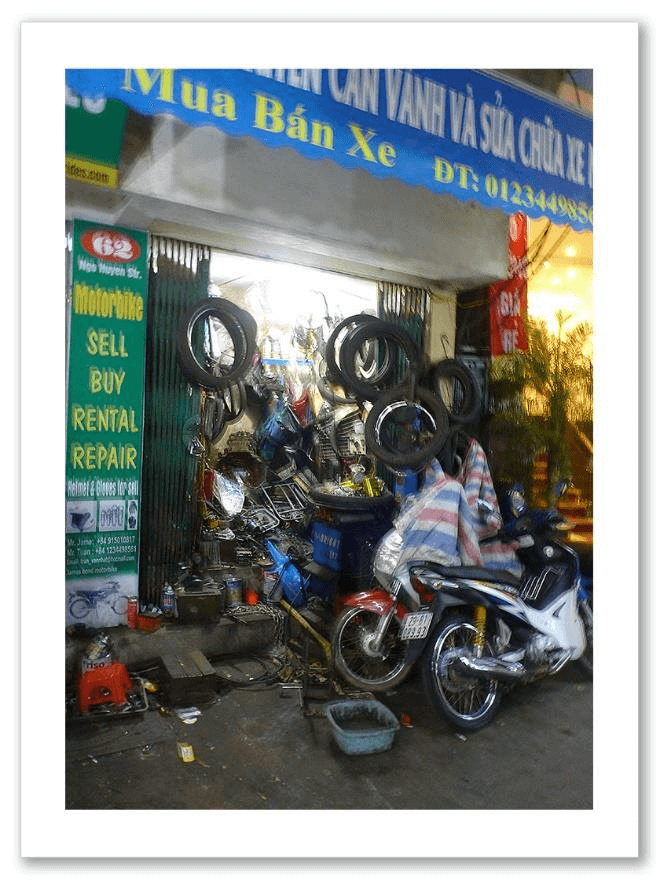 Stone I was adopting Plan D, which was
that I would ride tandem and we would do
the trip as planned.
Thanks to Comrade Stone's beyond
reasonable rates my daily travel expenses
equaled the cost of two movie tickets
without a box of popcorn.  I was told to
pack no more than fifteen pounds and be
ready to leave early the next day.  You try
packing for twenty-five days in the back
country with rainy weather in the offing
and a fifteen pound limit.  Preparatory to
jumping off we visited the shop where we
were renting the bike, and I found quiet
comfort in the organization and operation
of the parts department.  I was pleased
that the shop was ideologically pure, but
had some qualms about Mr. Goodwrench on meth.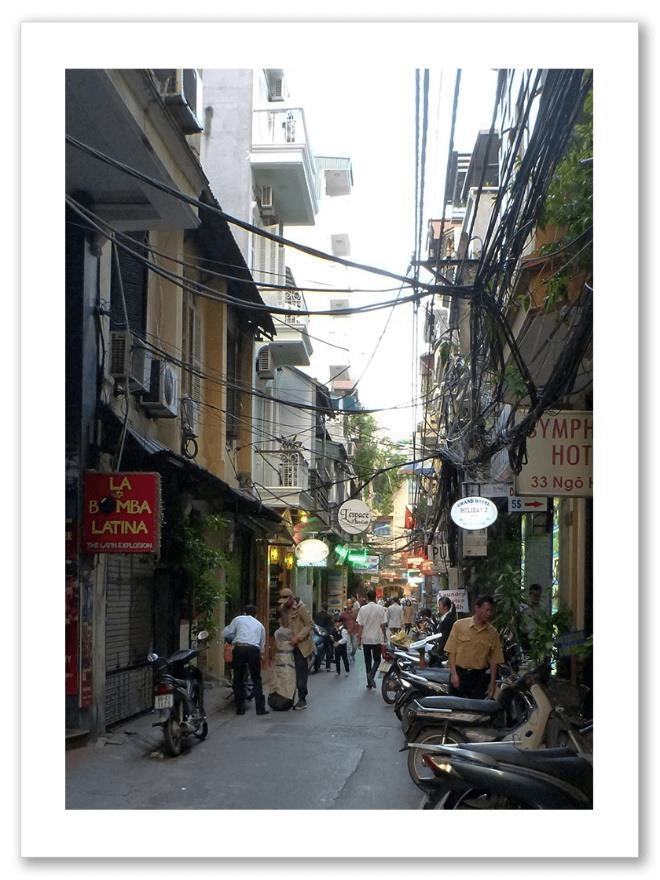 The evening before our departure
Stone introduced me to the electrical mys-
teries of the Quarter.  When I expressed
skepticism as to how it worked and inquired
who was in charge, he smiled knowingly and
said it was a marvel of engineering—at least
for some lucky folks.
Funny how that late night encoun-
ter with the Scotsman had destroyed my
dream, but birthed a new one, and opened
up a whole new dimension of travel—tandem
motor biking in the far northern Tonkinese
Alps.  Stone told me all I had to do was just
hold on, but privately at the conclusion of
the trip he confessed that when we set out
he didn't think I would make it as far as Dien
Bien Phu, about two hundred and fifty miles away.  Me, I was oblivious to his mis-
givings, but it wouldn't have mattered anyway because I was on my way, and not
with fifty noisy tourists on a bus, to visit one of the major battlefields that deter-
mined, and continues to impact even today, the course of western civilization in
the East: Dien Bien Phu.  Bring it on.
Day Five
Rainy, damp, cold
No revolution in the air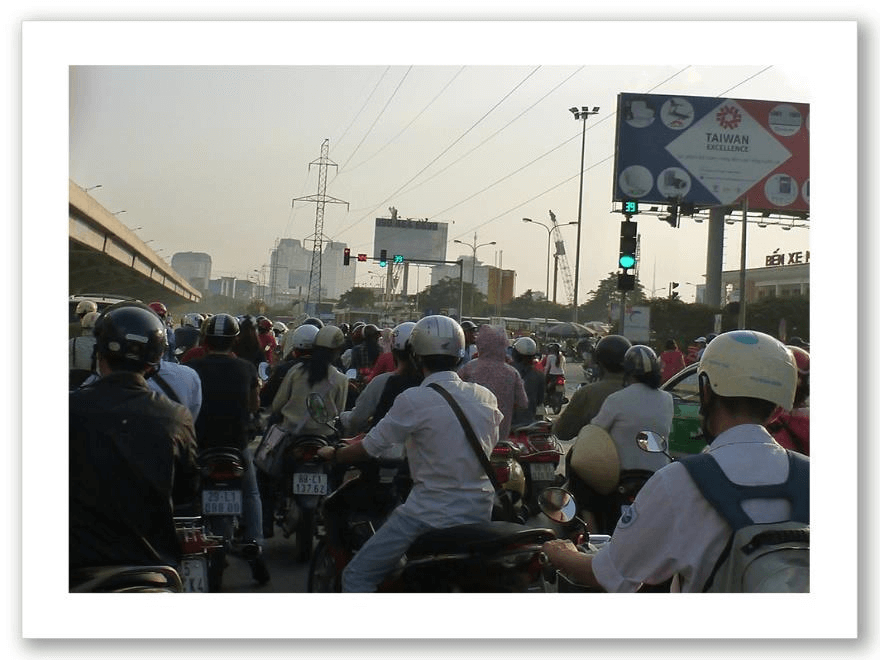 Early start, and as we load-
ed up the bags I attempted to affect
a nonchalant air, but failed miser-
ably.  Deciding to keep my mouth
shut, I threw my leg over the back
pommel and almost didn't make it
as the pain from the hard spill the
day before was killing me.  Stone
and I wended, and "wended" is a
charitable word, our way out of
Hanoi.
More accurately, we battled our way out, and I quickly learned that if
one is to survive the tandem motorcycle experience in Vietnam, the first muscle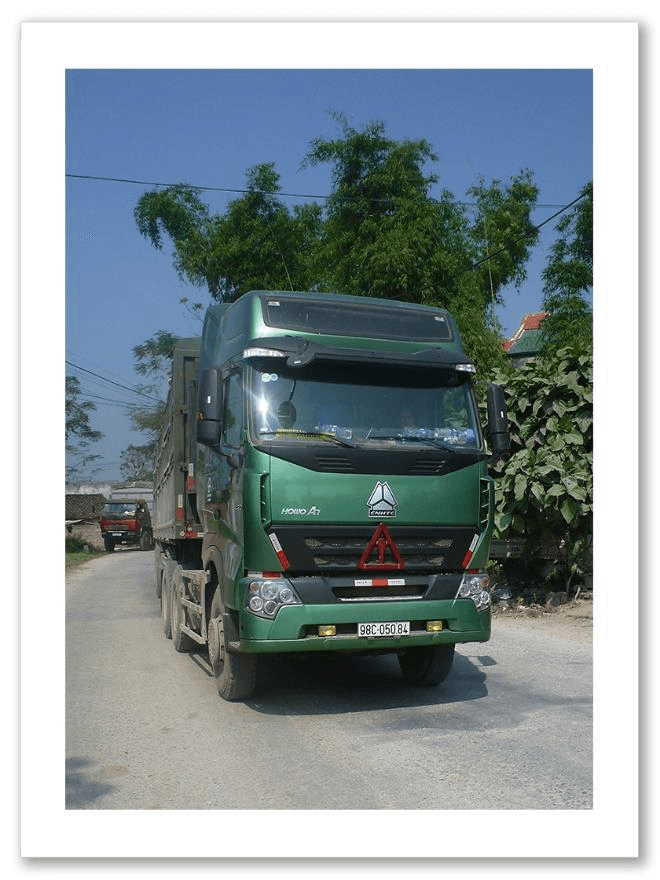 that needs to be strengthened is the anal
sphincter. "Just hold on" was a gross
understatement.  The real goal is to hold
on and not defecate in your pants.  The
close calls just kept coming, and I had
yet to encounter the eighteen wheelers
driven by teenage kamikaze pilots with
but one agenda regardless of their des-
tination—get there first and take no
prisoners.
As we continued to head for Mai
Chau I learned a most valuable lesson:
There are No, repeat No, rules of the
road in Vietnam—survival is Darwin,
pure and simple.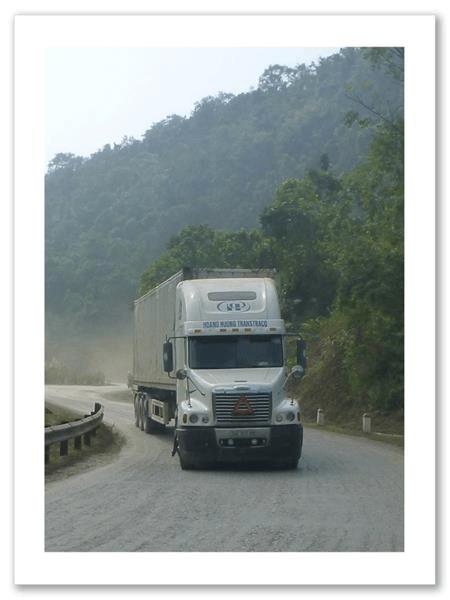 It is worth noting that there are
areas of Vietnam with beautiful white
lines painted on the roads, and beauti-
fully uniformed traffic police wielding
lovely white batons to enforce the white
lines, but these officials are generally
busy shaking down the locals.
Vietnamese eighteen wheelers
have, I thought as a safety measure,
reflector triangles affixed to their cabs'
radiators.  One theory is that the reflect-
ors allow you to see the trucks bearing
down on you so that you can take eva-
sive action.  My own theory is that the
triangles are there to line you up so the
truckers can't miss knocking you down.
Traffic in town moves slowly and chaos reigns.  Your odds of carefree
driving decrease as you move into the countryside and the roads narrow to
roughly one lane and three quarters.  Trucks driven by the unhinged are coming
right at you and passing you, in your face and on your tail.  I am not an adrena-
line junkie or an extreme risk taker (except on the Zambezi River) but for those
who crave a little excitement this is your thing.  Your life is tied to your motor-
cycle driver's skill, which is bad enough because you can do nothing about it,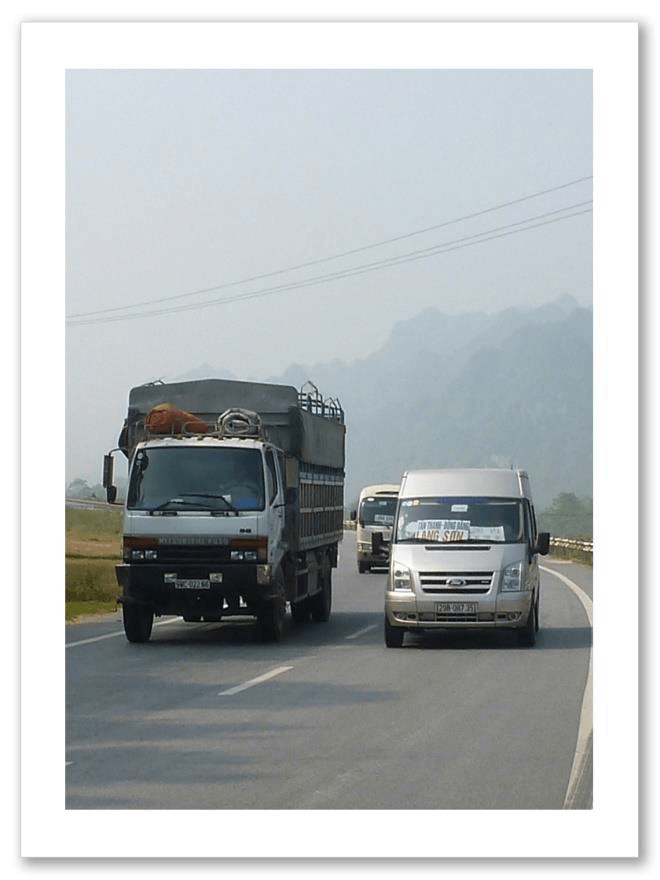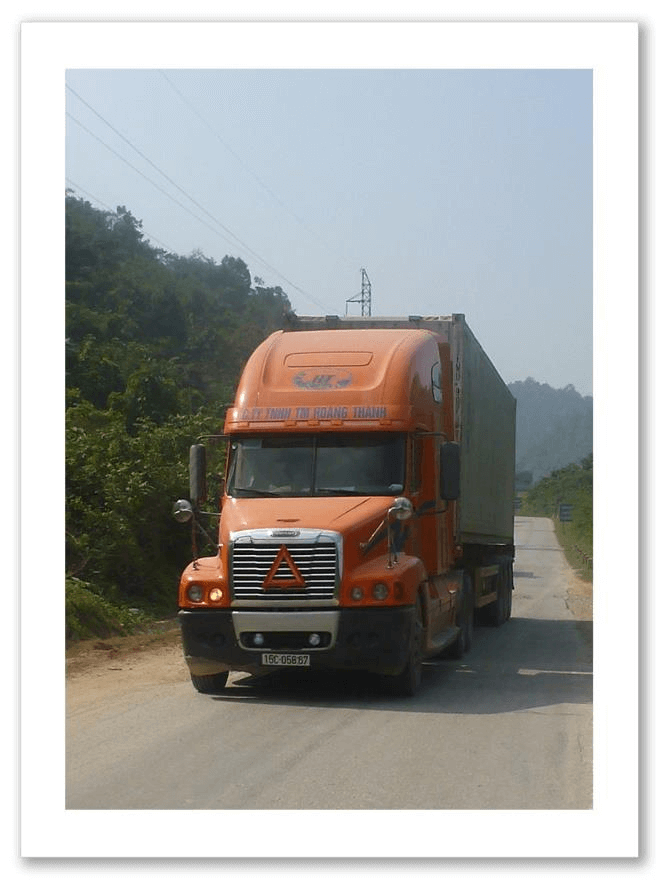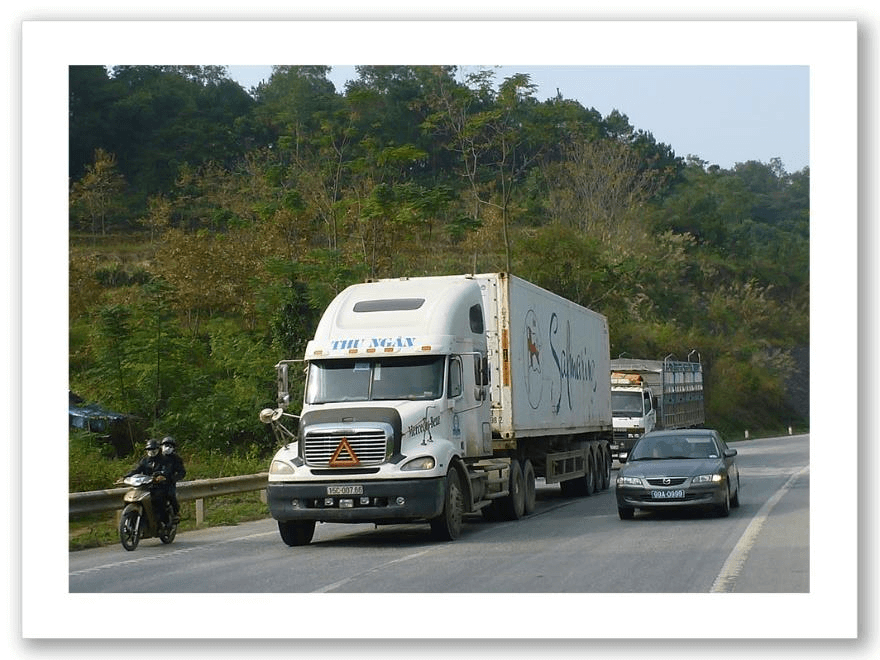 but, and this is the kicker, you have absolutely no control over the truck dri-
ver barreling towards you.  As the roads narrow, the number of guys barreling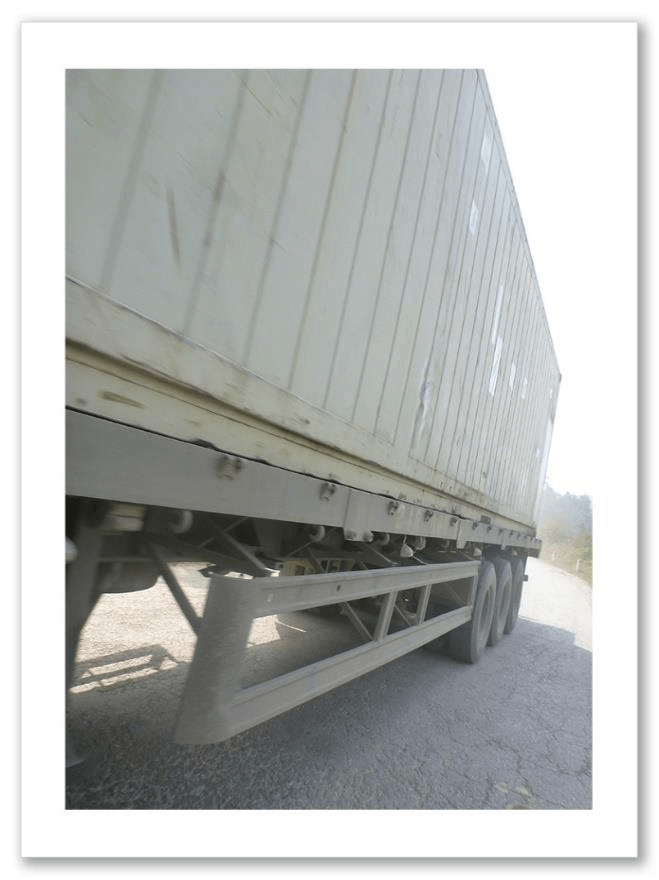 toward you increases dramatically, and
I can tell you that "just hanging on" does
not cut it.  Just when you think you are
on a decent stretch of road, some cowboy
comes up and passes you on the right.
You simply must accept that you are
riding on a motorized bicycle with noth-
ing to protect you if you are hit, on roads
of dubious quality, with, as you get into
the mountains, drop-offs of thousands of
feet, confronted by other drivers whose
ideas of safety and yours do not remotely
coincide.  No, you do not "just hold on,"
as your eyes are riveted on the road, and
if you are not concentrating it means you
do not understand the risks.  I decided
that if, when we stopped, I could get off
the bike alive and not maimed, then it was a good day—and I was riding with the
best motorcycle driver in Vietnam.  Those close encounters where I could reach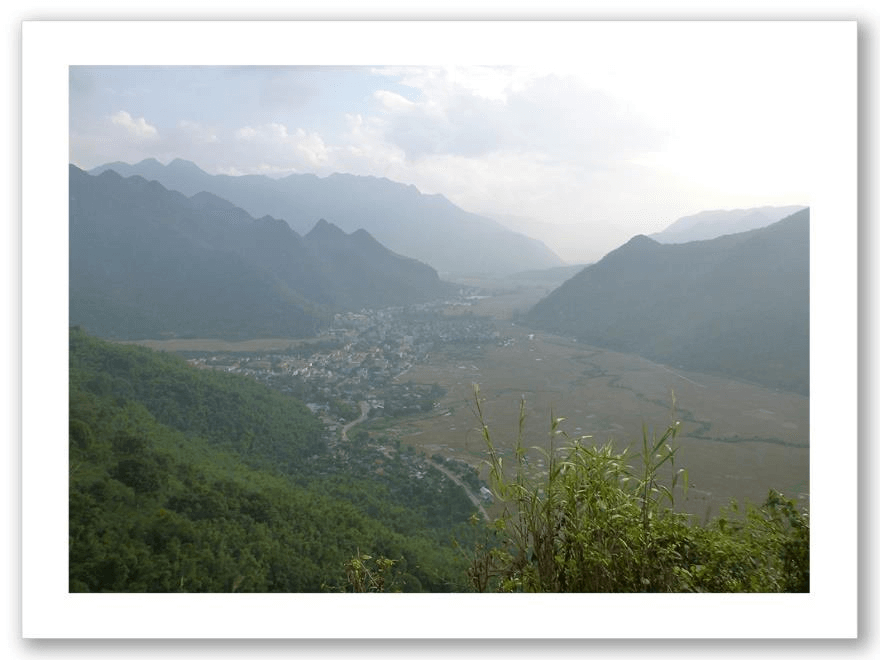 out three inches and touch the
eighteen wheeler going the
other way, and feel the hot
exhaust on my face, did not
thrill me, but it did sometimes
cause me to question what I
was doing there.
On the road to Mai Chau,
as we began our ascent to the
lands of the "Princess of the
Mists"; the haunting scenery
became increasingly enchant-
ed and surreal.  As we contin-
ued up I feared for Red Rage's well-being, and as we climbed higher I knew the
clutch was a goner.
We were headed for Mai Chau where I had a free room at a little jewel of a
hotel.  Our arrival at the hotel was the first and only time I had to pull rank.  I
am not a communist, but in certain social settings I can exhibit communist
tendencies.  The most polite receptionist indicated that, although my room was
paid for, Comrade Stone's was not.  I asked if there were two beds in the room,
and she said yes, but that it was not possible to accommodate Comrade Stone in
my room.  Adopting my best Central Committee attitude I advised her I was a
communist, and I found it appalling, in a communist country, that a worker
should be treated in such a shabby manner—this would be duly reported upon
my return.
An immediate volte face, and yes, Comrade Stone could stay in my room.
First time I ever got anything for playing Red.  Don't know if I won a friend for
life, but Comrade Stone indicated the bed was very comfortable and beat a night
in the drivers' dormitory by a mile.
While we were relaxing at the restaurant a spanking new van parked and
discharged eight female Chinese Buddhist monks, in brand spanking new cross
trainers no less, and also, by the look of their garb, two Southern California
"seekers"; altogether it was a sight to behold.  The California contingent was in
dayglow, in marked contrast to their Nicherin sect sisters in their stark yet
elegant robes.  East and West, yin and yang before our very eyes.
As dusk was approaching we were told that we must hurry if we wanted
to visit a typical Montagnard village about four kilometers distant.  We dutifully
boarded Red Rage and moseyed over.  The village was called Ban Lac and it
turned out to be a tourist trap on a grand scale.  Once in Ban Lac it is very hard
to find your way out.  As night began to fall we went from one end of the village to
the other and I thought, if this is what we could look forward to up north I had
made a bad mistake.  Businesses were closing down; we were the only customers,
and we made polite conversation and left.  We got out alive which to my mind was
no mean feat.  Miss it at all costs.
As we headed back to the hotel, emerging from the paddy field like some
brown caterpillar with two dayglow tail pieces were the female monks.  No chant-
ing, just moving along.  I decided that if the path to enlightenment required ram-
bling around in paddy fields fertilized by human feces and inhabited by two of the
world's most poisonous snakes, the cobra and the krait, this spiritual mountain
was too steep for me to climb.  However, some folks believe the "A" train can get
you to heaven, and I wondered just what, if anything, was going on in the minds
of those two Southern California dayglow types as they wandered around paddy
fields in the dark.
Our excursion was not a bust as it taught me a valuable lesson—Do Not
Drive At Night Under Any Circumstances.  We hit the road in darkness and I
immediately realized night driving is a far more dangerous proposition than
day driving which is hair-raising enough.  Halfway to the hotel we were forced
off the road by a truck that passed so close I could read, in the pitch dark, the
tare weights on the container, and the exhaust was so hot it almost burned.  This
excitement was immediately followed by a near head-on with a cyclist.  That was
enough for me, and when we arrived at the hotel I told Comrade Stone no more
night driving.  We violated that rule only once, with the same near disastrous
consequences.
Beautiful room, beautiful bed.  I fell asleep with visions of tourist trap
villages dancing in my head.  One step closer to Dien Bien Phu.
Day Six
Cold, wet, rainy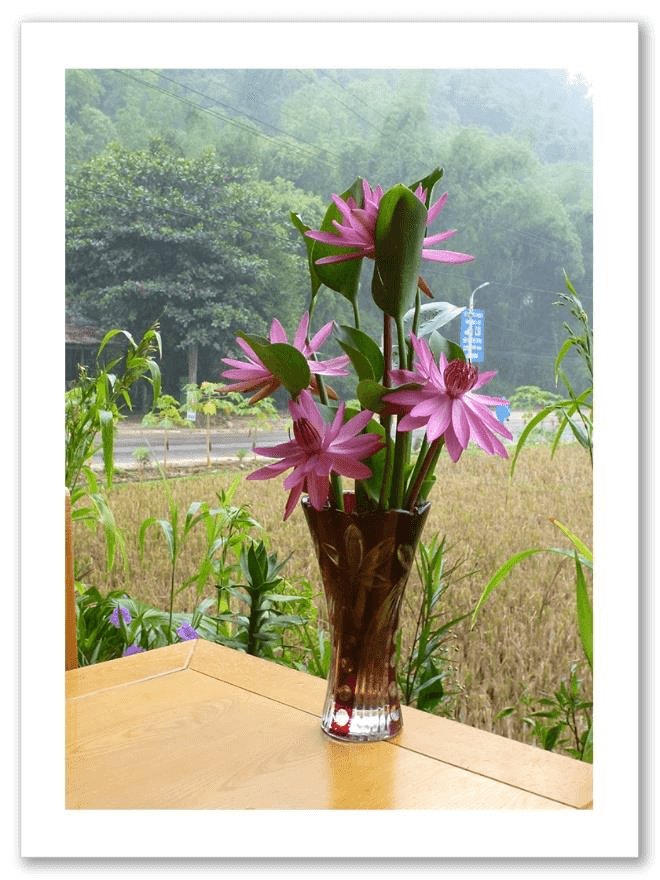 Although it was winter, a lovely
flower greeted us at breakfast where we
tarried a bit long before setting off.  Today
we began the second leg of our journey to
Dien Bien Phu.  The road narrows and we
start to climb, putting great strain on Red
Rage's clutch, but we have settled into
something of a rhythm.  We try to eat
breakfast daily, but sometimes don't, and
by mid-morning we are at some pho shop,
after which we stop for lunch and then
dinner.  Much on the menu is not to my
taste.
On our way to Son La we viewed
an old Russian hydroelectric project and
as I looked downstream and saw the tell-
tale brown color I tried to imagine the silt
build-up that had to be taking place—the bane of many American dams.  Comrade
Stone pointed out that the Vietnamese use the silt for agricultural purposes and
the dam, although somewhat dated, is still cranking out vitally needed power
for the expanding light industry in the area.
While eating at a pho place yesterday in the town of Hoa Binh I asked,
innocently enough, just what the town was based upon.  In perhaps one of the
greatest putdowns I have ever heard, Stone answered "There is really no need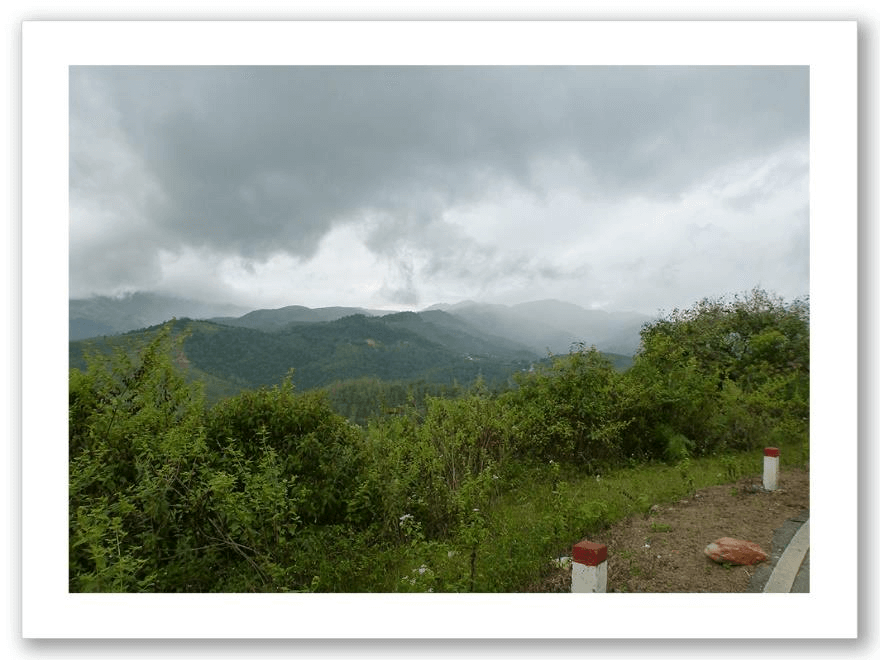 for its existence."  You can't
do better than that.
We started climbing in
earnest, in rainy, cold, misty
conditions, and the haunting
mountain views came at us
one after another (as did my
views of the drop-off if we
missed by six inches.)  The
seduction by mountains
and mist had begun, and
continued every day of the
trip.  Red Rage was constant-
ly under siege, and we rested at a pho shop located on what appeared to be a
farm.  A billboard displaying a large Holstein cow brought a smile to my face.
This billboard changed my Vietnamese eating habits in a most healthy way.
For approximately five years my father and I ran Owl Brook Farm, the
most spectacularly unsuccessful dairy farm in the history of the world, and we
did this for two reasons.  First, my father loved Holstein cattle, which will give
twenty-six quarts of milk, but with a low butterfat content.  The second reason
was he thought we could compete with Wisconsin farmers who had thousand acre
farms to our two hundred hardscrabble hillside acres.  Sadly, as we were to learn,
size matters.  In those days high butterfat was good, now it is damnation, so in
order to increase our butterfat content we had to add Guernsey cows which, if
lucky, give about ten to twelve quarts, but high on butterfat.  I have a longstand-
ing hatred of Guernsey cows because they ate as much, shit as much, but gave
one third less milk than Holsteins.  I have bitter memories of our having to flush
a day's work down the drain because a milk inspector would not give us a pass on
the butterfat content.
Here I was "in the middle of nowhere" staring a Holstein cow in the face;
on a billboard, but still a Holstein cow.  I decided to investigate.
I spied several plastic cups of what I thought looked like homemade yogurt,
so I got Stone involved and he asked about the billboard and the cups.  The pho
shop proprietor said I could go to her barn and check out her herd—what herd?
I had not seen any cows.  She gestures that I should walk down the hill a bit.  And
so I walk to her barn, which was spotless, and right there was a DeLaval milk-
ing machine, same as ours, and forty-two head of Holstein with not a damned
Guernsey in sight.  Stone and I walked back up to the pho shop where the pro-
prietor explained that we were in Vietnam's largest dairy producing province.
The government had recently launched a new and expanded processing plant
and was planning to enter the export market.
When I told her our story about butterfat content she had trouble grasp-
ing the concept as her country's milk producers were not looking for more than
3%.  I knew my father was looking down on this, smiling and saying I told you
so.  My retort was, you were about seventy years too early.  I tried some of her
homemade yogurts, four to be exact, and she showed me the brand name to
whom she sells her milk.  I dive in—it's terrific stuff.  From that moment on at
every food stop I look for Vietnamese yogurt.  Pho shop owners are not pleased;
me, I am in food heaven.
We started climbing again, and hit Son La which is nothing but a city.  We
found a $15 hotel and went to bed cold and tired.  One leg closer to Dien Bien Phu.
Day Seven
Cool, misty, damp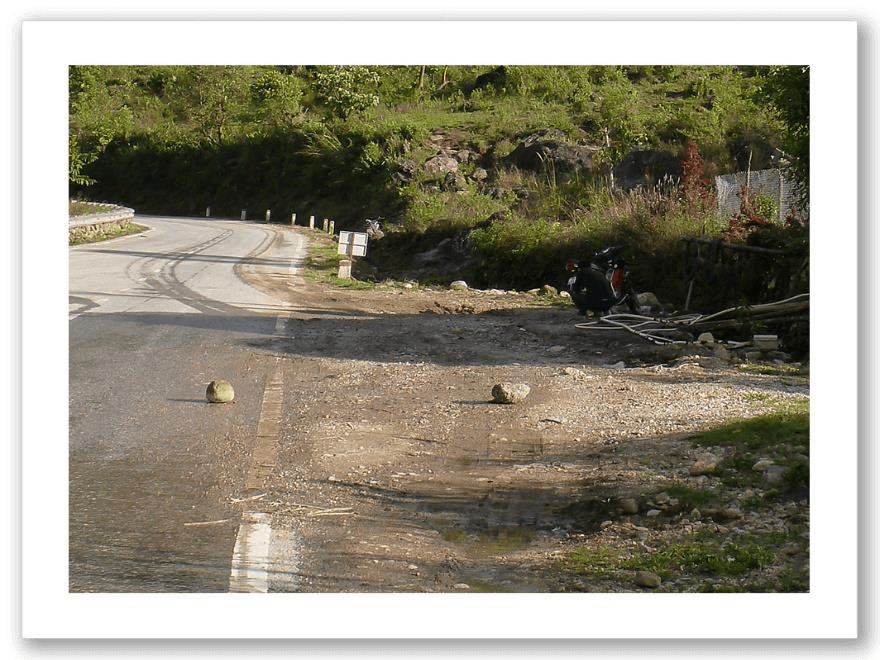 As we moved higher in-
to the mountains, rocks began
to appear in the road with in-
creasing regularity.  Vietnam
suffers from landslides and
there have been many attempts
to control this problem.  During
the war the Navy had a very
effective low level penetration
night bomber called the A6
which initially flew undetected
quite successfully under radar
coverage.  The Vietnamese
response was primitive in that it involved old single shot rifles.  The shooters
would lie on their backs and when they heard a plane, shoot in the air.  This sim-
ple exercise gave birth in naval aviators' jargon to the term "Golden Beebees".
It was only by the wildest of chance that you could be hit, but there were times
when this happened.  The analogy to the rocks in the road is most apt because
although it rarely happens, when it does the results are devastating.
The day was cold and rainy when we started out and our glasses were soon
spotted with water.  We could barely make out our surroundings as we spent the
next thirty kilometers struggling up the Pha Din Pass.  I am told the scenery is
magnificent—we just couldn't see it.  However, this caused me to pay more atten-
tion to the outer edge of the road, and in my estimation we had about eighteen
inches between us and a two thousand or more foot drop into hell, a never to be
found again hell at that.  It also seemed to me that both the cars and the bikes
passing the slower eighteen wheelers were more aggressive, and the number of
close shaves rose dramatically.
It was about half way up the pass that I saw the result of a nature-made
golden beebee.  The big rock had crashed through the cab door of an eighteen
wheeler straight through to the other side killing both driver and helper.  Bad
luck, assuredly, but I must confess that after driving past that accident when-
ever I saw those boulders near the road I always peeked a look upside—one nev-
er knows when another one's coming.
I had always wanted to walk the battlefield of Dien Bien Phu, as it had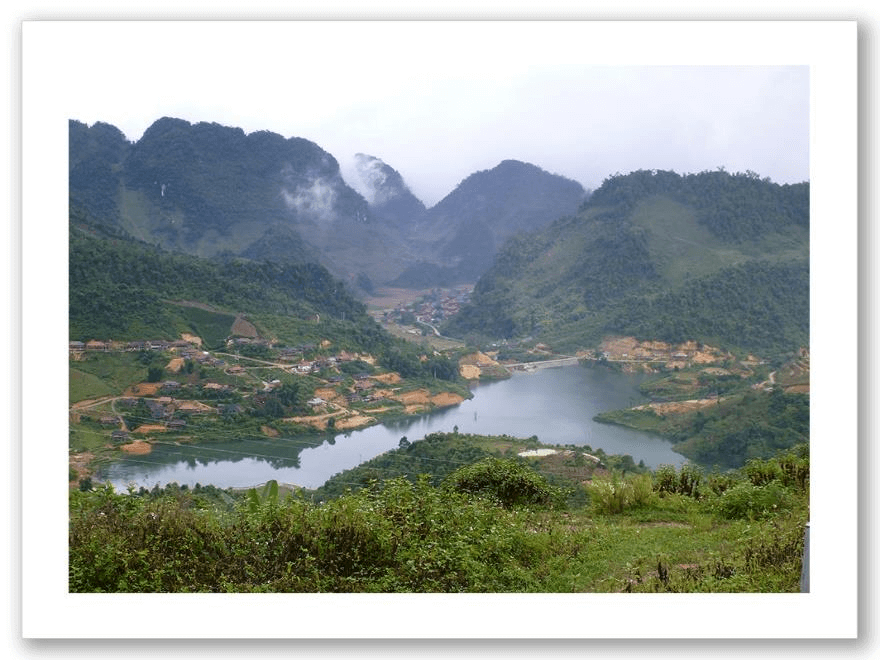 a personal connection to
my family and, in my mind,
marked the first step in the
eventual defeat of the Amer-
ican Army—the first battle
when the East turned Red.
Two books, years apart, lay
it all out: Bernard Fall's Hell
in a Small Place, and Fredrik
Logevall's Embers of War.  I
had immersed myself in both
and was pumped to see it all!
As we continued up we encountered the "Princess of the Mists", traditional
up-country homes, roast dog for lunch, and tasteful monuments to Vietnamese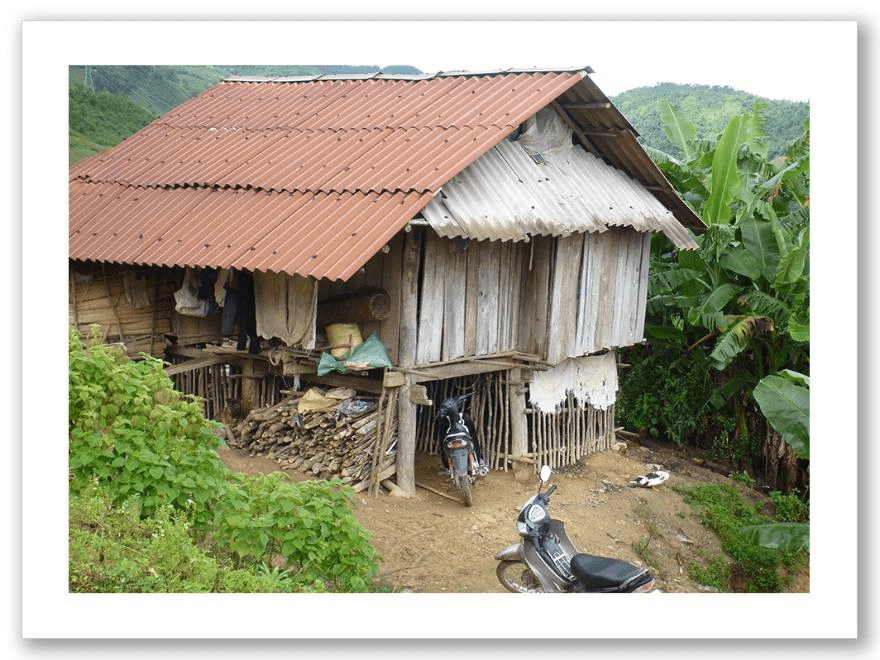 valor.  We struggled on and I
thought this must be taking
a terrible toll on the clutch,
brakes and second gear.  No
mind, we were soon going to
see, in all its glory, the battle-
field where a modern West-
ern army was defeated by
a Southeast Asian peasant
army, generaled by a "native"
commander.
We arrived early in Dien
Bien Phu and secured our
$15 hotel.  A couple of hundred yards away we were smack inside a good sized
city.  I thought I would explore a bit, and directly opposite the hotel was the Dien
Bien Phu shopping center.  On its front, which was about the size of a city block,
in plastic, no less, was a world famous picture of Viet Minh waving the triumphal
flag over the bunker of General Castries.  The image is color coded, the victors in
red, losers in blue, against a white background.
As I approached this cavernous emporium I could hear, at an earsplitting
level, unintelligible boom box music.  I entered gingerly, trying not to be at odds
with the hip-hop gibberish and local sensibilities.  Everyone inside was dressed in
Southern California mall clothing.  The cashiers, if not bopping to the music, were
restraining the impulse to do so.  As I examined this curious place I saw they had
everything except furniture, and all the goods were made in China.  Hard to des-
cribe except that this was mass merchandising, with a logo out front that, to my
way of thinking, debased the military victory.  Hey, I thought, it's their country
and they can do with it as they wish, but it brought to mind the magnificent job
the United States Park Service does at Gettysburg.  Sure land is expensive, but
this place is of national, beyond national, significance.  This is where the revolu-
tion triumphed, and now this enormous store is snuggled right up to the battle-
field.  Hard to comprehend.  Attack the battlefield tomorrow.
Day Eight
Warm, humid
Bernard Fall in his book Hell in a Small Place brilliantly sets out the stakes
for France and the Western world, and the fallout from the French defeat is still
being felt today.  Indeed, General Westmoreland adopted the same strategy as
French General Navarre, and although Westmoreland was not militarily defeated
at Khe Sanh, and inflicted grievous casualties on Giap's army, the fact remains
that several months later, after the Americans withdrew, a photo flashed round
the world showing Viet Cong troops waving their flag on the Khe Sanh runway.
What a propaganda coup.
The French fought a set piece battle with the hopes that a Viet Minh defeat
would strengthen France's negotiating position at upcoming talks to be held in
Geneva.  The place was selected, "bad ground" as Union Cavalry General John
Buford would say, with several fortified strong points in the valley.
With traditional Gallic flair the designer of the fortifications named the
points after his mistresses—eight, I believe; the guy really got around.  There is
no information about how his wife, mistresses, or, for that matter, the husbands
of his mistresses took being introduced onto the world stage in this manner.
Suffice it to say, because both sides were aware of the political stakes, the
Vietnamese, at terrible cost in terms of loss of life, attacked many of the strong
points.  Both sides realized that if strong point Eliane (A1 Hill, in Vietnamese
military thinking) were not taken or defended successfully, the campaign would
not be a win for either side.  The fighting over several days was beyond ferocious.
Eliane eventually fell, and it is the cornerstone of the battlefield, or I thought it
would be.
Initially, a good friend was concerned that our visit would not be satisfying.
She had information that no competent guides were available and that we would
therefore not get the full flavor of the field.  She need not have worried; guides
would have been almost superfluous.  Look, this is big stuff, and the Eliane site
we viewed simply falls way short of conveying the courage demonstrated by both
sides.  I found myself gazing at a very small hill, and even in my debilitated con-
dition I did the climb, making it in three stages.  The site is surrounded by some
scraggly barbed wire, and when you get to the top, except for the cemetery, the
battlefield is non-existent.  Small capitalist shops have overrun this monument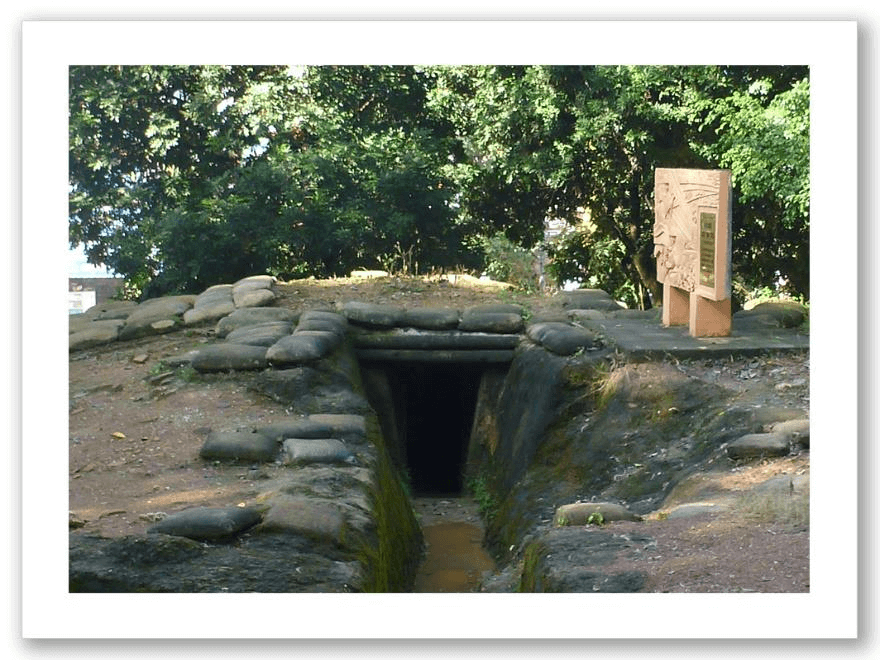 to the revolution.  One only
wishes the United States Park
Service could be turned loose
with a bulldozer.  Forty thou-
sand souls, give or take ten
thousand, perished here.
Their memory is not well
served by this tatty tableaux.
In order to ascend to
Eliane you must first pierce
the surrounding tourist shops,
no small feat, and you must
make this push both coming
and going.  Thoroughly disillusioned, Stone and I plowed into town where we
discovered seven, no less, very stylishly dressed Vietnamese young men, all on
their cell phones, on the verandah of the Windows Café—this at least was worth
a look.
Window's Café was definitely a find; the closest thing to a French café this
side of France.  I ordered a Pernod, and although I have not had a drink in sixty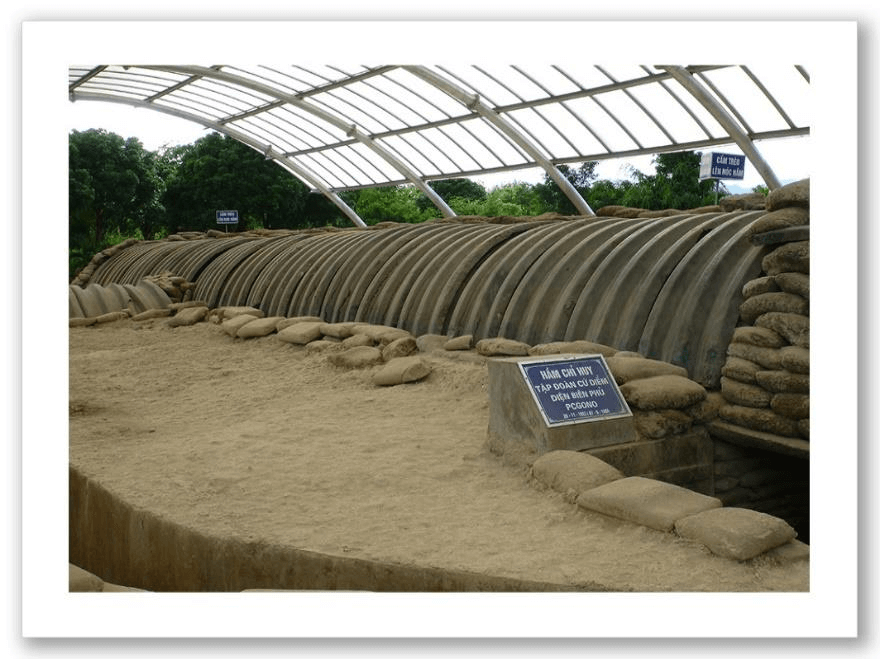 years, I lifted one to the paras
who jumped in on the last day,
knowing to a certainty that
they would be captured or
killed.  Almost all perished.
I saw that Comrade
Stone's focus was not on past
Vietnamese glories, but on the
pressure car wash across the
street that was doing a land
office business, and how he
could raise the capital to get
one started.  We stayed at
the café for several hours and then visited Castrie's command bunker which has
been beautifully preserved, right in the middle of a series of small businesses, in-
cluding several mobile phone dealers.  Although not yet surrounded by souvenir
shops (and likely soon to be as overrun as Eliane) here too was a clever tourist
trap—you could not get in to see the bunker unless you passed through the shops.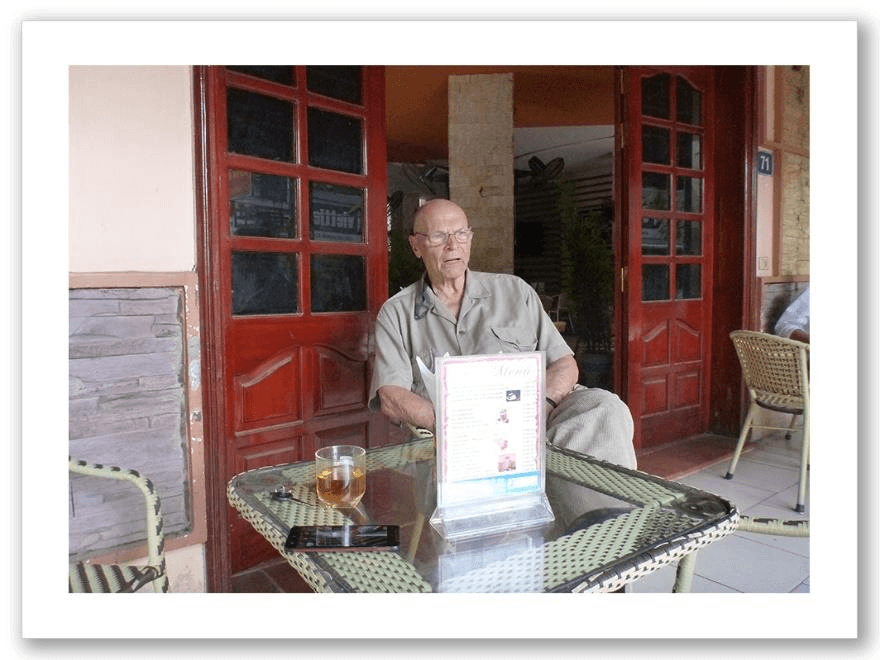 Later that evening, as I
spent a few hours dealing with
my disillusionment, I contem-
plated again the number of
sporty and stylish young men
on the verandah of the Windows
Café. Then I realized that I was
in the land of the "brown fairy"
which was much more profit-
able than any car wash! Let
me see light—hard to square
with the Viet Minh's valiant
sacrifices.
Day Nine
Hot, humid
Started the day as any civilized person would do, at the Windows Café
watching the beautiful but undeserving rich banging away on their cell phones.
Then on to the recently completed Victory Museum.
The battle and how it was won was starkly illustrated by Vietnamese
logistics and French logistics. Despite the disastrous site selection for a set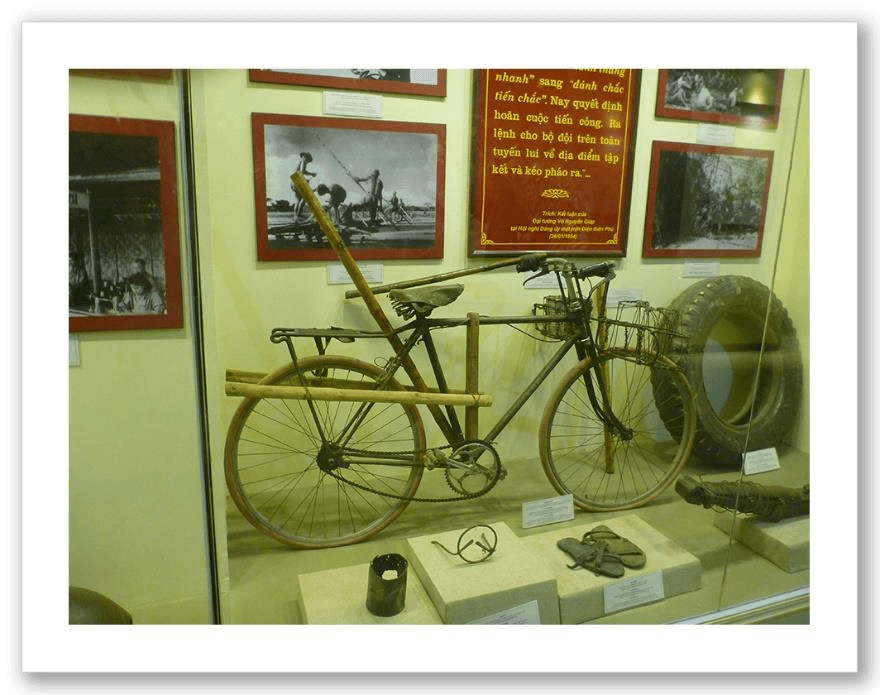 piece battle, French logicians
indicated they could support
the garrison at Dien Bien Phu,
embracing the same fairy
dust assurances Goring gave
Hitler at Stalingrad. The
French defeat, and indeed,
the subsequent American
defeat, rested upon a cheap
Chinese bicycle ridden by an
army of courageous porters
who were slaughtered by the
thousands. Air power had
failed, yet again, to defeat a dedicated foe who operated light and nimble, and
was willing to take the casualties.  The museum was extremely well done, pro-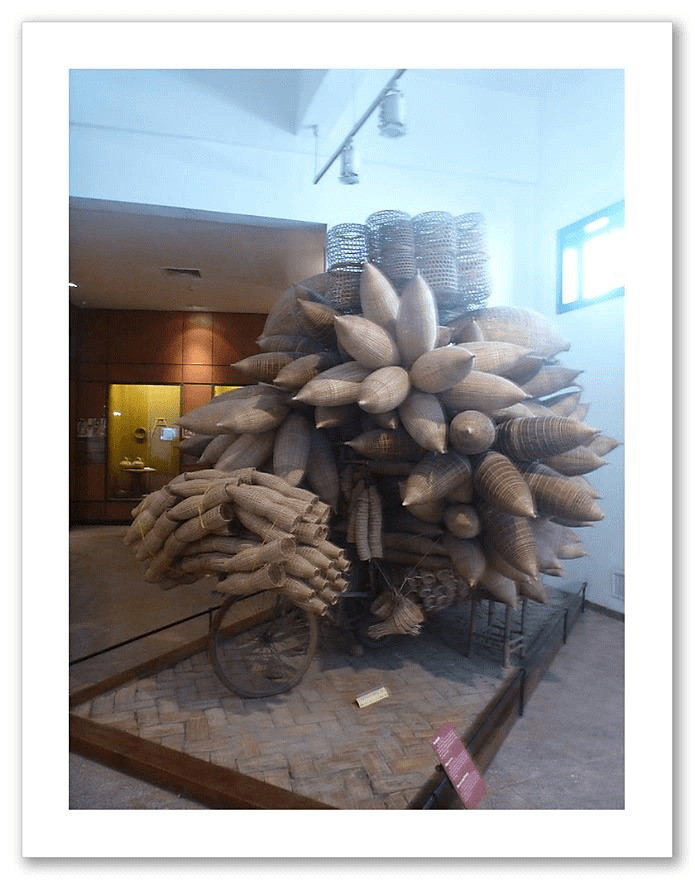 vided a wealth of information, and even
displayed General Castrie's bathtub for
ridicule and contemplation.
I told Comrade Stone I wanted
to trace the outline of the battlefield,
and we attempted to do so.  We encoun-
tered so much small business develop-
ment it was worse than if downtown
Brooklyn had snuggled up to Cemetery
Ridge and Culp's Hill.  The battlefield is
beyond reclamation, assuming anyone
wanted to do so, and sadly, in this econ-
omic climate no one seems motivated to
undertake the restoration of the great-
est battlefield Vietnamese history will
ever know.  Big let-down—did not re-
motely inspire the recognition and the
glory the sacrifices should have engendered.
Not commented on by liberal western writers is the fact that about 13,000
French prisoners were marched north after defeat.  A few years later only 3,000
came back.  As Jean Laterguy notes in his book The Centurions, many of the
3,000 learned the way of warfare from their captors and adopted the Maoist ap-
proach.  They began to preach this approach, and it bitterly split the French mili-
tary, and especially the wives of high ranking officers, from the paras and the St.
Cyr crowd.
Many of these officers went to Algeria with a different kind of warfare on
their minds.  The OAS had roots in these officers, and the conflict in the French
military, although muted, still simmers to this day.
One of the French generals involved declared that when he made his "last
jump" he wanted his ashes dropped on Eliane, and I understand his wish.  As one
of my colleagues will attest, I am an admirer of French grand gestures, no matter
how ludicrous they may be; she believes I, too, am sometimes too personally
enamored of grand gestures.
Any paratrooper will tell you the guys "up front" never get the DZ right,
and on this occasion they would have to put his ashes in a pickle barrel—a risk
we cannot take.  Why?  Because if the pilot missed, the ashes would float down on
the tourist trap army surrounding Eliane, or worse, on businesses, most probably
onto the roof of the Dien Bien Phu market, where they would be subject to the
pounding of ersatz hip-hop music and the constant honking of horns—not the way
you would want it to be.
To carry out the General's wishes I suggest you wait 'til nightfall, breach
the tourist trap army and join your comrades at the French memorial.  Wash the
site down with a good bottle of French champagne and all will be right with the
world.  If you need help breaching the tourist shop siege I am available—it would
be my pleasure.
Day Ten
Cool, damp
"The Ubiquitous Blue Tents"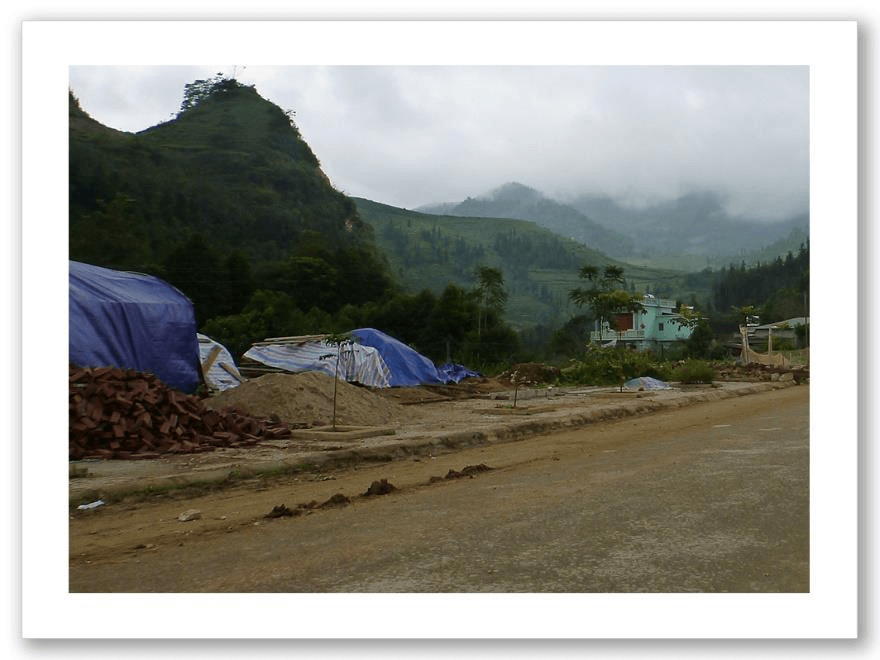 About 25 kilometers
outside Dien Bien Phu, as Com-
rade Stone and I commenced
our climb to Muong Lay, we
came across dozens of blue
tents, and the road became a
motorcross mud nightmare.
These tents are used by road
construction crews to live in
and to provide shelter during
road repairs.  They are a warn-
ing that trouble lies ahead.  A
beleaguered Red Rage would
sink up to the sprockets in mud, and only Comrade Stone's strength and skill got
us through.  It was a constant battle, and each jolt sent my coccyx bone pounding
into my molars.  Clearly, these were not the best conditions for tandem cycling,
but in my weakened condition, with mud halfway up my leg, walking I would not
have made it ten yards.  Stone battled on, but always in the distance were the
dreaded blue tents signaling mud battles to come.
"Just what's in the dust you've been eating?"
As we progress higher into the mountains the road deteriorates badly,
and dust is thrown up by the vehicles in front of us and by those that pass us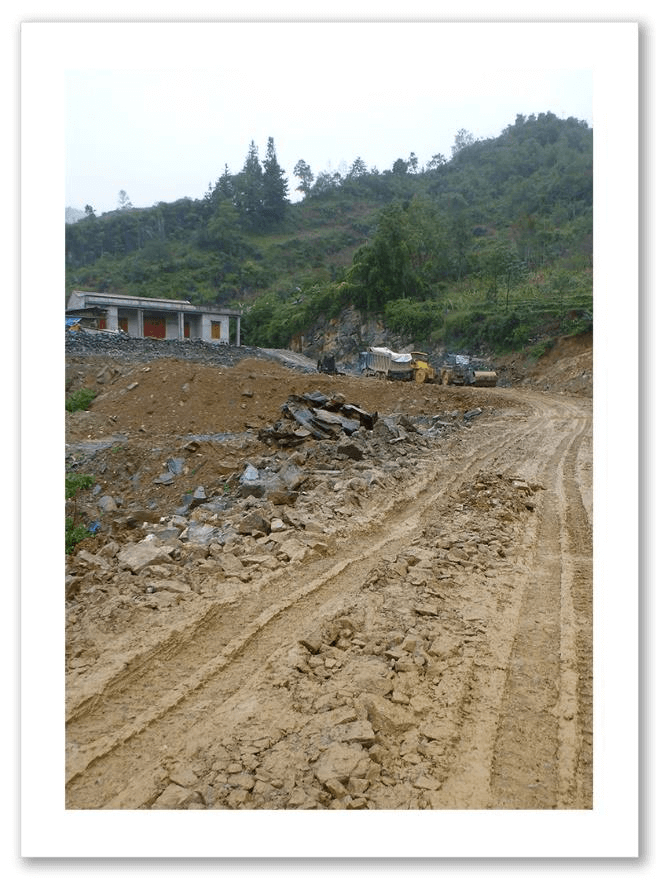 headed the other way.  The best answer
to the question "what's in the dust" is that
you simply do not want to know, or even
hazard a guess, as it will probably put you
off the rest of the trip.  The measure of
how you are handling it is how long you
can stand taking a hot shower that turns
to cold and still carry on until you know
you are clean.  Tish, tosh as to the ele-
phant-sized buffalo turds or the Vietnam-
ese housewife throwing that pan of water
and whatever else into the middle of the
road.  The list could go on but, hey, it's
adventure travel and would you rather be
in a car?  Don't sweat the small stuff.  Just
suck it up—you are on the cutting edge—
onward and upward.  However, if you con-
sider your clothes an indication of "civilized" travel, you will realize they smell
gamey with scents you have never experienced before.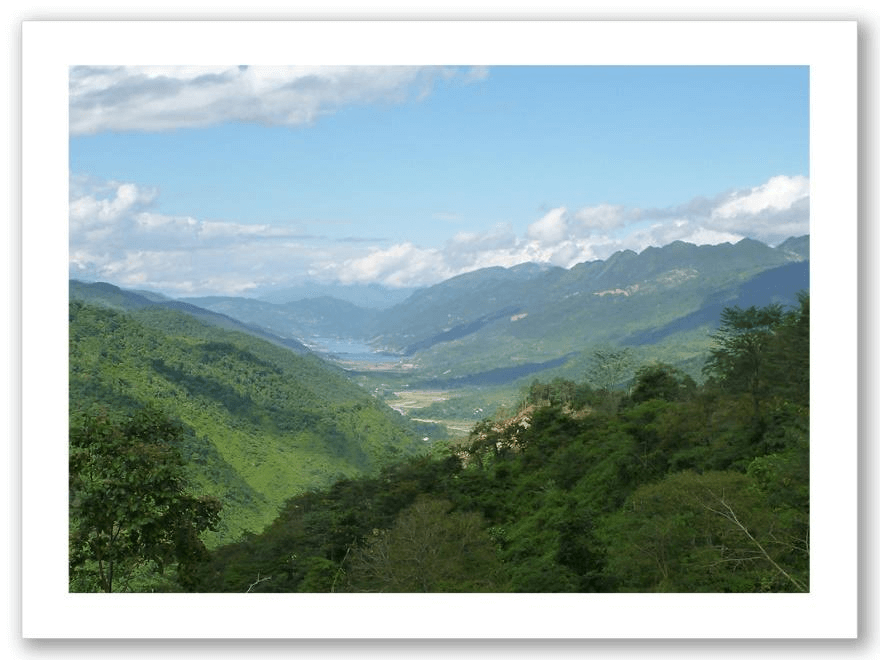 After the dust comes the
mud, as we carry on towards
the town of Muong Lay, which
is a story in itself.
Comrade Stone and I
skirt a large lake which has
been dammed and will soon
cause Muong Lay to go under.
In short, Muong Lay is doomed
to drown.  The town itself sits
in a pretty valley surrounded
by spectacular mountains but
has an air of despair never-
theless.  We arrive and I take a decisive step in the trip—the purchase of a towel.
My butt simply cannot endure the pounding anymore.
Although I am in awe of Comrade Stone's driving abilities, Vietnamese
roads have finally taken their toll on my coccyx.  In fact, every bump now feels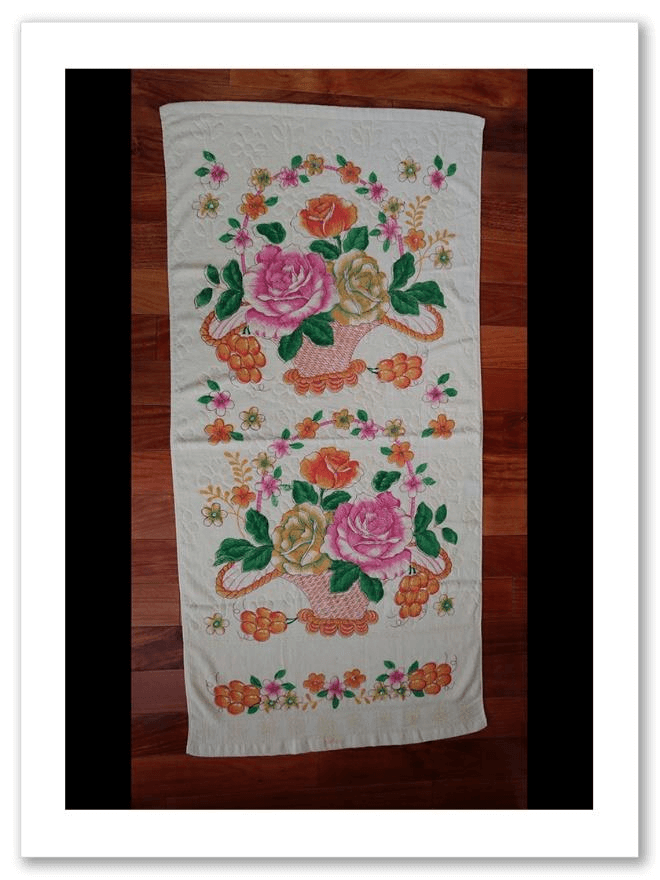 like someone is smacking me directly in
the ass with a hammer.  As a result, I am
unable to effectuate a stylish dismount
for the benefit of pho shop patrons along
the way.  In fact, my dismounts are simply
those of an emaciated seventy-eight-year-
old weakling.  What I need is an eye-catch-
ing seat cover to divert their attention.
I now ask Comrade Stone to find
me someplace I can buy a towel to use as
a seat pad.  We travel the main, which is
virtually the only, street in search of a
towel.  Strangely enough, we have a hard
time finding one, but then we strike gold,
if you can call it that.  I say this because I
am offered a towel with a pale yellow back-
ground, huge pink and orange flowers, and
no artistic grace whatsoever.  This towel will serve to provoke quiet ridicule each
time I dismount throughout the remainder of the trip.  It borders on the ghastly.
I take it because there is no other option, and the proprietress rips me off for $2.
I wasn't about to bargain with her.
For some strange reason we do not take a room in the town, but move out
a bit until we spot a hotel that sits alone on a hillside.  Our stay there will provide
one of the most powerful memories of the trip.
The hotel is majestic from a distance, silently contemplating the rising
waters that will eventually swallow it whole.  Three stories high, monstrous by
Vietnamese standards, set in a picturesque if isolated area, the hotel solemnly
awaits its fate.  As we approach there is not one motorcycle to be seen.  We pull
up to a magnificent reception area and peer through the glass doors.  The soaring
lobby is all marble, and everything is spotless.  The eerie part is that the recep-
tionist, dressed in a western suit no less, is the only person on the premises; in
short, a hotel, but no guests.
Stone enters but returns somewhat dejected, reporting that he could not
get the rate below $19.  I tell him, let's splurge.  The room is also magnificent,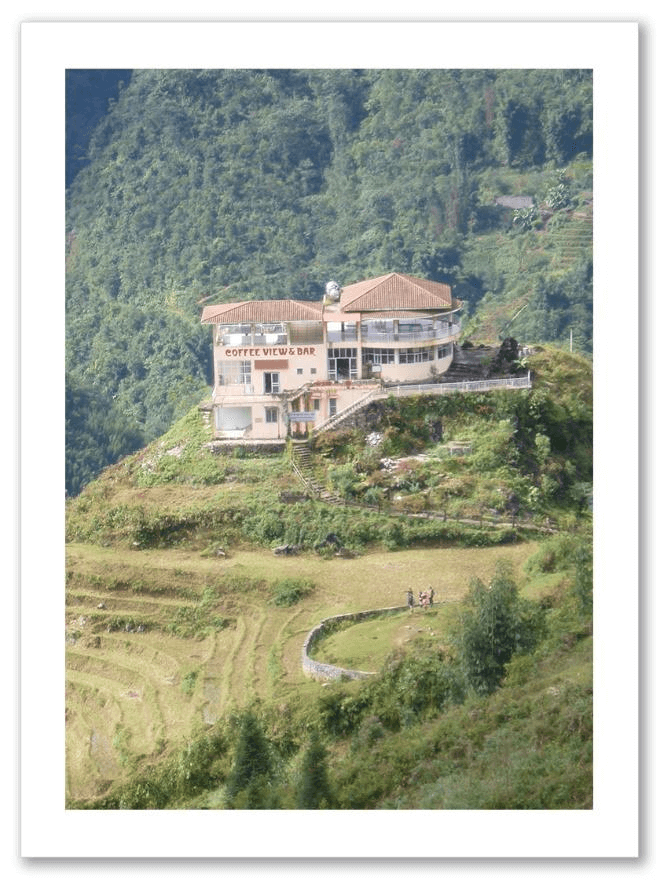 looking out on a lovely mountain view.
I ask Stone why there are no guests and
he replies that several years ago "rare
earths" had been discovered, and the
hotel was built to accommodate Korean
and other engineers.  The "rare earths"
left, and the hotel was hoping for an
upsurge in tourism.  I ask him if the
submerging of the town was the big
attraction, as that kind of draw would
not last too long.  Clearly we were the
only guests so I calculated that, with an
occupancy rate of roughly 00.01, the
place was doomed.  For reasons which I
could not comprehend, Stone was very
up-beat.  Me, I was puzzled.  It was like
a scene from Yojimbo but without the
gamblers and pimps.  We were the only guests.  I took a real bath and went to
sleep as we were to begin our assault on Sapa the next day.
Day Eleven
Cool, damp
This morning's breakfast would fit right into a Fellini film.  As we approached
the reception desk we were ushered into a banquet hall immaculately set up for
three hundred guests.  A short wait and then a charming, if clueless, young lady
arrived.  After employing a calculus I can only fantasize about, she selected a table
and motioned for us to be seated.  She disappeared and out of the gloom appeared
a young man who acted as our waiter.  The other two hundred ninety-eight ghost
guests were silent.  The young waiter produced a Vietnamese meal for Stone and
three eggs over hard for me.  I was happy as I didn't want any of what Stone was
having.  We and the other two hundred ninety-eight ghost guests retired, Comrade
Stone and I to Red Rage, they to who knows where.
I tried to fathom, and failed utterly, what it must be like for a young adult
working as a waiter in a magnificent, doomed hotel.  The facilities rivaled any
western hotel, but it had no guests, no future except oblivion, and none of the
romantic atmosphere of a doomed Old West silver mining town.  With one last
backward glance I unveiled the towel for its maiden voyage and prepared to
mount Red Rage.  Stone and I headed out for Sapa.
For inspiration during my training for this trip I had used a photo of Tran
Ton Pass.  And now here I am right in the middle of the highest peaks, headed for
the pass, and what I erroneously believed will be a somewhat native experience.
Stone and I took off with high hopes, but, about 16 kilometers down the
road heading to Lai Chau, Stone again battled mud to the sprockets, the bike
bottoming out every ten seconds, traffic absolutely refusing to give way.  I could
have easily touched twenty eighteen wheelers, and we had three head-to-head
standoffs.  The scene was akin to those First World War pictures in the winter
and spring on the Austrian Serbian front.  That we got through was a tribute to
Stone's technical and safety skills.  They were nonpareil.
We rolled into Lai Chau city and collapsed at a pho joint.  I even ate the
food.  The towel was greeted with the silent disdain it deserved.  Hey, at least it
was purchased locally and provided some relief.  I thought Stone's manner of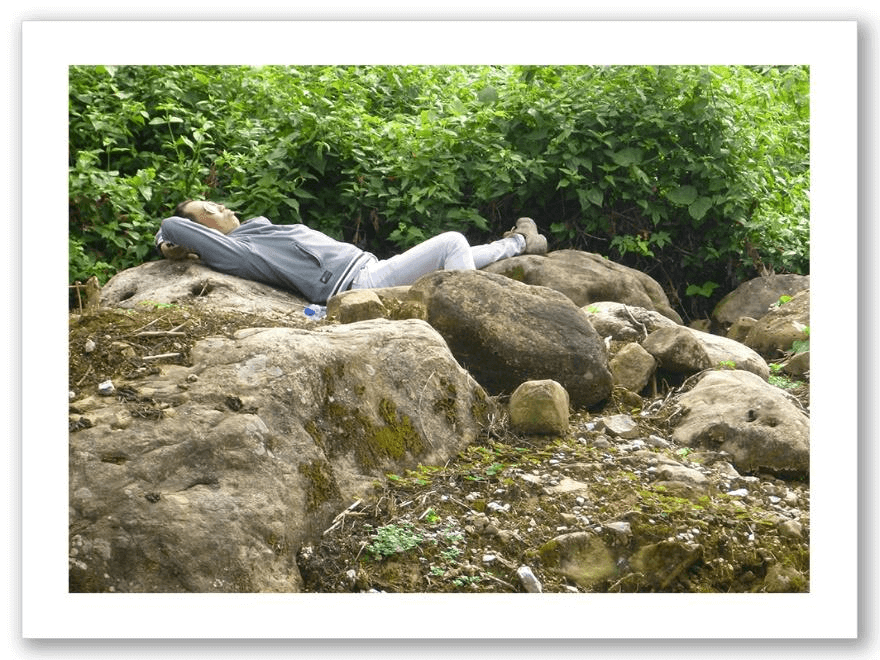 taking a break was some-
what novel, but then I too
found a comfortable rock
to recharge my batteries.
Because of the weather we
had missed much of the
scenery, but from my point
of view, we were lucky to
be alive; and Red Rage had
surely suffered some seri-
ous damage.
"Lonely Planet"
opines that the route from
Lai Chau to Sapa along Highway 4D, which threads through the Fansipan moun-
tain range, is a beautiful stretch of road, and that was where we were heading.
However, they neglected to mention the twenty kilometers going down after you
summited the pass.  It was a thrill a minute.
We started to climb and for the first time in days we were able to take in
the views.  The mountains beat the propaganda, vista after breathtaking vista.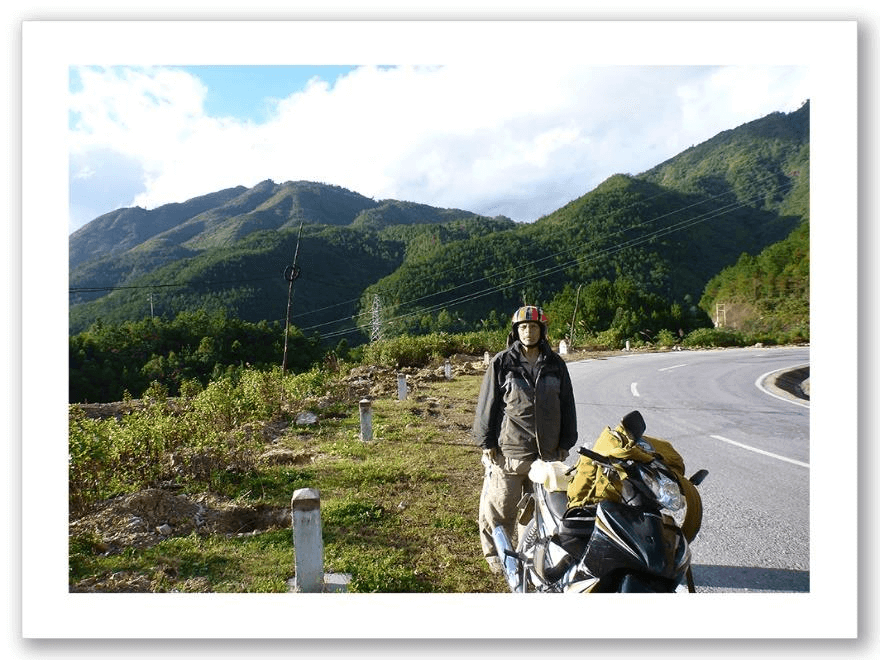 We were on the pass that had
initially inspired the trip.
Although Stone and I may
have been enthralled, the
kamikaze truckers weren't,
especially on their way down,
and each eighteen wheeler
that passed caused me to look
how close we were to the edge
of a 3,000 foot drop to no-
where.  To summit the pass
and take it all in—words fail.
Thankfully Red Rage did not,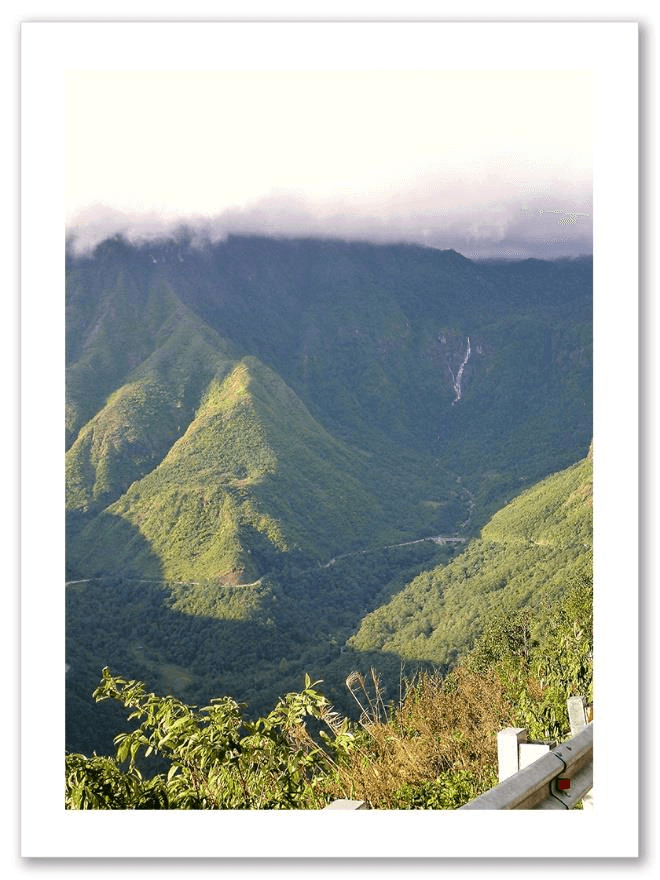 although the bike's clutch, brakes and sec-
ond gear were under siege, and I thought I
caught the first whiff of smoke.  We were to
test my sense of smell on the way down.
We summited the Tran Ton Pass at
19:00.  After a brief rest we remounted just
as rain began to fall.  Both Comrade Stone
and I wear glasses and the rain makes them
almost useless.  Rather than trying to see
through the lenses, it's a better bet to look
over the top.  The goal is two-part: to avoid
hitting the blur of human shapes that flit
across the road; and to avoid being struck
down by a truck bursting out of the gloom.
We did not have to go far to see the
weather's deadly consequence, a spectac-
ular head-on which clearly killed everyone
involved.  The cabs looked like they had been
through a Mixmaster.  It started to rain harder, and Stone and I were faced
with a problem with no apparent safe solution.  We were behind an eighteen
wheeler, and we could see and smell his brakes smoking.  Our bike was also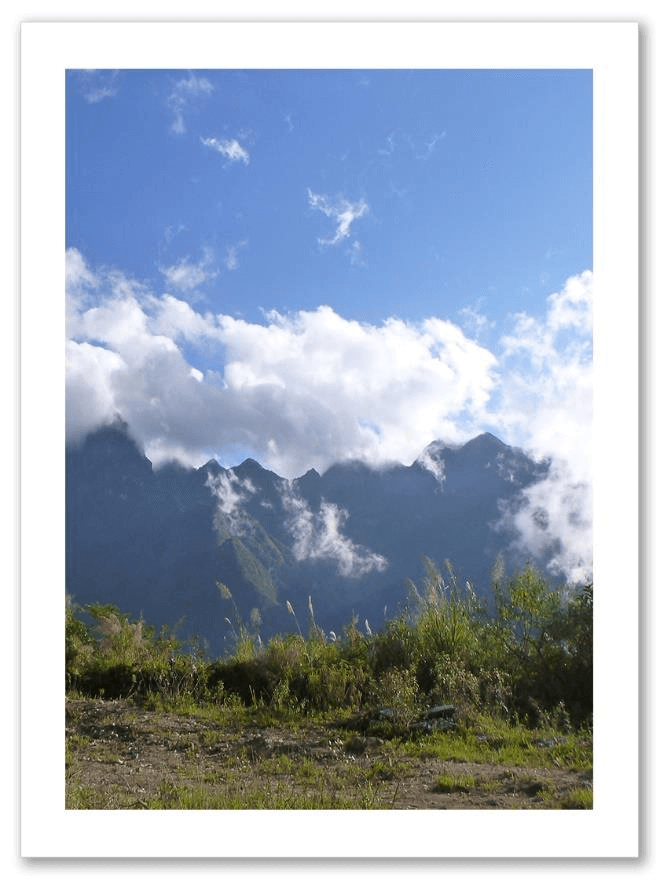 having trouble in second gear.  To pass
or not to pass,and if we did pass, did we
gain anything.  We simply could not see
beyond the cab of the truck to the road
ahead, but one thing for damn sure, our
second gear did not have the accelera-
tion it had when we started.  Stone took
the shot and nothing happened; and we
made no other attempts to pass.  Cold,
wet, and very tired we rolled into Sapa
and tried to locate our free room.
After a trip around Sapa we found
the hotel.  Stone and I crashed from fa-
tigue.  We had missed both the view and
the charm, but we made it.  The bike
took a helluva pounding.
Day Twelve
Misty, rainy, cold
Sapa is world renowned for its views and the largest concentration of
H'Mong and Dzao peoples; travelers and travel books all sing its praises.  While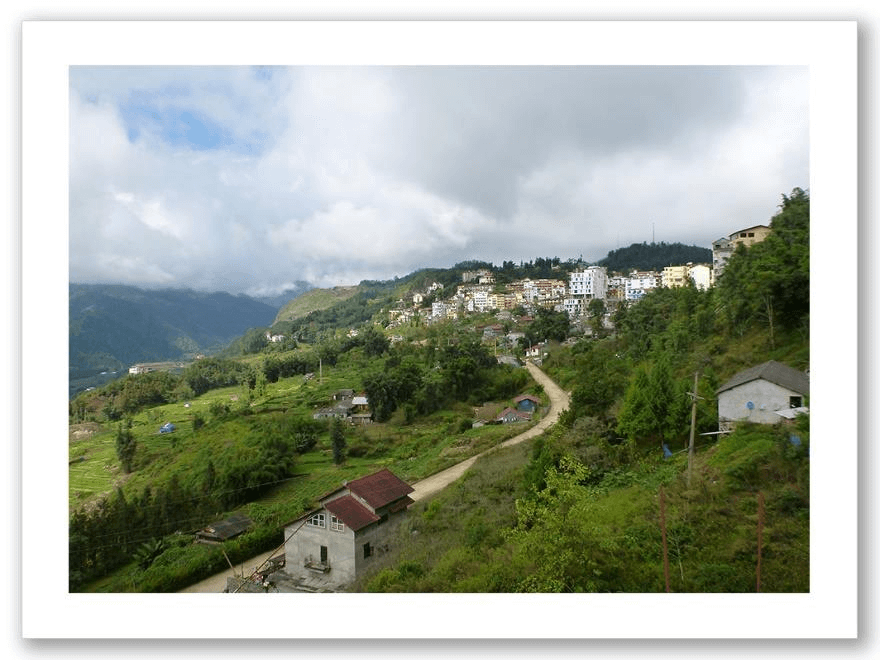 we were there it was cold
and foggy, and the spectac-
ular views were consigned
to the guidebooks, but there
were other adventures to be
had.  Roundeyes of every
description pile into Sapa
looking for the "native" ex-
perience, and boy do they
ever get it, in every size,
shape and manner.
One complete side of
the main square is devoted
to tourist traps, the main theme being a "home stay" with a H'Mong family a bit
further down the side of the mountain.  As the tourists come to the square they
are beset by swarms of H'Mong women pitching them god knows what, but for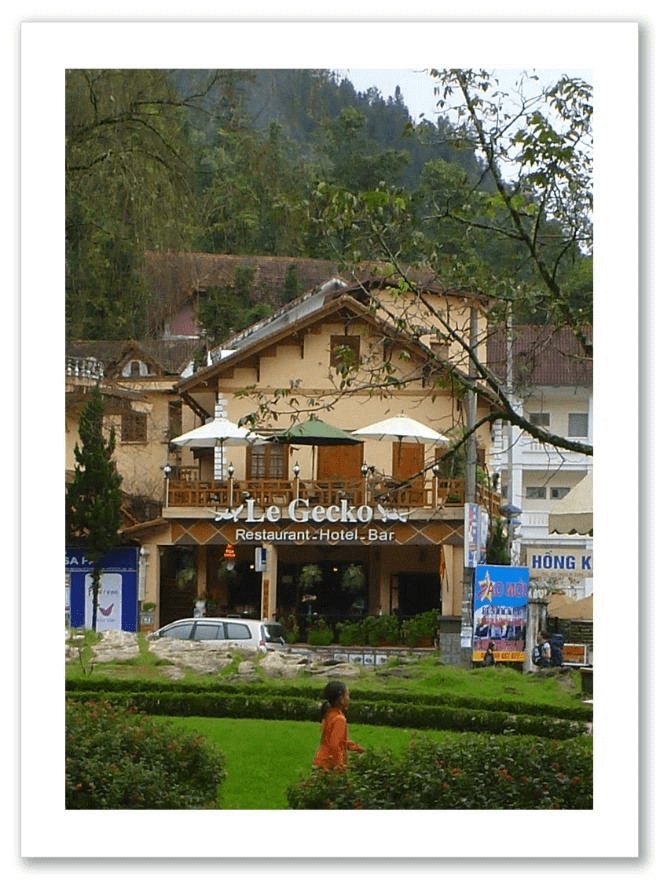 sure the pitch includes a "home stay."  I
found a small restaurant, Le Petit Gecko,
which is an offshoot of the famous Gecko
housed in an old colonial property.  It had
a stove, some western food and only seven
tables.  An ideal perch to watch the action.
Comrade Stone put it thusly: "When
you put out honey the flies will come."
The women were on the tourists like lo-
custs, and the action lasted for at least
three hours; they clearly knew the Orvis
crowd from what Stone refers to as the
"travelers" crowd.  I was watching raw
capitalism at work.  Four husky Ger-
man frauleins being heavily pitched an
overnight stay in a village by twenty
H'Mong women is both humorous and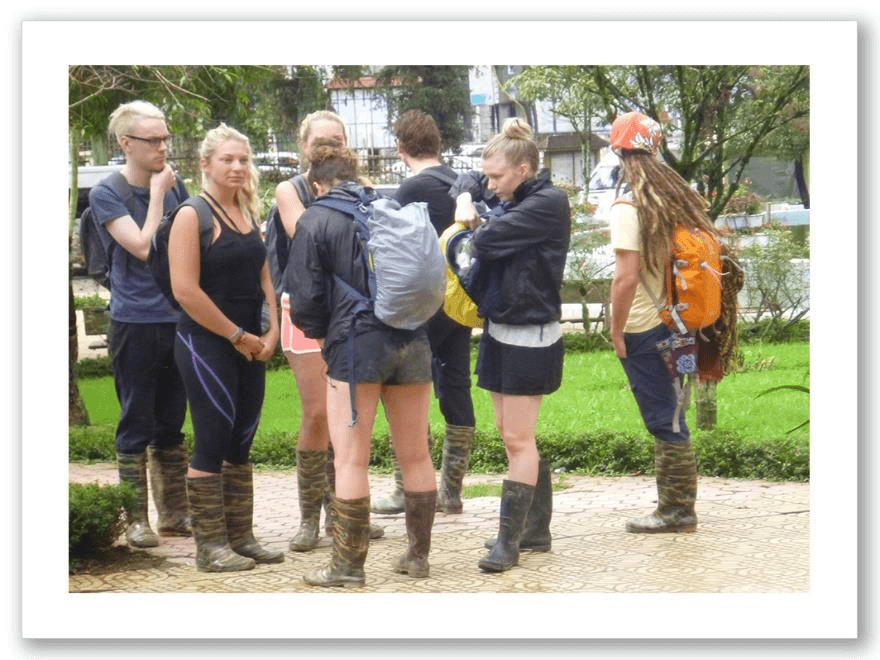 sad.  Rich Americans in
particular are sitting ducks
for the pitch to "go native"
for a night.  Query—if more
than half of the village is
made up of tourists during
the day and evening, just
how "native" can the night-
time experience be?
The economic benefits
of tourism are everywhere,
but nowhere more so than
cheek by jowl with our hotel.
Here sits the obligatory BMW in a town where driving five miles an hour was
lunacy, and driving for long distances on the roads we traveled to get into Sapa
would be suicidal in such a low slung car.  A veritable monument to capitalist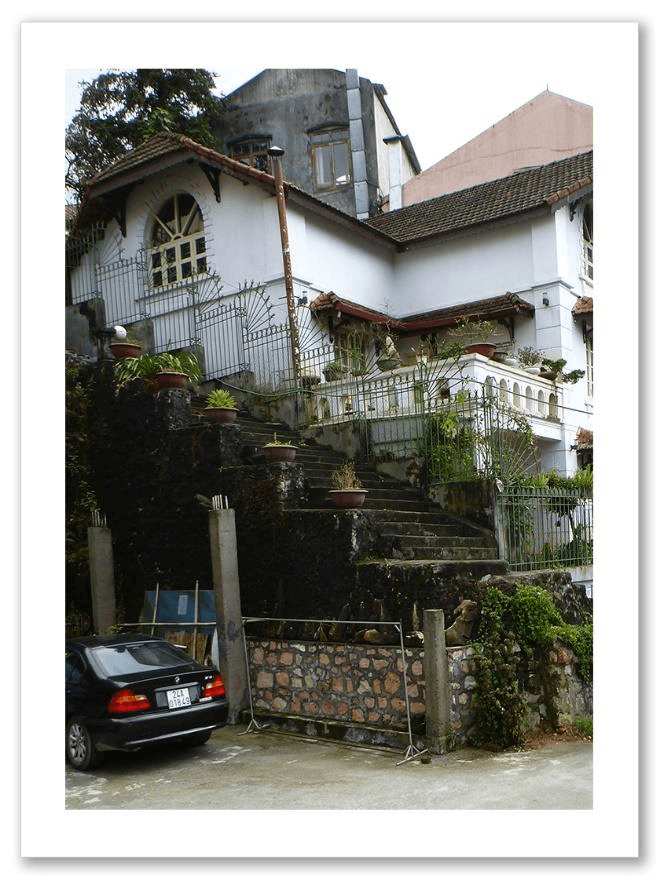 waste, greed and ostentation.
We traveled around Sapa and
found it incongruous, bizarre is a better
word, that halfway down the trail to the
"home stay" was a large building adver-
tising itself as "The Artists Café".  I told
Stone we had to hit it and he agreed.  But
first we hit every tourist trap shop ima-
ginable, and bought nothing.  Back to The
Petit Gecko for a warm fire and a west-
ern meal.  Up to that point the music had
been ersatz Black American shout, when
all of a sudden Richard Clayderman, play-
ing "Murmures" no less, filled the air.  I
was floored—a warm fire, a small place,
only one other couple in the joint and a
chance for more action tomorrow.
Doesn't get any better than this!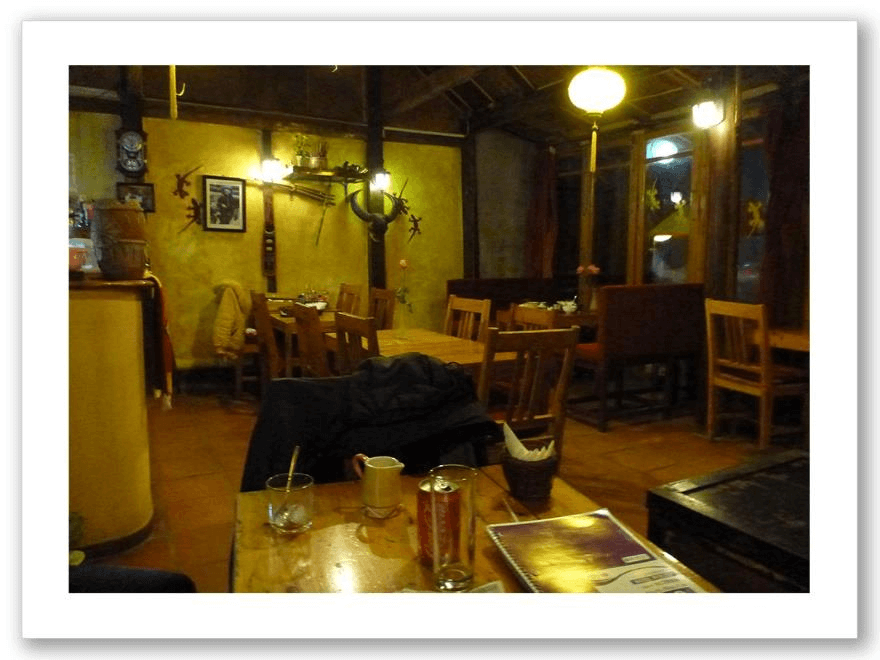 Day Thirteen
Rainy, cold
Below the clouds
Got to the Gecko early today and the action was feverish.  Sometimes we
couldn't see the tourists for the touts.  We, or rather I, as Comrade Stone had had
enough of western food the night before and was munching quite contentedly on
a kebab, of what meat I dare not venture to guess, plotted our small adventure.
We watched the hustle with a now practiced eye and began to make bets which
tourists would fall.  Many did, so that was good for business.  Stone took me down
to the entrance of the village, but because I was feeling weak we did not pay to en-
ter, and proceeded instead to The Artists Café which we noticed the day before.
The café is really a small teashop with the operator's art on display.  We
sat and chatted, and I examined the artwork while Stone consumed pots of the
vile green tea he favors.  I struck gold as the café had Tetley bags, and, again out
of the blue, more Clayderman.
As we sat sipping our teas of choice I noted many young energetic Ameri-
can females making their way back to Sapa after their "home stay" down in the
village.  Most were in glorious spandex and Juicy Couture, and the outfits were
the real show.  Perhaps viciously I asked them if they had enjoyed their "home
stay" in a village where every night the tourists outnumbered the locals.  It was
all in good fun, or was it, as some of these young ladies, after an evening of "going
native", were in no mood to discuss their adventures.  I bought one of our host's
pieces, and Stone and I headed to an unnamed tent shop where I had noticed
some Flower H'Mong pieces.  They looked real to me—they were.  Thus began
another step back in time.
For centuries the Flower H'Mong were spread across Northern Vietnam,
and large numbers were in Laos.  We used them, and that is a charitable word.
We made boys as young as twelve and thirteen (or encouraged them to by means
of silver and gold) become boy soldiers, and fearsome soldiers they were.  It was
my privilege to be a "tourist" in their land.  Any way you look at it, a twelve-year-
old carrying a Chinese made RPG is an awesome sight to behold.  One of my for-
mer colleagues who was really into "native textiles" told me he found some of
the Flower H'Mong embroidery exquisite.  Although a devotee of the "studying
native textiles" dodge, in this chance meeting I got lucky and hit the jackpot.
The store owner spoke excellent English with an American lilt which
she said she learned from the "travelers".  I thought I would press a bit, and she
confided that her mother had known Americans many years ago.  I am not a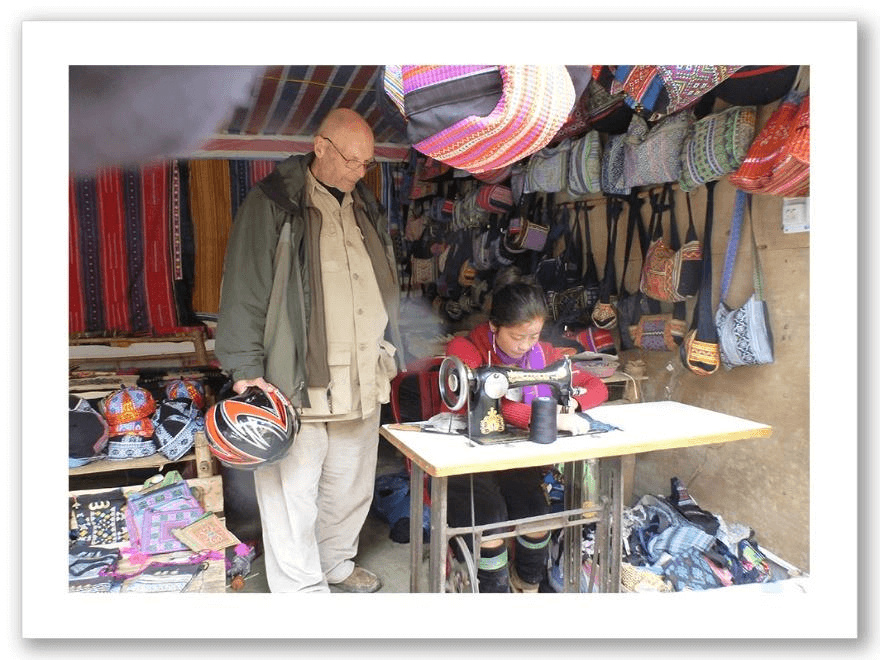 connoisseur of embroidery
or weaving, but I know which
colors I like and she had them
all.  I shunned the one piece of
orange embroidery, and with-
out bargaining a cent bought
all the hangings she had.  I
then foolishly hesitated on
another piece her husband
brought in as I was leaving.
I told her I would be back
tomorrow.  The shop has no
name, no address (I asked
for one), is located in a tent near our hotel and clearly lacks a business plan, but
hopefully if they arrive home (I mailed them) some of my friends' walls will be
graced by Flower H'Mong weavings created 10,000 miles away.
Back to the warmth of the Gecko where I pressed Stone into eating western
food, and we both enjoyed the smell of wood smoke and the warmth of the fire.
Day Fourteen
Cold, rainy, wet
Above the clouds
A day to remember for many reasons.  We start early, above the clouds,
and wait for a while at the textiles shop, which does not open—the piece I left
behind dances in my head to this day.  As we move out in the mist we experience
the "real Sapa".  We are heading towards Bac Ha and the worst stretch of road
imaginable for thirty kilometers.  Up in the middle of nowhere with no eye on
the scenery, but just trying to hang on and stay alive.  We bottom the bike out,
hundreds of times, and Red Rage in low gears—are there any others—begins to
sound as though you had placed marbles in your mother's Mixmaster.  The
scenery is shockingly beautiful but, candidly, who is paying attention.  Comrade
Stone is literally fighting the bike all the way, and the battle is worse than the
Austrian Serbo-Croatian front.  The idea is to get to Bac Ha and rest.  We blow
into town in the darkness, and I am advised because of a peasants' convention
there are no rooms, not even the one we booked, and that room was on the fifth
floor.  Given my condition I would have been lucky to make the first floor.  My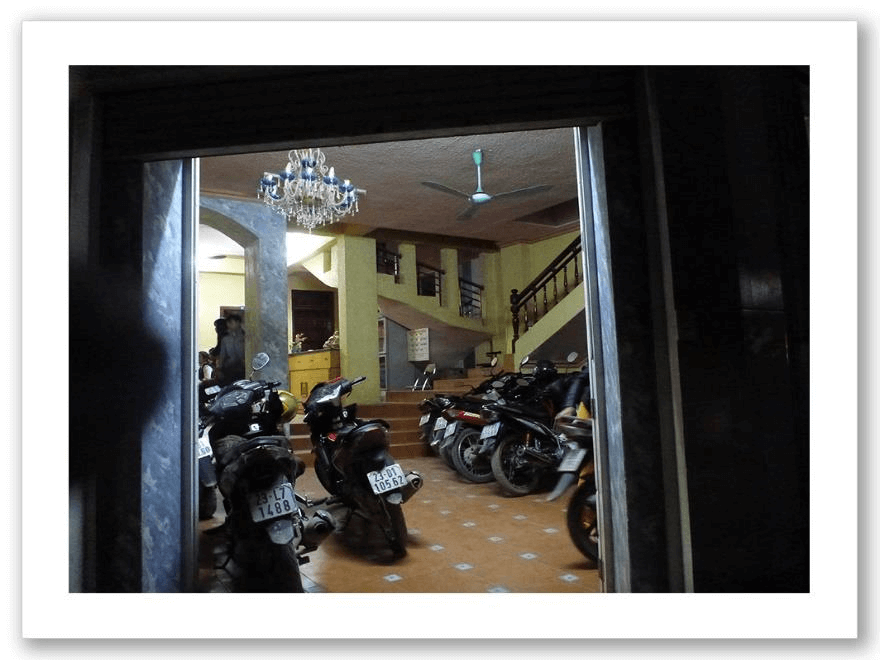 assessment of the lobby
confirms my belief that the
peasants are doing well in
Bac Ha.  I figured, given the
shape I was in, I would die
by the time I hit the second
floor, and then I made the
worst mistake of the whole
trip.  I asked if there were
rooms in the next town
ahead.  The concierge said
he thought so.
Off we went, violating
my cardinal rule of the trip: No night driving.  The next 42 kilometers of night
driving was the most hair raising experience of this or, for that matter, any other
trip I have ever taken.  First, the bike's light cast a forward beam of at best six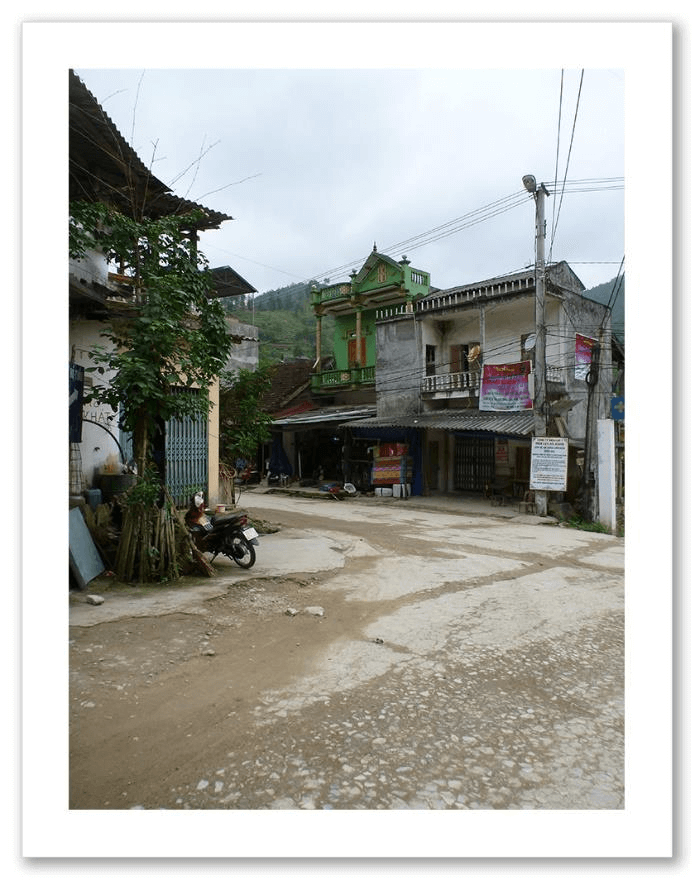 feet.  With regularity, the one-eyed and
two-eyed monsters loomed out of the
gloom, and just kept right on coming.
They were so close I could smell the gas
fumes and feel the heat from the ex-
hausts.  This stupidity was all my fault
and the situation was not inspiring.
Hell, we couldn't see anything until it
almost ran us over, we were in the mid-
dle of nowhere passing villages that
were fast asleep, and we had no idea of
what the condition of the road was until
we hit it.  And it was pitch black.
This continued on for about two
hours and a half until we hit a cross-
roads sign informing us that the next
town was 40 kilometers away.  Not me,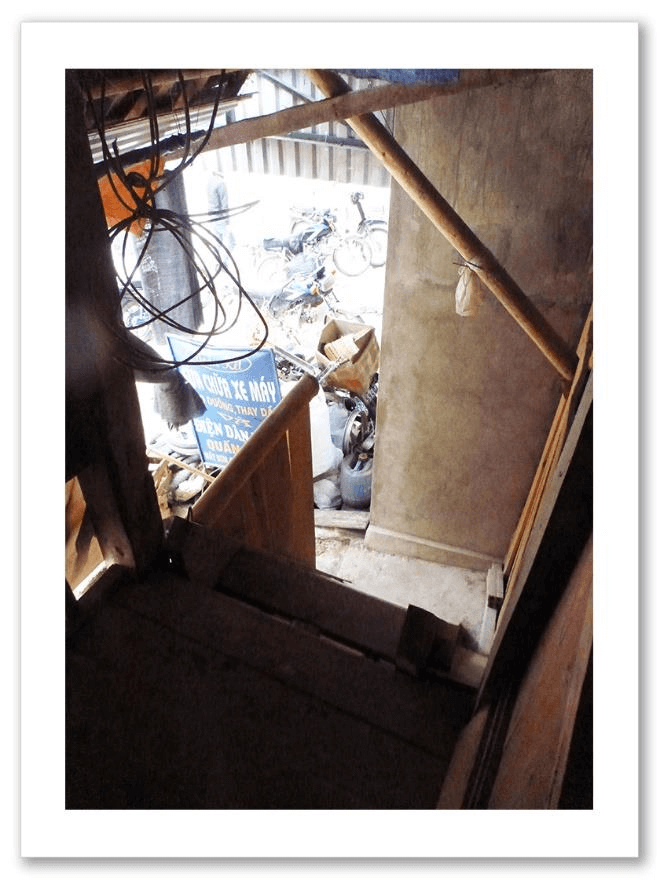 I told Stone.  I would rather sleep stand-
ing up before I would go one kilometer
more.  Pitch black, end of the earth!
The crossroads had a pho shop that
was still open, and although I didn't want
anything to eat I told Stone to ask the guy
running the place if he knew anyone who
would put us up.  He said he had a room
downstairs.  Stone took a look and flatly
rejected that idea.  Me, I flatly repeated
Not One Inch More.  The village was close
to the edge of the earth, it had the pho
shop and seven houses, and wasn't even
on the map.  I was beat and I am sure I
looked it.  Events were to prove me right.
The impasse was broken when a
guy driving an eighteen wheeler and his
helper sat down.  He was devilishly handsome, and during his discussion with
Stone said I looked so bad I could sleep in his truck as he drove to Ha Giang.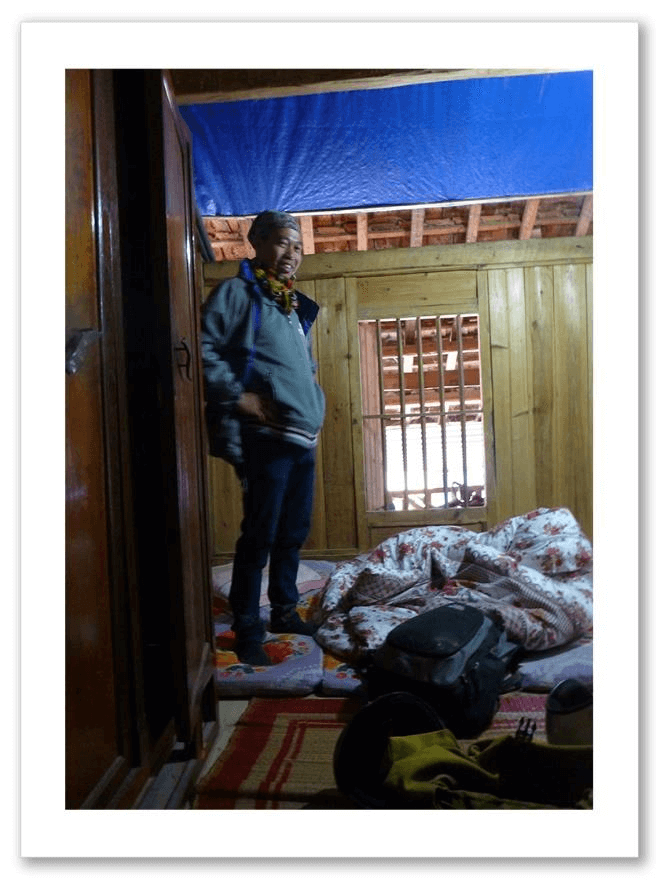 Stone only told me this later.
The landlord must have felt
pity because he said he owned a few
rooms and would fix them up so we
could stay the night.  Mysteriously
two mattresses appeared out of no-
where as well as some brooms, and
the manager disappeared across the
road.  By this time the truck driver
and his helper were fast asleep in the
chairs which caused me to wonder
just how far we would have gotten
before careening off the road and hurt-
ling thousands of feet to an unknown
grave.
The manager came back and
said he had fixed up a room.  I noted
it was fourteen steps almost straight up a ladder, causing me again to curse my
stupidity in not accepting the room in Bac Ha.  I just managed the ascent, and the
room could have been the rack for all I cared, but the best was yet to come.  The
manager was chatty and seeing the Russian Spetsnatz patch on my hat indicated
that he, too, had been in special operations.  He had gone to Russia and fought
against the Chinese in 1979 and was very proud of Vietnam's achievements.
That ugly "little war" is one that doesn't register with most westerners as the
Chinese avowed purpose of "teaching the Vietnamese a lesson" blew up in their
faces, and militarily they got a very bloody nose.  Every Vietnamese has a right
to feel proud about that one.
The Chinese approach—and make no mistake, they want Vietnam firmly
in their embrace—will soon be to show the club, the pretext being the dispute
over various islands in the South China Sea.  Despite the coming storm, Chinese
goods flood the Vietnamese markets, with the financial embrace growing tighter
each day.  The scope of the economic penetration is hard to gauge precisely, but,
based solely on the prevalence of cheap consumer goods, it seems to be working.
Me, I was dog tired, but I remember the days when an association with special
operations meant the death knell for your career and so, in the middle of who
knows where, in a village literally not on the map, in the upstairs of a who knows
what, I thought I would have some fun by humming the Soviet national anthem.
The anthem has several spots where you really come in hard.  As I hummed,
the manager's demeanor perked up and, as I hit the high points, he started to
conduct me.  At the end he hugged me and said, in English, he would see me
in the morning.
My thoughts turned to more mundane matters, and I asked Stone where
the toilet was.  He pointed around the corner, but in my fatigued state I could
not find it.  I did find what appeared to be an old liter bottle of orange soda and,
although not perfectly to be sure, did a reasonable job of avoiding pissing my
pants.  I hit the mattress rather pleased with myself in that I had survived the
motorcycle trip, deftly skirted eating any of the food in the pho shop, navigated
the ladder without having a heart attack, and pissed almost successfully in a
bottle after being unable to locate the toilet.  Who says one cannot have a good
time and a sense of accomplishment in the village of Nam Dich which is not even
on the map.  Hey, it had been a good day in the world of adventure travel, espe-
cially for a seventy-eight-year-old.
Day Fifteen
Overcast, cool
"Pho Shops I Have Known And Will Be Forced To Know"
Several years ago the very hip New York scene and its uberfoodalistas
discovered Vietnamese cuisine, and the glossy foodie magazines sang its praises
to the skies.  It was the new ambrosia and supposedly good for you, too.  Two
Vietnamese restaurants opened in Chinatown, a bit socially downstream for a
really hip New Yorker, and I actually had a friend who regularly ate at one.  Me,
I wouldn't eat Vietnamese food for ideological reasons, and I had very malevolent
thoughts when I occasionally passed a Vietnamese eatery.  As with many foodie
fads one of these restaurants recently crashed and burned when the foodalistas
moved on to some delicious greens that can only be imported from the Congo; as
Shakespeare would say, just the right amount of eye of newt and tongue of dog,
presented just so.
One of the mainstays of Vietnamese cooking is pho, which is made with
beef or chicken, or other delectables such as dog, with stringy noodles as its base
ingredient.  Pho shops are everywhere, and I mean everywhere, and my exper-
ience in the wild has not made me as enraptured as the foodie crowd.  I believe it
was Seneca who opined that once the Romans paid attention to what epicureans
had to say, Rome was headed for hell in a handbasket.  I might, based upon my
experiences in pho shops twice a day for two weeks, go even further.  But why
so harsh?
I have watched several friends raise their children to become doctors,
lawyers and Indian chiefs, but I believe if your goal is to create a revolutionary,
all you need to do is slip hip restaurant reviews and inane glossy foodie articles
(such as a recent ode to the joys of spending $350 on a dinner for one) into the
child's reading materials.  Before too long the child, recognizing the sheer deca-
dence of it all, will be headed to the barricades with a firebomb or two readily to
hand.  So, a few months back when the New York Vietnamese food fad died, its
demise was mourned by an off-course unicorn, but not by me.  No, I had, one
might say, a more skeptical view of Vietnamese food.  And here I am, all but Vel-
croed to Comrade Stone, who twice a day as we worked our way north would stop
at a pho shop and stoke up for the next slog forward.
My father's practice was to stop at diners where there were lots of trucks
because truckers knew where to find good food.  This was, of course, an efficient
if somewhat simplistic approach to restaurant selection.  Nevertheless, until my
mother passed and I moved out, we were subjected to this food tyranny on every
road trip.  I mentioned this to Comrade Stone as we religiously cruised the remo-
test of outposts, he with an almost religious fervor, to find just the right pho shop.
Pho shops have no physical rhyme or reason, occupying store fronts of
various dimensions, the floors covered in napkins and other paper trash, and
pieces of discarded food reminiscent of a good Anglo Saxon meal where they
forgot to let the dogs in to clean up.  The food is displayed in a most unappetiz-
ing fashion with the ubiquitous ghastly yellow chicken front and center.  I could
write a monograph about variations in shades of yellow as a measure of chicken
decomposition.  Swarms of flies flying in formation around the food, the occa-
sional dog asleep on the floor.  The shops are generally peopled by several or
more sullen men.  If you are lucky, you will be greeted by an emaciated middle
aged Vietnamese woman with terrible flinty eyes and a look that conveys she
would, at the drop of a hat, flay you alive and put your body parts on the menu
disguised as some delicacy other than human flesh.  I have endured two weeks
of pho shops and the experience has been most enlightening, humbling, and a
gastronomical adventure on the dark side of foodie land.
I, over several decades, have struggled heroically to be New York hip
because, hey, is there any other world worthy of my aspiration?  To join that
crowd of night creatures who are so cool, so "in".  To revel in the company of
those boorish, arrogant lunatics whose collective IQ hovers somewhere below
dull normal.  I have failed dismally in New York, but this does not stop me from
bravely trying to be New York hip in the highlands of Vietnam.  Hey, the bar
cannot be that high; but, sadly, once again I fail.
My attempt to be New York hip begins with the all important stylish
arrival at the pho shop.  The nonchalant dismount is the key, but how can you
dismount nonchalantly when you cannot feel your right leg?  I had in my mind
practiced the "Frankie Dettori", a French jockey's flying dismount, but because
my leg at this time was clearly infected and two times its natural size, my flying
dismount dreams are thwarted.  Everyone is watching—hell, there is nothing else
to look at, so the guy lifting himself off the folded towel on the back of the motor-
cycle becomes the natural object of the locals' attention, amusement or scorn.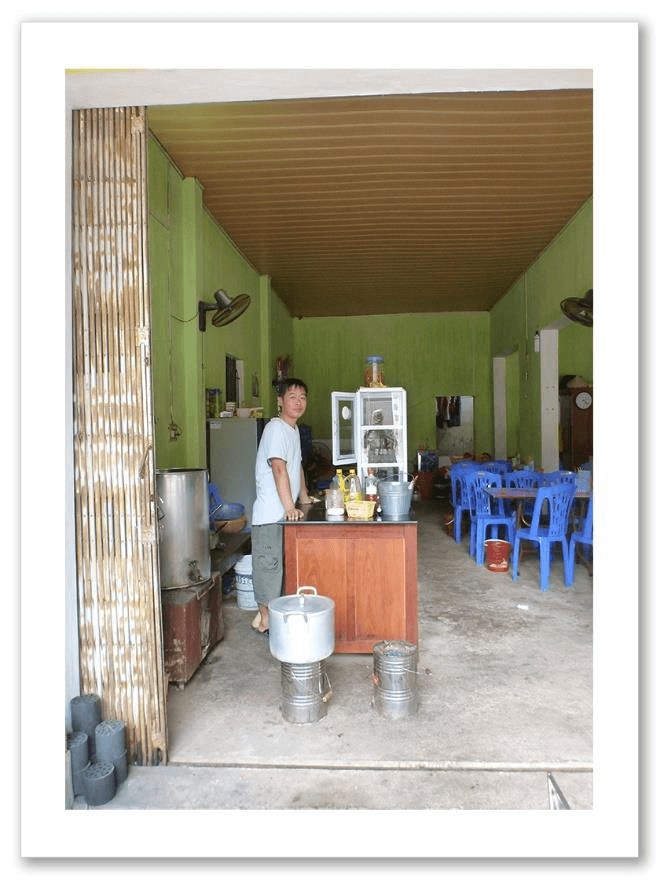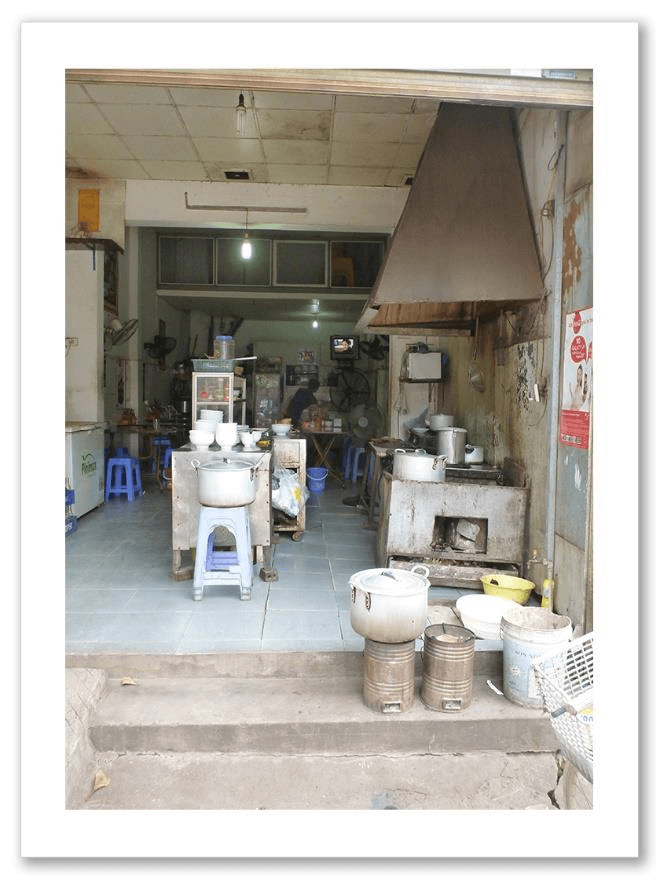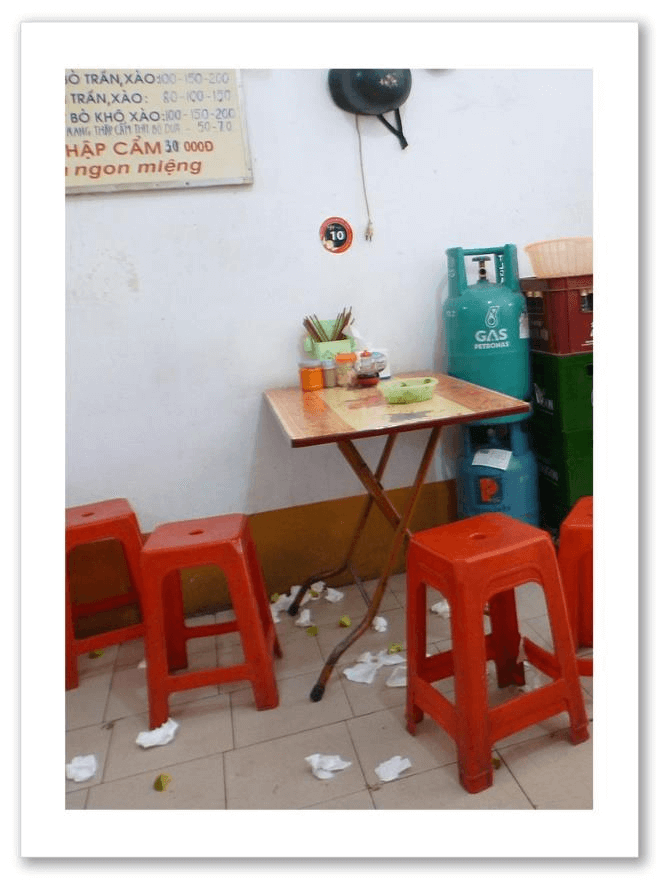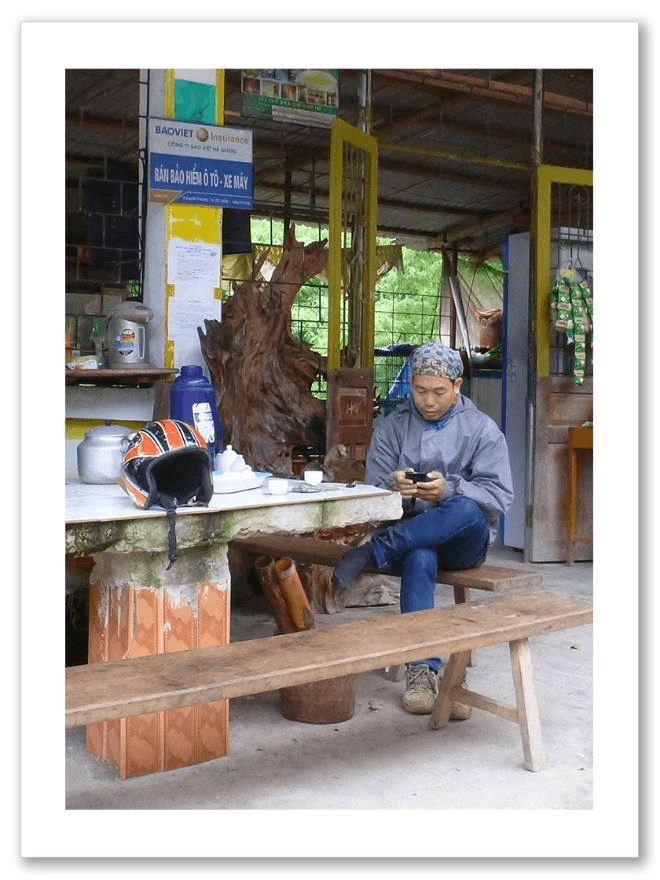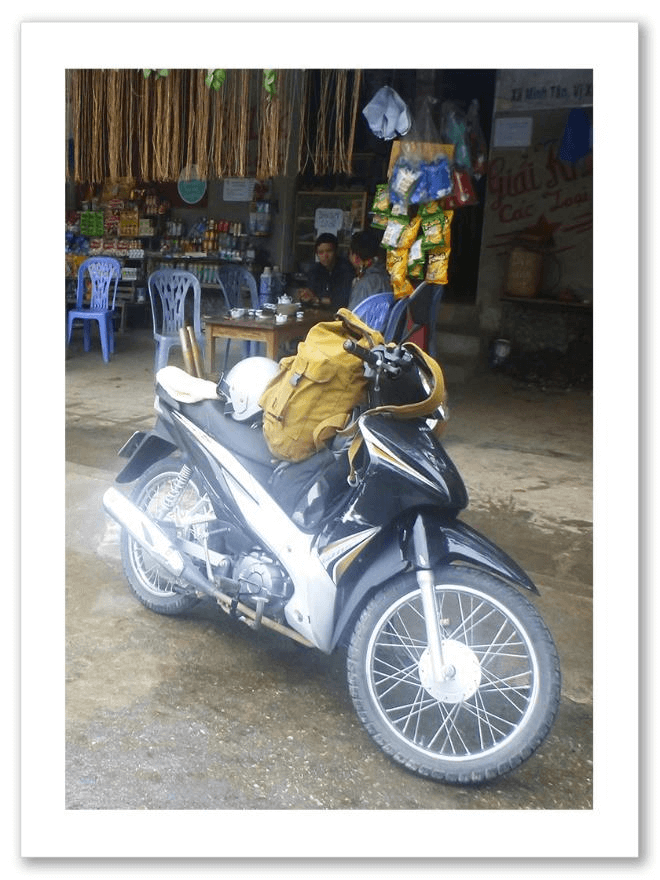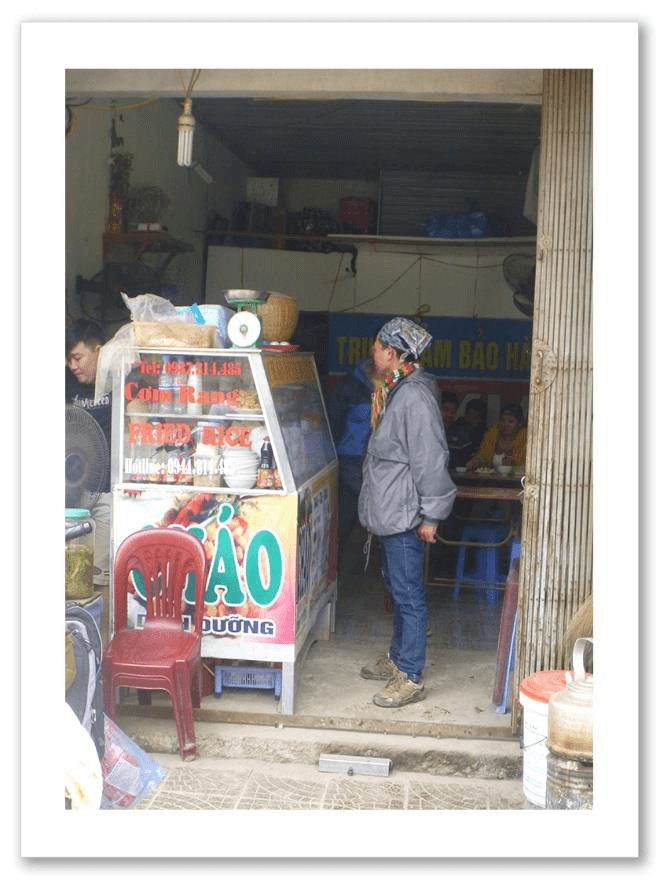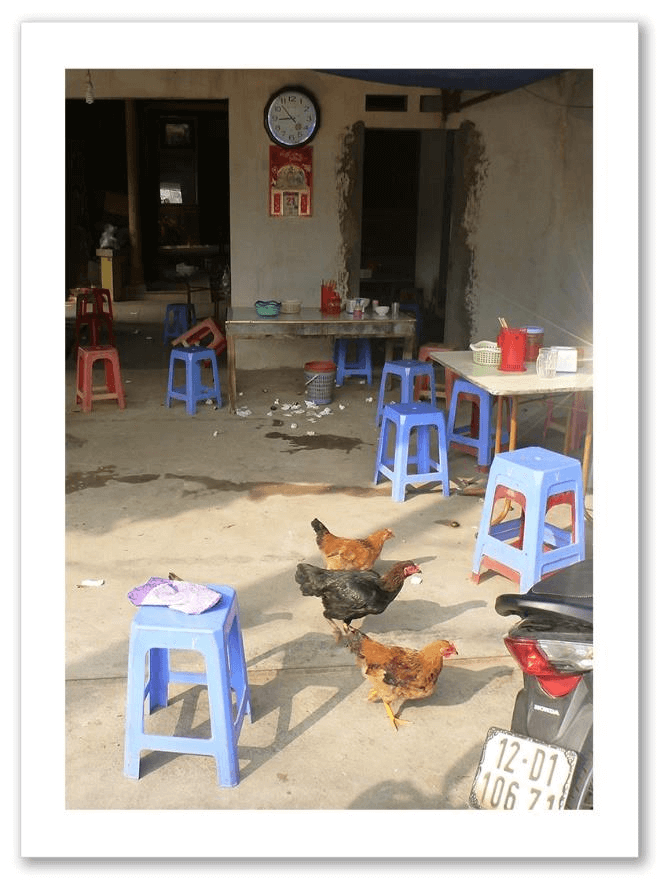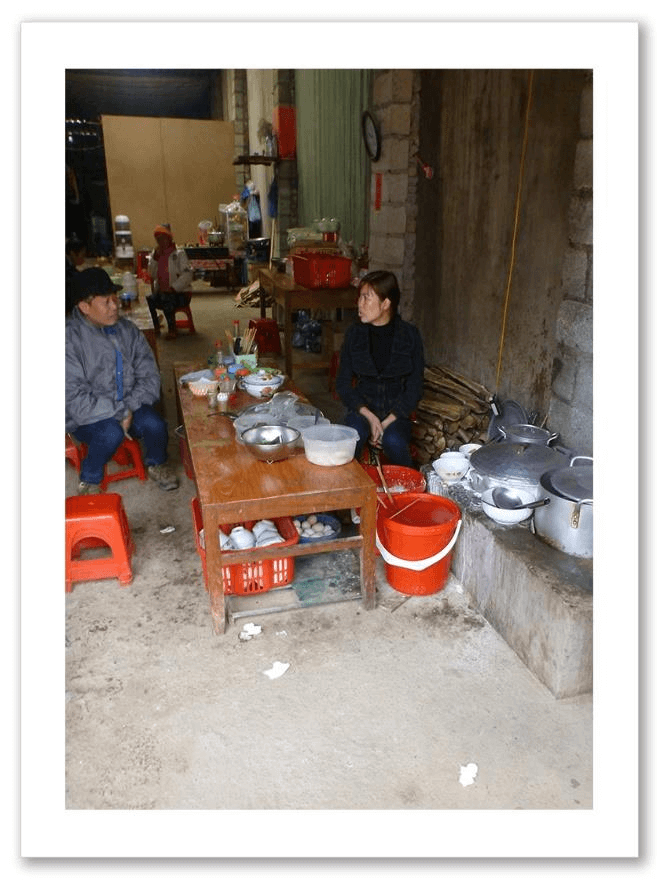 Come to think of it, the New York hipster would initially forego the Det-
tori dismount, waiting until later on in the evening to let loose his full bag of
antics, hoping to impress his mindless, barely dressed date.  For my part I am
forced gingerly to get off the bike, using my hands to support myself on the seat,
and, tottering, head for the stools.  My folded towel is clearly visible to the be-
mused patrons.  I have disastrously failed my first New York hipster challenge.
My next test is soon upon me, that being how and where to sit down.  I
say this because the seats are red and blue plastic, generally manufactured in
China, and, as previously noted, built for Lilliputians.  The first time I attempted
to sit down the chair went slowly to the floor—you cannot imagine the blow this
dealt to my New York hipster ambitions.  The question is, how do you nonchalant-
ly take two seats and put them together so you will not end up on your ass before
a room full of sullen natives.
Do you mix and match colors and will you provoke anyone if you do—a
challenge to my New York hipness.  I have studiously practiced the nonchalant
approach and, although lately I have been more provocative by mixing red and
blue chairs, when you put the chairs together and sit down you find yourself
about fifteen inches from the floor.  That I am the only roundeye in these pho
shops, and perhaps the only roundeye who will ever grace the premises, that I
am six inches taller than everybody and a good forty pounds heavier, all this
contributes greatly to my inability to achieve a decent degree of New York hip.
By now the crowd has noticed my towel and my hipster dreams are truly
doomed.  It is an artistically gross accessory, but I am the only person in all of
Vietnam who sits on one.  I take slight umbrage at the judges deducting points
for the towel.  If it weren't for the towel they would have had to carry me in on
a stretcher.  Screw them.
There is one last pho shop test and I also fail this dismally.  Although I have
spent several years in Southeast Asia I have not, as any local two-year-old has,
mastered the use of chopsticks. (I do know that the Chinese consider crossed
chopsticks bad luck for having children, but I lost that race long ago.)  I have de-
veloped a shovel approach by which I bring the rice bowl just below my mouth,
keep the chopsticks almost glued to each other, and shovel the food in.  If I do it
quickly I don't think the judges catch on and, as a last act of defiance and at great
risk to my hipness rating, I chance picking up one grain of rice with my chop-
sticks and finish off with a flourish.
I then coolly cast bold glances at all and sundry before slipping into a
reverie that I am really at Mark Joseph's Steakhouse and I have succeeded as
a hipster. It is all delusional fantasy.
Back to reality and it's time for our midday meal. I review the pho menu.
I draw the line at dog, Fido for lunch is a no-no. I inform Comrade Stone of this
mandate and he inquires, how would I know what I was eating? How indeed
would I know—no more beef pho. The yellowing chicken looked just a tad—and
only just a tad—more inviting. Repeat this little adventure two times a day and
you become more or less inured to the beyond decadent lunacy of your country's
obsession with "out there" foods.
By the way, Comrade Stone tells me that the patrons generally want to
know, in order of importance, how old I am, where I come from, and where I got
the towel.
Day Sixteen
Misty, damp, cool
At about dawn's light I realize what the shop is under our rooms—a motor-
cycle shop. I know this because at about 06:30 the mechanics started testing two
motorcycles, a new reveille. I didn't care because I had a decent night's sleep,
although the early mists brought me little comfort as to what lay ahead. I was
still intrigued by my inability to locate the toilet so Comrade Stone showed me
the way. Clearly it was an architectural masterpiece, or else it was someone's
nightmare. I had missed it because the entryway started at about five feet that
sloped down to a squat hole with no flush. The electrical set-up was also un-
familiar, but, hell, we slept, we hadn't been burned alive—we beat the game.
When I was very young my father took me to a Boston Bruins hockey
game and eventually I had to go to the toilet. Above the toilet was a handwritten
note which read "All bulls with short horns stand close to the plate as the next
bull may be barefoot." While contemplating, at about age eleven, the cosmic
significance of this message, a hockey fan entered the men's room. Although
there were urinals available he simply pissed in the hand sink without a by-your-
leave. Hockey in my time brought out a much rougher crowd. The "short horns"
instruction was to come into play later in my life, as the heart medications create
a frequent need to piss.
As it happened, the roof in our attic accommodations slanted down so pre-
cipitously I simply could not get near the toilet.  I gave it all I had.  Sadly, I fell a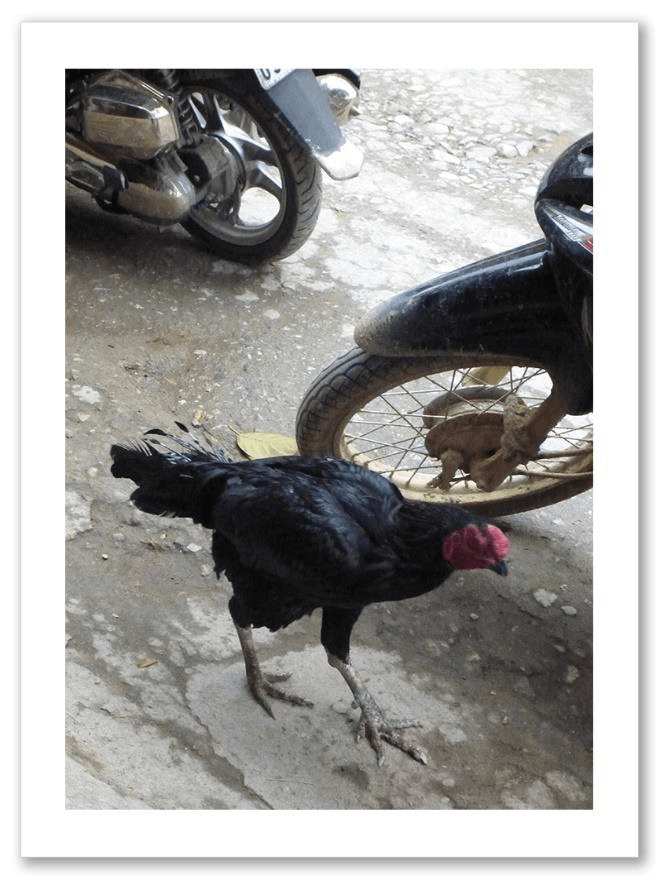 bit short, but if the next bull looked care-
fully, it shouldn't be too bad.
Back outside I strolled over to the
pho soft drink stand and the owner, whom
I nicknamed Nikita, tried to explain to me
the campaign against the Chinese, and the
deep-seated fear of "Big Brother."  I had
never really paid much attention to this,
but it clearly looms large in the minds of
present day Vietnamese.  A gamecock
sent us off.
Comrade Stone and I started the
drive to Ha Giang, and the mysteries of
the area began to appear as we slogged up
terraced rice fields of spectacular size and
scope, with geological wonders emerging
at every turn.  We tried to get pictures but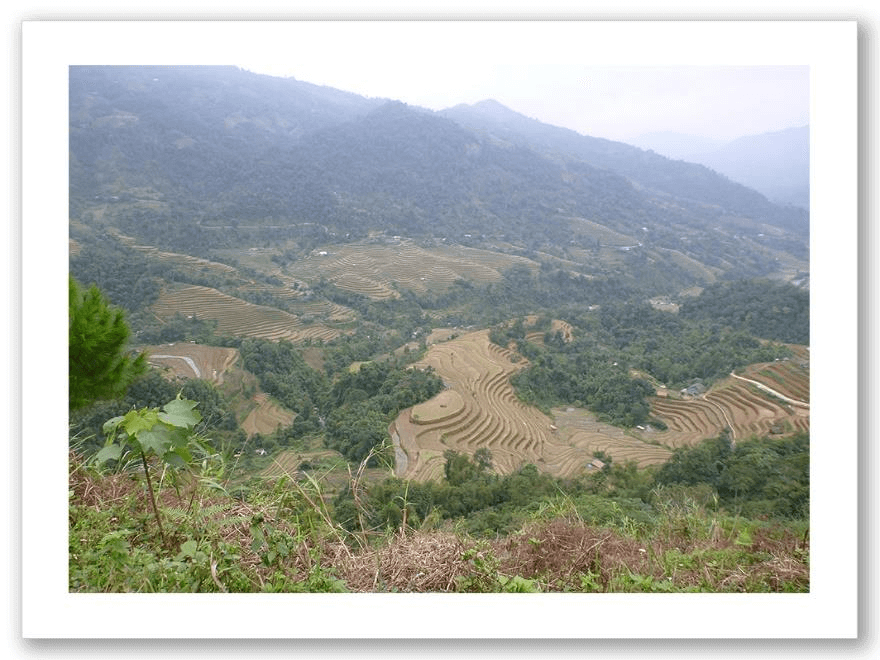 the "Princess of the Mists" lay
upon the landscape and we lost
a great deal of scenery.  In Ha
Giang we went to the general
market and, with the strong
ethnic presence and the soaring
limestone outcrops surrounding
the town, the atmosphere was
filled with promise.  We strolled
the city, made preparations, and
gave someone ten dollars to get
our travel permits.  Comrade
Stone and I discussed his prior
trips to the North and he said we were in for a treat as the trip towards Don Van
over the Quan Ba Pass was not to be missed, and no matter the weather we must
stop at Heaven's Gate.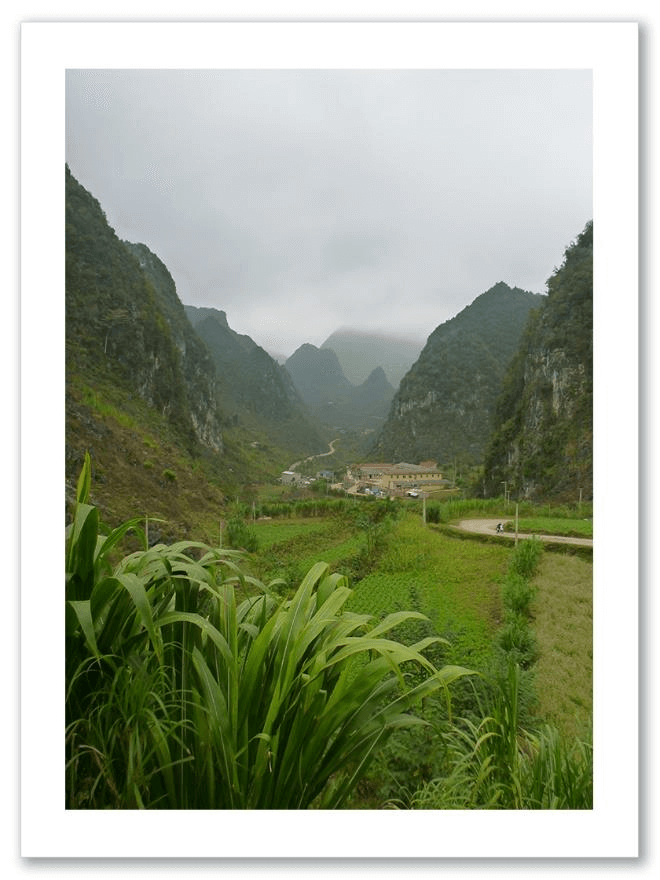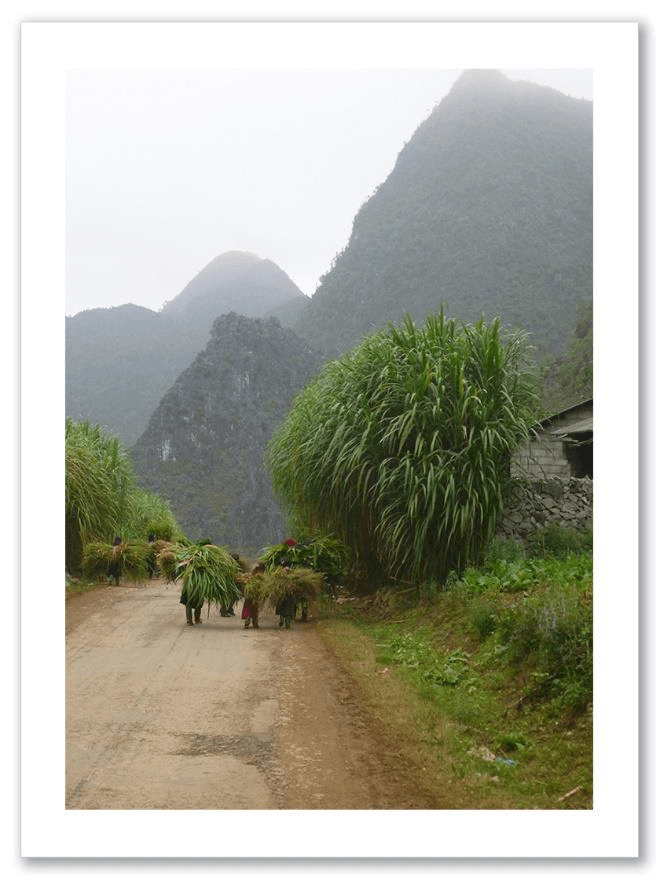 Day Seventeen
Misty, cold
Hint of rain
Although we were misted in for long parts of the trip to Dong Van we saw
enough of the surroundings to realize the majesty, mystery and old mountain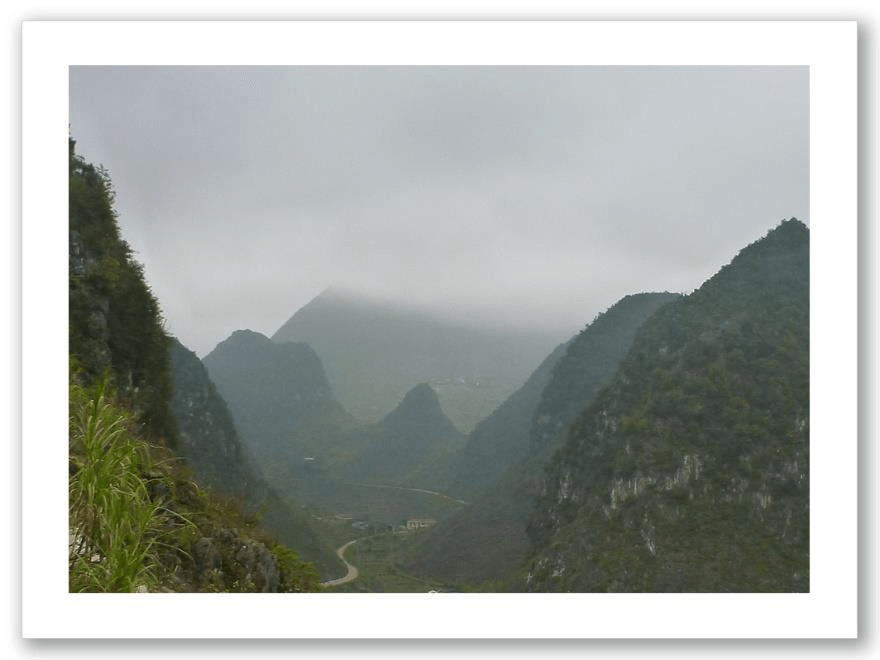 beauty that awaited around
each corner.  The trip is close
to straight up and requires
you to summit the Quan Ba
Pass, which we did, but at
great cost to Red Rage.
Clearly the clutch is on the
way out, but it stuck with
us today.  As we were tak-
ing pictures we heard an
eighteen wheeler coming
up.  When we were finished
Comrade Stone saddled up,
but not quite fast enough and we barely made it out in front of the truck.  When
I say we just made it, he was, by my estimation, eighteen inches behind the bike
when he let out a long continuous blast of his horn.  He clearly meant us no good.
In fact, I think he meant to run us over.  Stone was nonplussed, and Red Rage,
although severely crippled, soldiered on.
We rolled into town and, because I had left my loofah at an earlier stop, I
set out on a quest to get a new one.  I was offered every dish brush imaginable,
until finally a man drew a map to a sort of department store.  The game began
again until a most gracious young lady, who didn't know what I wanted but kept
trying to meet my need, eventually produced a loofah.  Victory in Ha Giang City
without speaking a word of Vietnamese—a triumph for adventure travel.
We now had made it to Dong Van and were right in the middle of ethnic
country. "Lonely Planet" describes Dong Van as a small dusty outpost, but Stone
and I found it fascinating, with the old marketplace a bridge to the past.  Estab-
lishing the old market as our base of operations we waited for the next day,
which was market day.
As a result of the training crash, my leg, although the skin was not broken,
had blown up to twice its normal size.  I watched with morbid fascination as the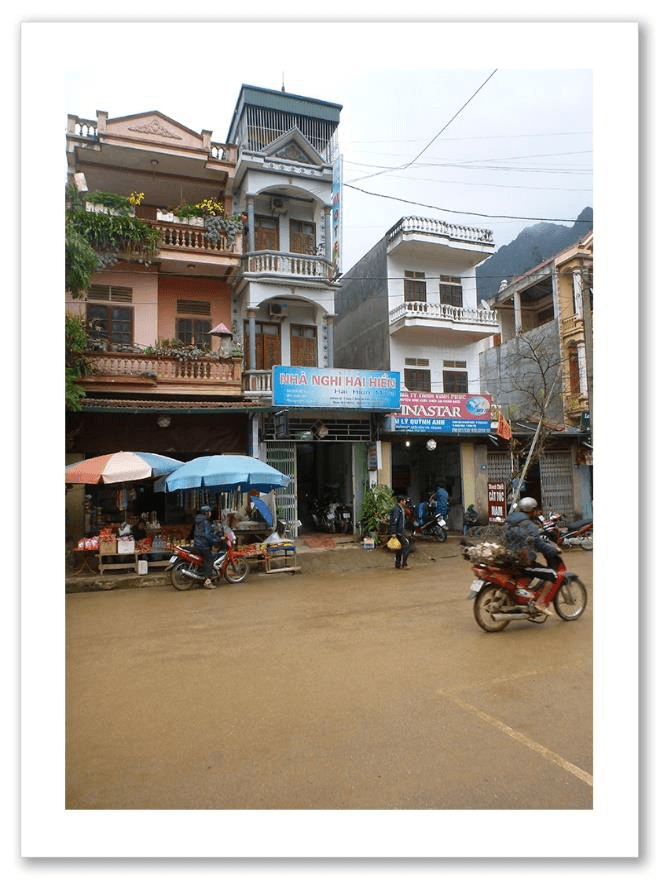 infection traveled down my lower leg.  For
nine days I took all the Cipro I had, thus
killing every bad bacteria in my body and
destroying my liver for good.  Nothing
stopped the ugly progress of the infection.
Time to find a pharmacy.
The pharmacist was in her teens and
cute.  I rolled up my pants leg and, to her
credit, she did not recoil in horror.  After
coolly examining my leg, she prescribed
a wash, some penicillin and some other
mystery pills.  I noted the penicillin was
manufactured in India, notorious for pro-
ducing fraudulent pharmaceuticals.  My
chemical arsenal cost me $1.50, and just
meeting the pharmacist made it all worth-
while.
Day Eighteen
Rainy, cold, misty
Market Day
Although it was raining, the Sunday market was in full throat.  The
H'Mong come from miles around with everything to sell, from produce to live-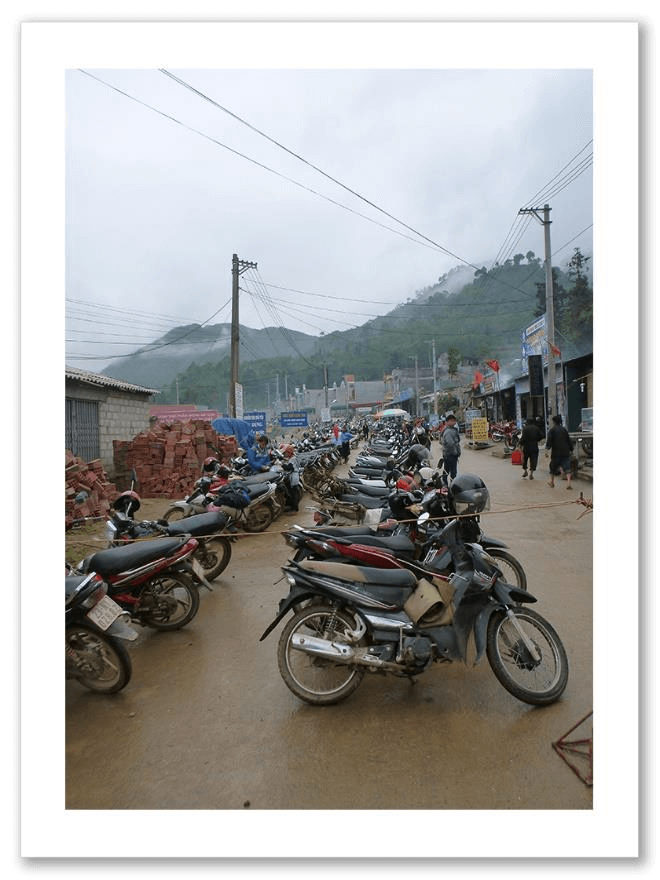 stock.  Unfortunately, the inspectors, as
in every society, pick on the weak.  In this
instance an old tribal woman had a small
sack of about four or five pounds of what
looked like poor corn.  An inspector came
up to her and asked for her license.  She
had none and he proceeded to take a cup
of her corn and, when she could not pay
the fine, about two dollars, he was about
to confiscate her bag.  I, perhaps foolishly,
stepped between them and with my cold-
est Central Committee stare looked him
straight in the eyes and locked on.  I had
forty years and six inches on him and a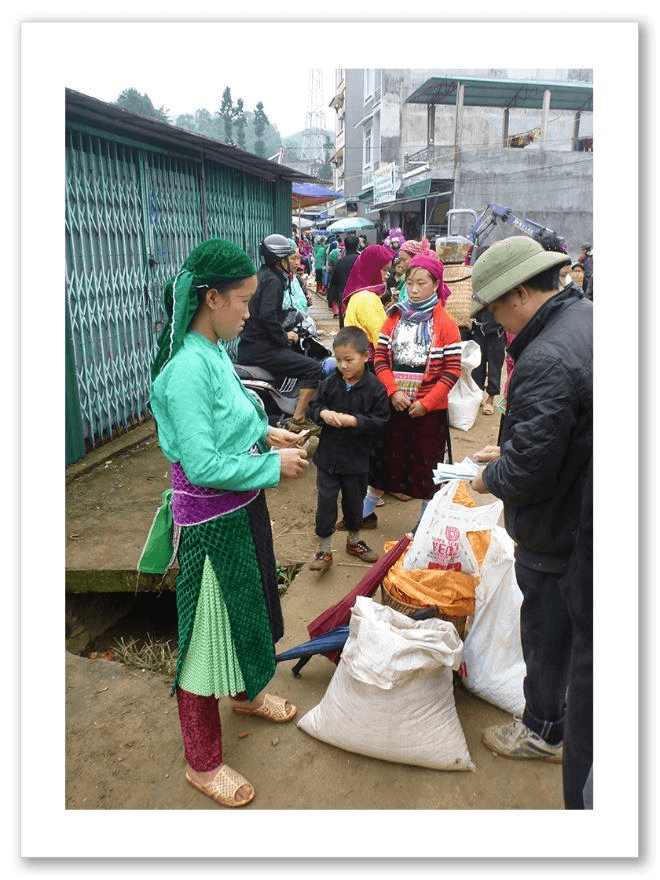 Russian Spetsnatz hat to boot.  I took
the bag of corn from him and handed
him the money.  Then I paid the tribal
woman for the corn and returned it
to her as I know the thieving bastards
will always come back.  I never gave
his eyes a minute's peace, and he
broke contact first.
I have always hated extortion,
and never more than when I was a
prosecutor.  Stupid, maybe, but I had
the bastard cold.  I was bored at the
time.
We did the rounds: pigs, cows—I bought a cow bell for $1.50—birds, plants,
clothing, and paper goods.  People-watching much in play and, early in our stroll,
Stone showed me a table with a half dozen men and women drinking from a large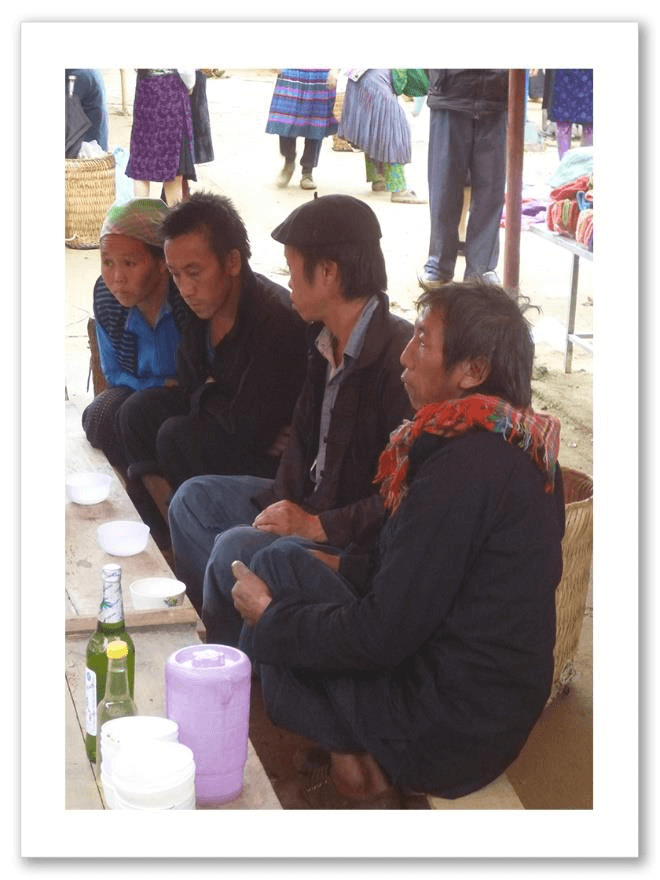 yellow plastic gallon jug and looking zom-
bified.  I asked Stone what they were
drinking, and he replied "happy water",
which is some kind of illegal rice wine.
He told me we should check back before
we left as they generally draw quite a
crowd.  The yellow gallon jugs looked
like the old Zerex anti-freeze containers
but I knew there was no anti-freeze in
use up here.  Besides, the Russians have
cornered the market on anti-freeze
drinking.
There were yummy food stalls,
fabric sellers, pig sellers, basket weavers,
fruit sellers, electronic repair stands,
the Chinese shoe invasion, sequined
fashionistas, and incense for those of a
spiritual bent.  We covered the lot: pigs, cows, dogs, iron metal knives and tools,
flowers, fortune tellers, and song birds whose prices were astronomical even by
western standards.  In that one corner of the market the bird symphony was in
full and beautiful swing.  I bought four sparrows and immediately set them free
in memory of my family and Mab.  It must have been quite a scene, but the
Buddhists, if there were any in the crowd, got it.  It started to rain hard and we
headed back to, as Comrade Stone would say, the "happy water drinkers" and
once again he was right.  The group had expanded to more than twenty and the
zombification was in full swing; some already there, others striving mightily to
get there.  I gave them another hour.
My leg was not healing and the infection was running its merry way down.
Time for some more self-medication, and we headed off to find another pharmacy.
This one was manned by a most charming twenty-year-old who was visibly taken
aback when she saw my leg.  She immediately sprang into action and gave me the
same Indian manufactured antibiotic (which was clearly not working), a per-
oxide scrub, and that old standby penicillin.  I had a bit of a problem with the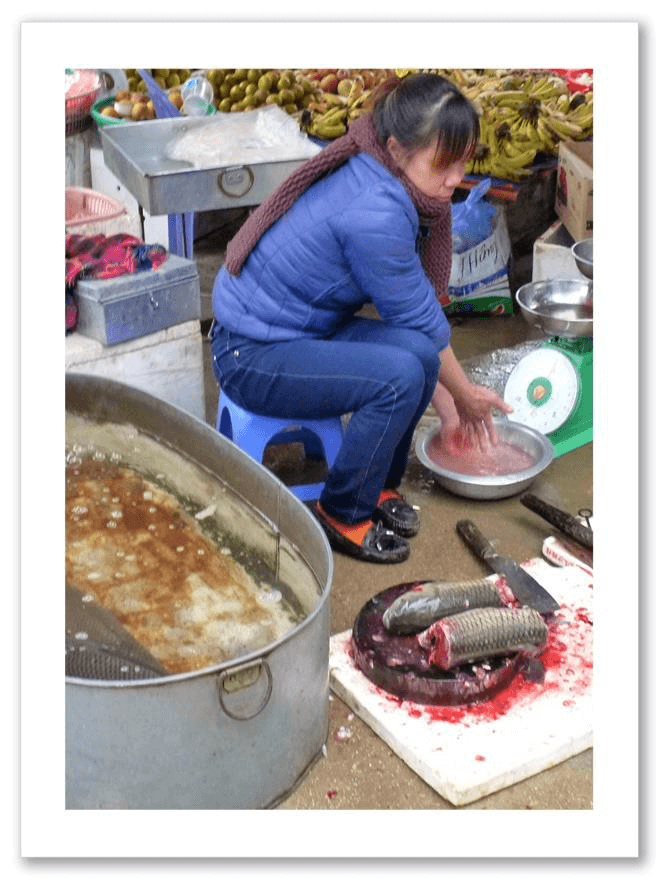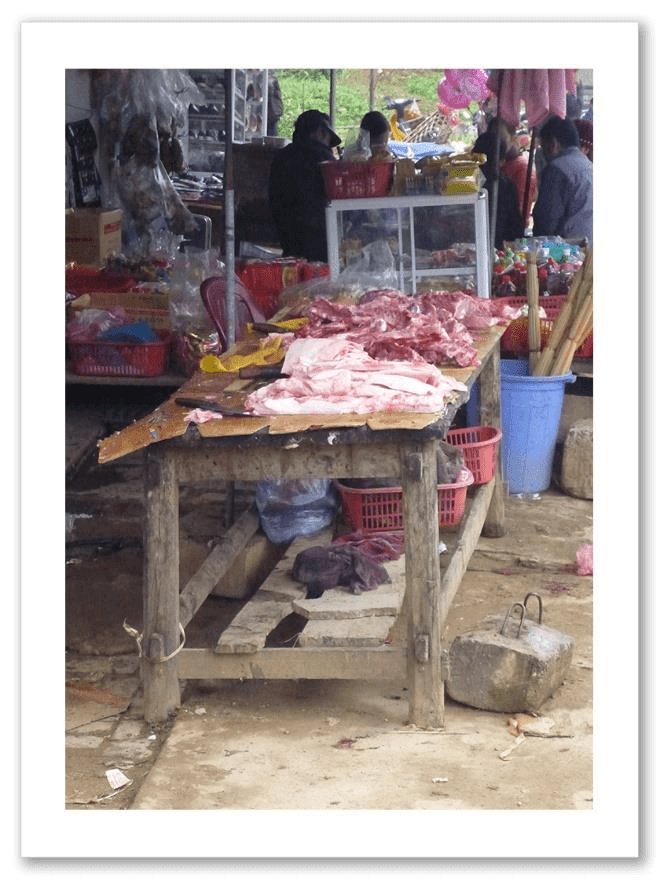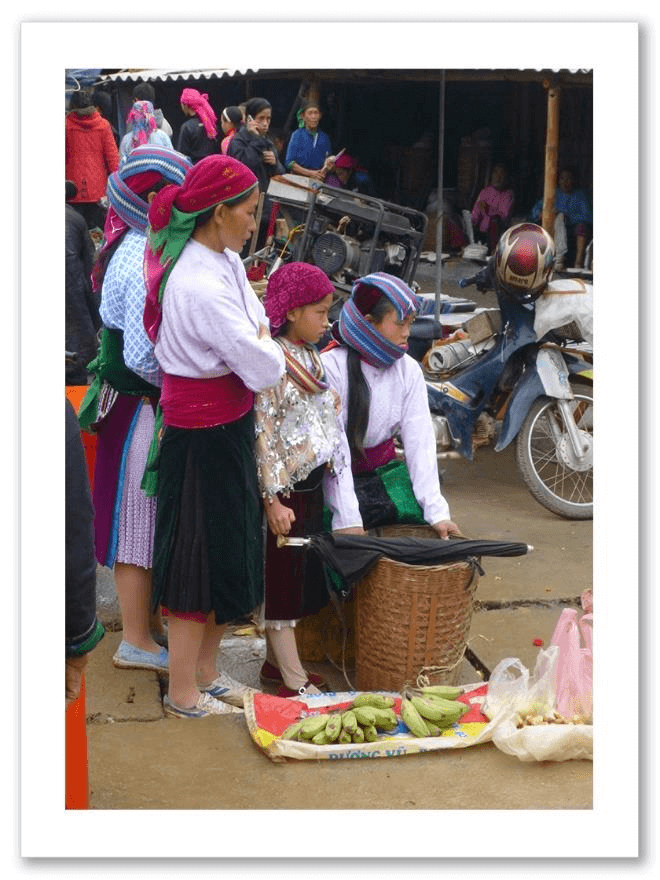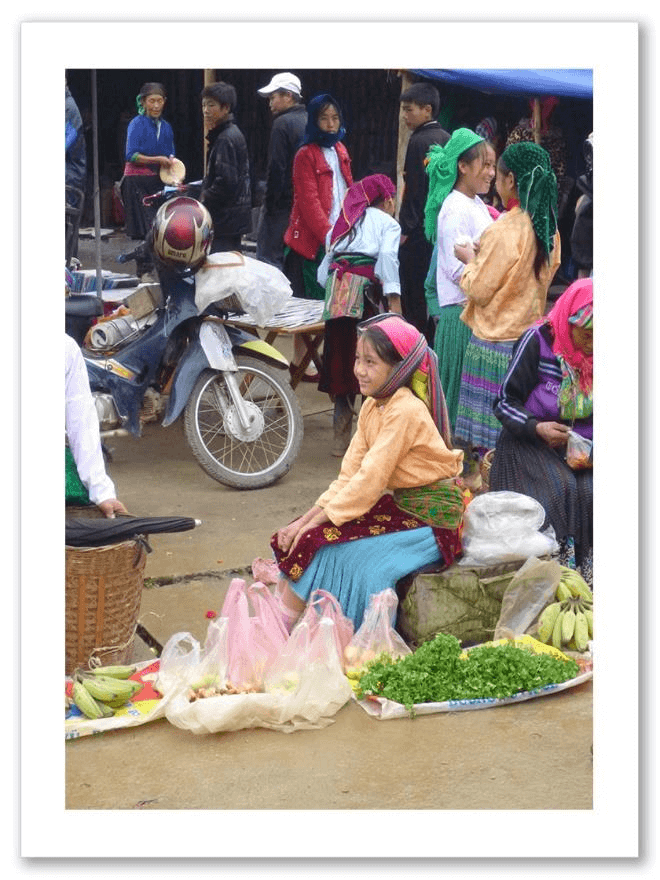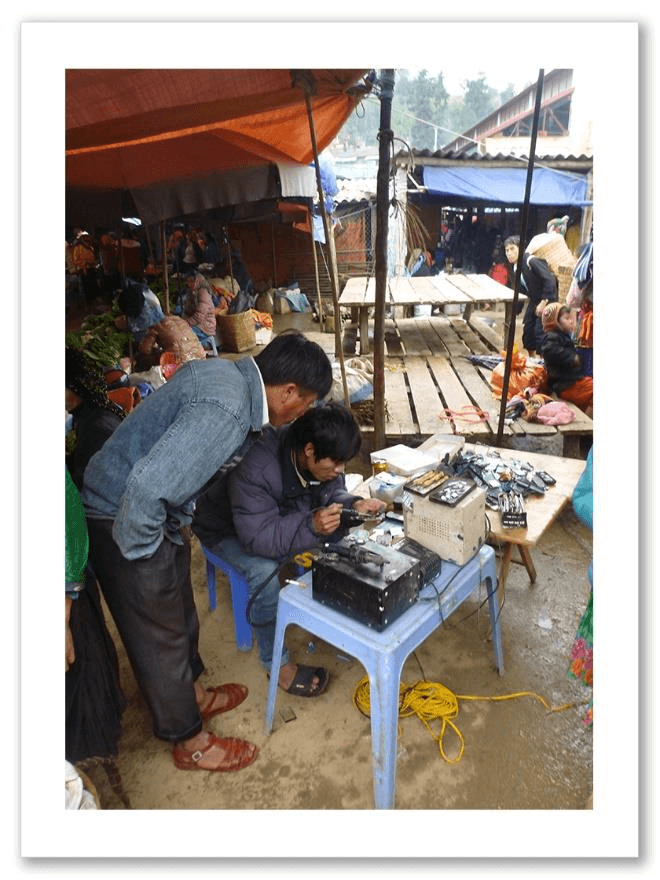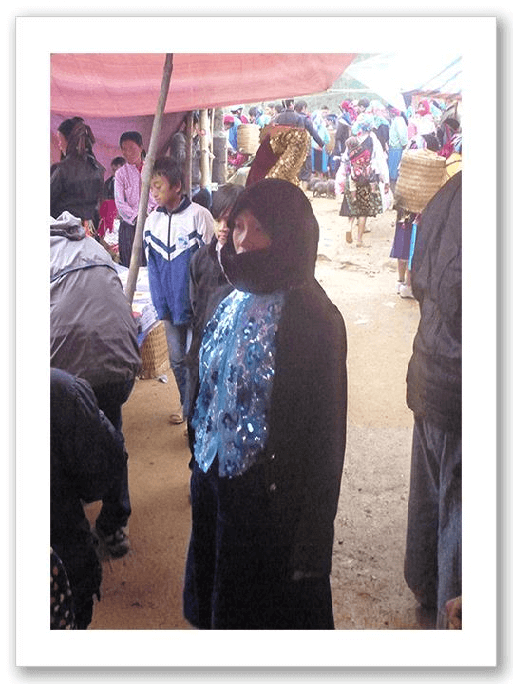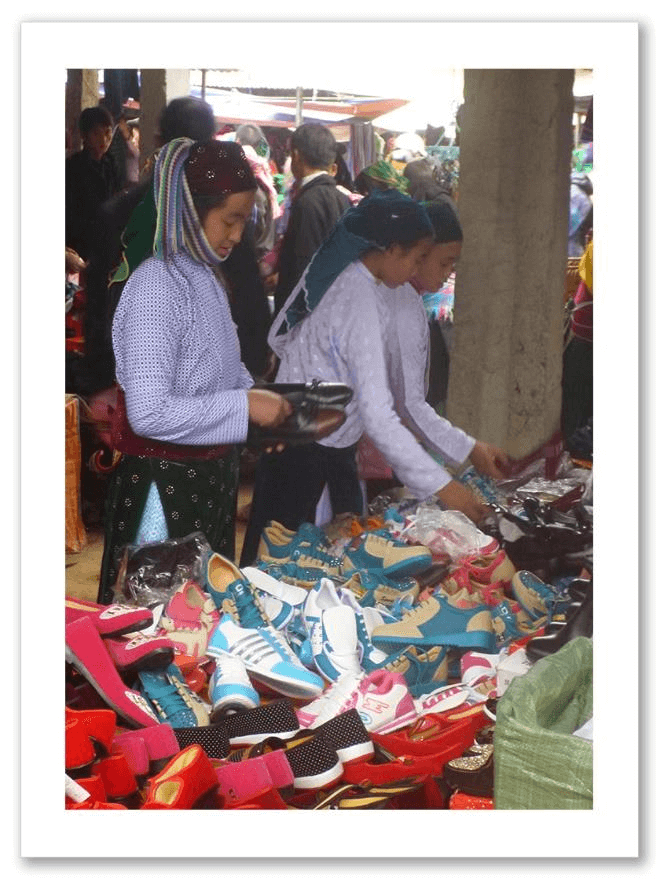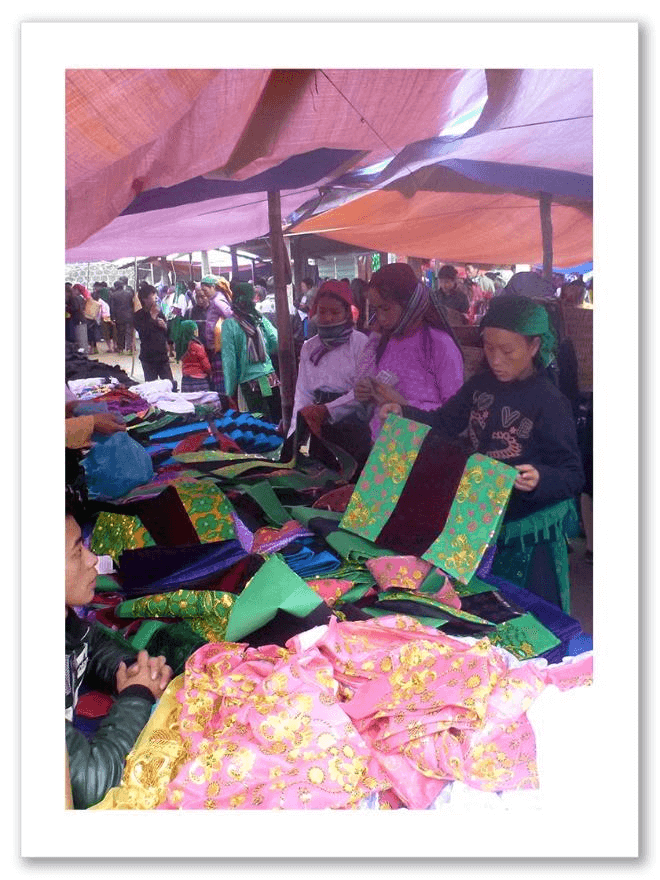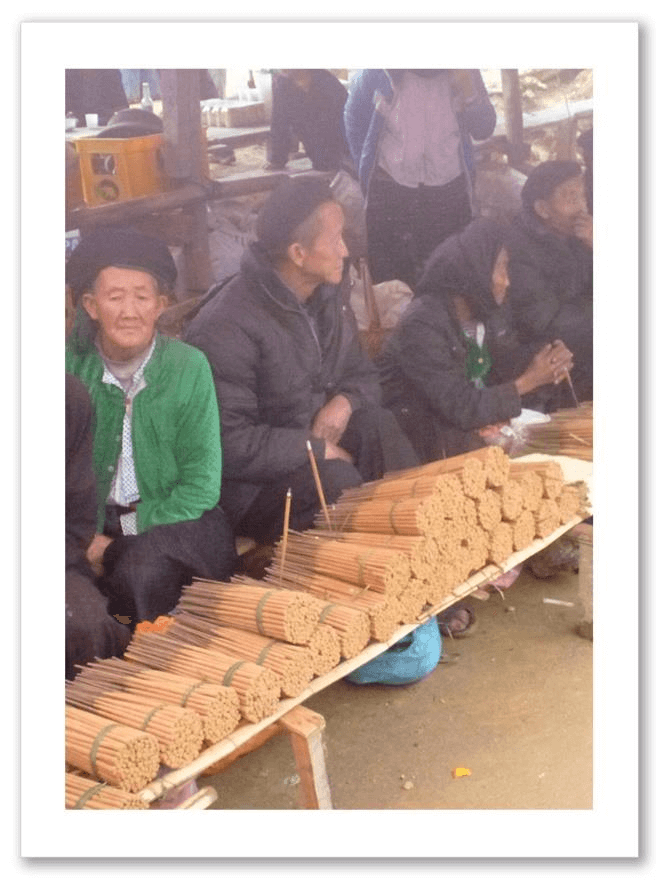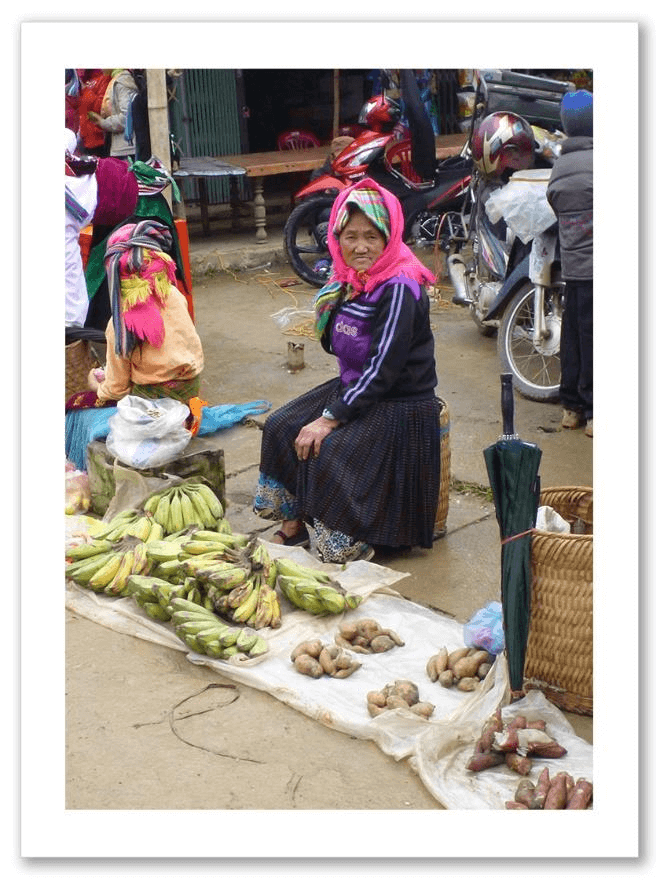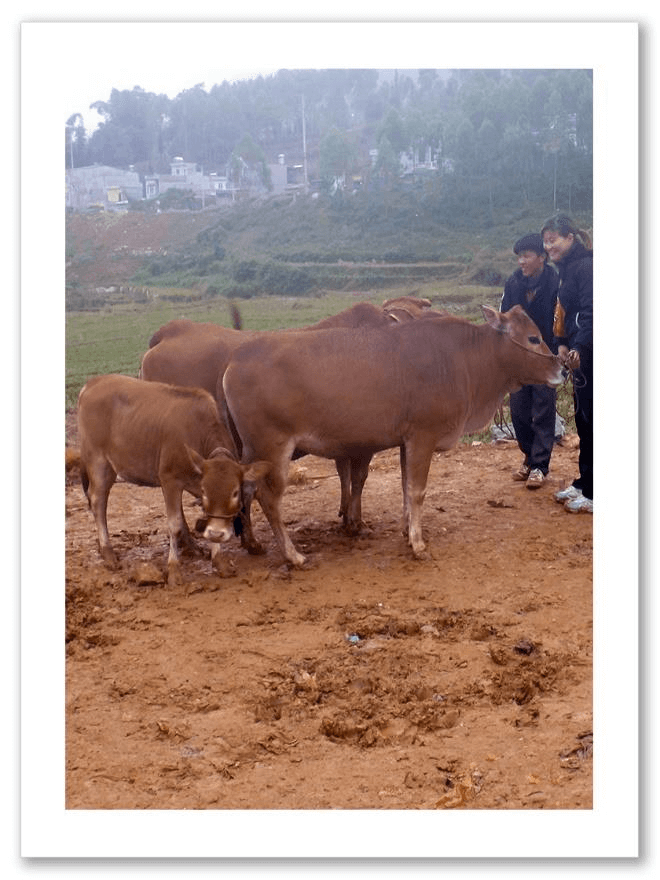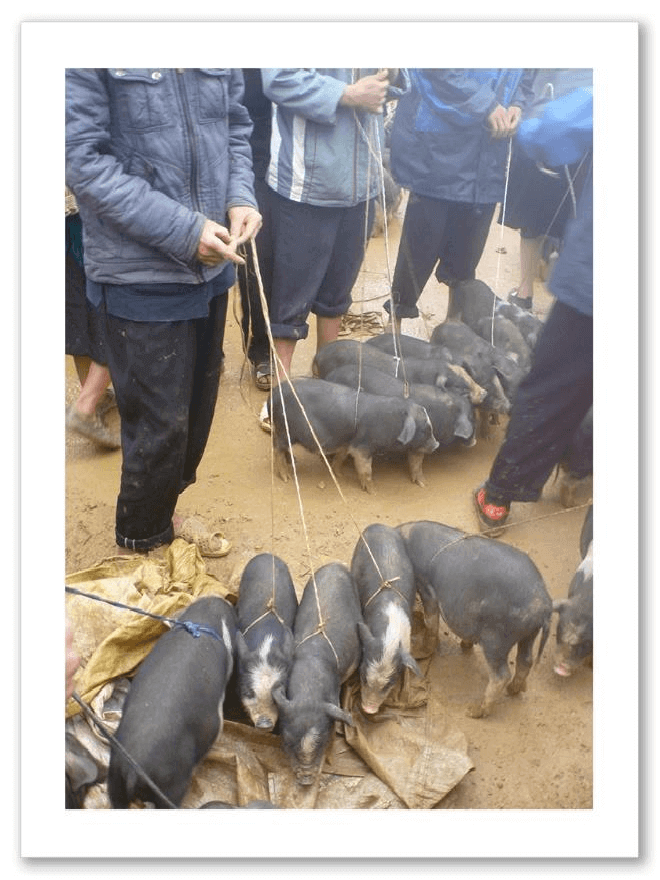 penicillin and gave that up after just two pills, but carried right on with my
fraudulent Indian medication, brushing aside the problems it might cause with
the blood thinners.  I reasoned that if it had not killed me in the last seven days
it was unlikely to kill me now.  Besides, I was taking, as they love to say in the
cancer business, "an active interest in my treatment."  But I had baser instincts
which I conveyed to Stone: you guys really have cute young pharmacists who
may be clueless as to what they are dishing out, but they sure are a treat for the
eyes, up here in the "middle of nowhere."
As we were heading back, we spied another Hill family heading home.  It
torqued me that the little kid probably knew how to shift down when I couldn't
even master a 5 mph right turn.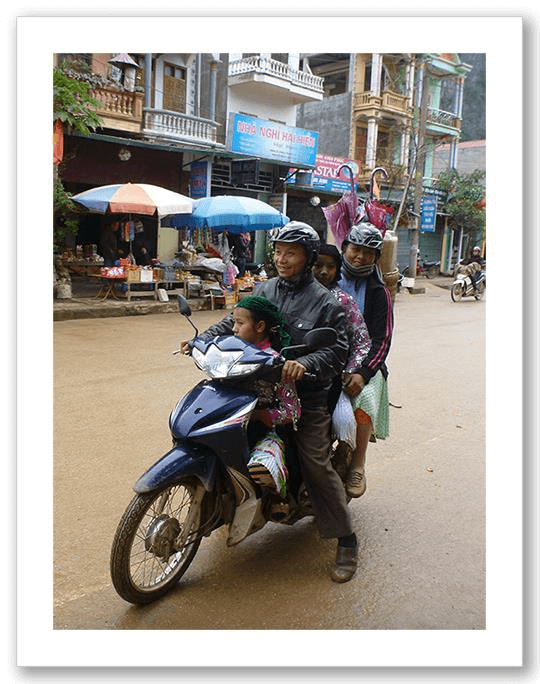 Day Nineteen
Cold, wet, misty
"Lonely Planet" asserts that the scenery along the road from Dong Van
through Meo Vac provides some of, if not the most, spectacular views in Vietnam,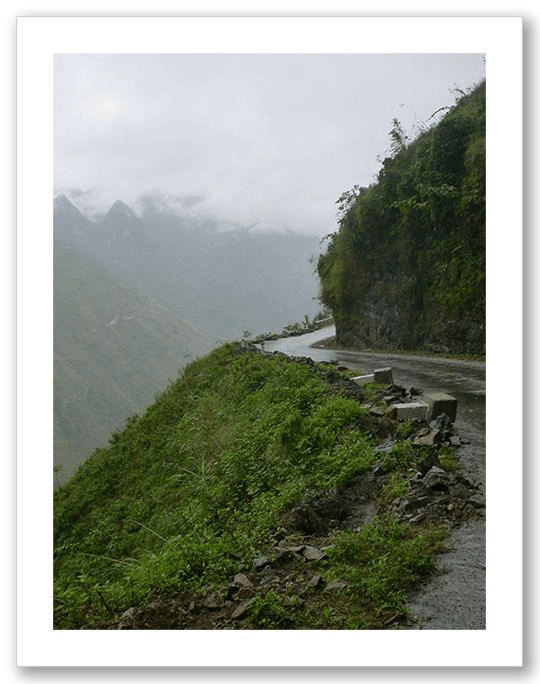 and their assertion is an understatement.
The road had been cut into the side of
the mountains, and as we made our way
on Red Rage those "innocuous" rocks ap-
peared with increasing frequency.  The
surroundings put on a show in both direc-
tions: you can look down the gorge to the
Nho Que River and then look up to the
mountains that tower over you.  Mind
blowing vistas, one after another, all the
more so when Red Rage appears to be
succumbing to the wear and tear of the
North Country.
Comrade Stone had neglected to
share that we were headed for the Mapi
Leng Pass, one of the most dangerous
passes in Vietnam.  Then, in the "middle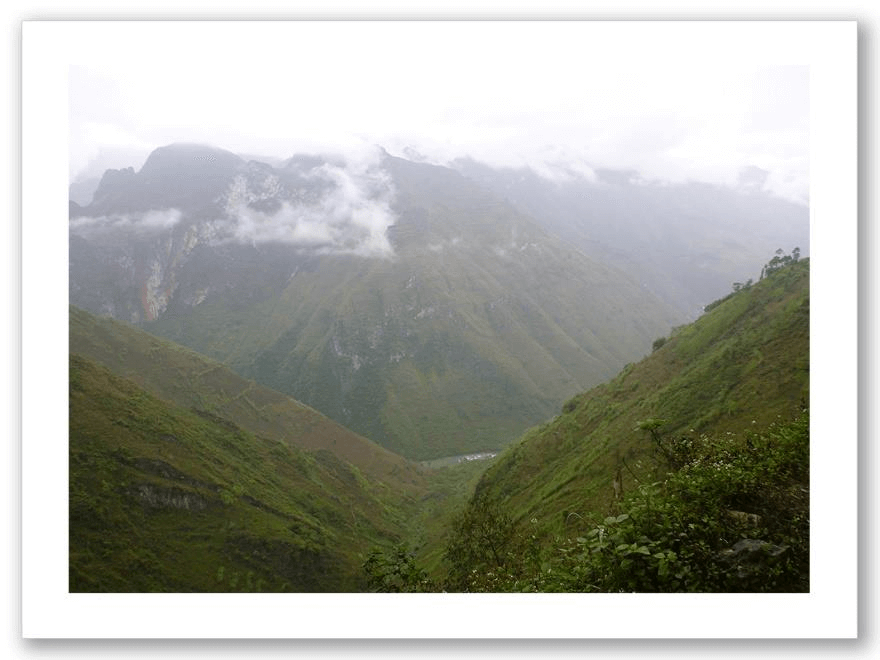 of nowhere", we had a flat.
Stone took off to find a flat tire
repair shop—where?—telling
me to wait, which I did, much
to the amusement of several
Vietnamese on motorbikes,
none of whom offered to give
me a hitch.  I decided to see
just how far I could walk, and
I made about half a kilometer
before I was winded.  I had the
road all to myself, embracing
the silence, enveloped by my
surroundings, drawn into a Zen trance.  I waited in the mist.  Nothing came, no
birds sang.  It started to rain again, and time dragged, but I had every confidence
Stone would return.  He did, and we headed into Bao Lac, another ethnic town set
smack into the mist and mountain scenery.  Red Rage took another pounding.
Day Twenty
Cloudy, wet, chilly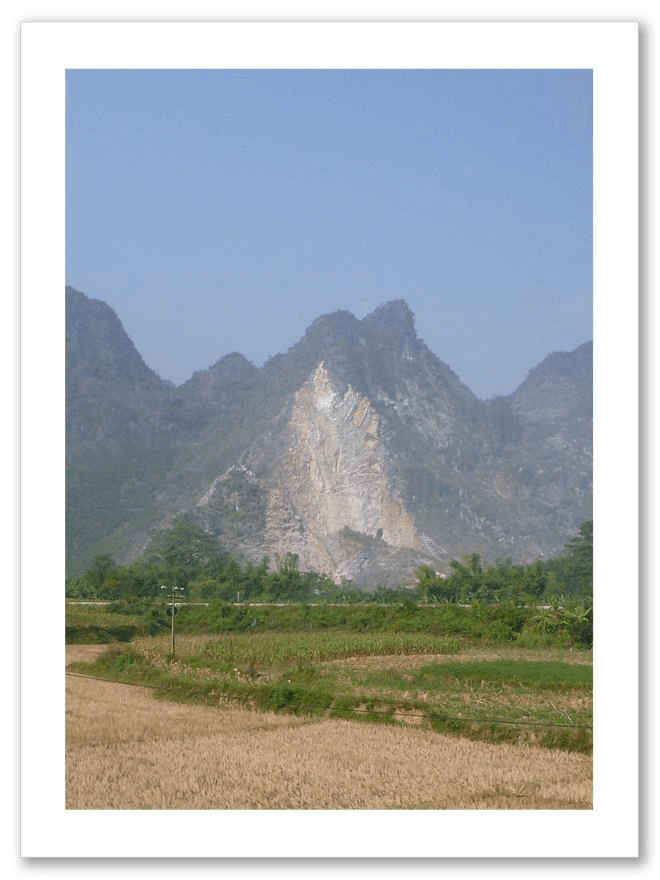 As Comrade Stone and I set out on
this leg of the journey we agreed that living
as water sprites had its limitations, and we
were both glad to be out from under the
heavier downpours.  The scenery bonanza
continued, and this time we were able to
take some photos.  We battled up and down
as we headed to Cao Bang, a favorite of Ho
Chi Minh's, where he had lived for several
years.  Our first rest of the day we stopped
at a mountaintop restaurant with chairs
set out for a hundred of which only four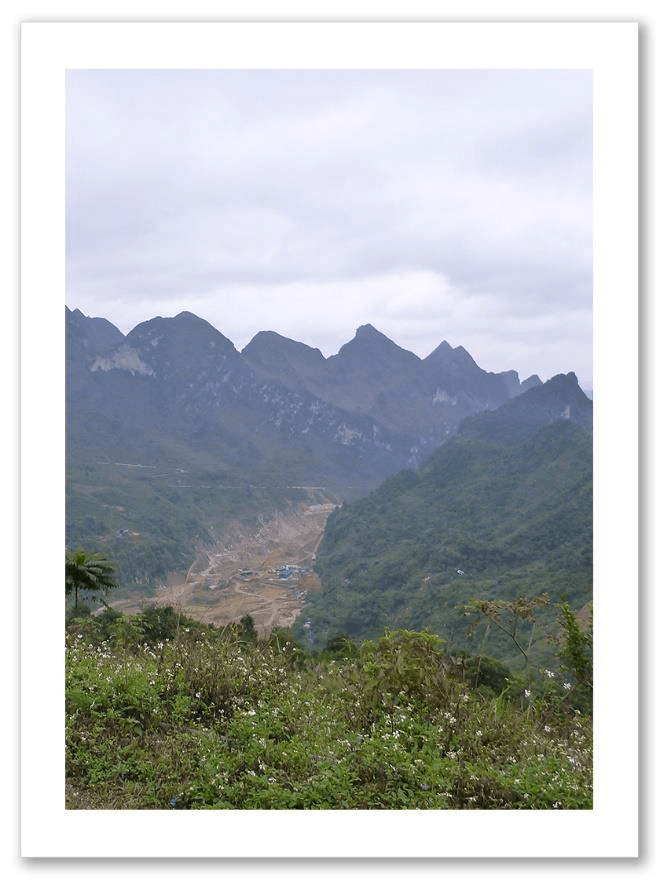 seats were occupied, but food was not
on Comrade Stone's mind.  He wanted
to buy the female cook's motorbike.
Here we were—cold, wet, in some god
forsaken restaurant, and Stone was in
full out bargaining mode.  I followed the
action with interest although I thought
Stone's initial offer a tad too low, and
sadly this was to prove true.  But it was
good theatre, and good theatre in the
middle of nowhere is still good theatre.
We were up and downing it now, and we came upon a Soviet commune tin
mine enterprise that appeared to still be in operation.  I asked Stone if he knew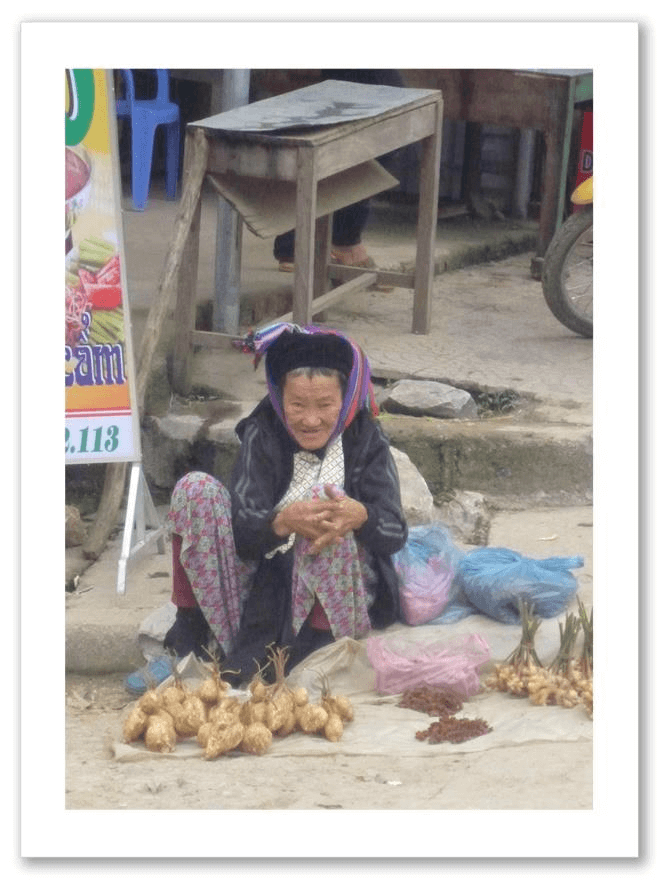 of any additional Soviet commune type
operations in Vietnam.  He opined that
at this time there are many stock hold-
ing companies and that this installation
was a throwback.  The surroundings were
beautiful but did not possess the spiritual
dimension of the Dong Van/Meo Vac area.
Hard on leaving Ha Giang we encoun-
tered roadside and street sellers offering
all manner of products, from the tribal
woman in Dong Van selling herbal reme-
dies to storefront operations on a grand-
er scale.  The entrepreneurial spirit flour-
ished, once again undaunted by the close
proximity of the competition.  This was
especially true as groups of sellers would
materialize out of nowhere, each selling
almost exactly the same produce.  Road traffic varied widely and Stone, ever
gallant, made friends, handing out candy to the wide-eyed children.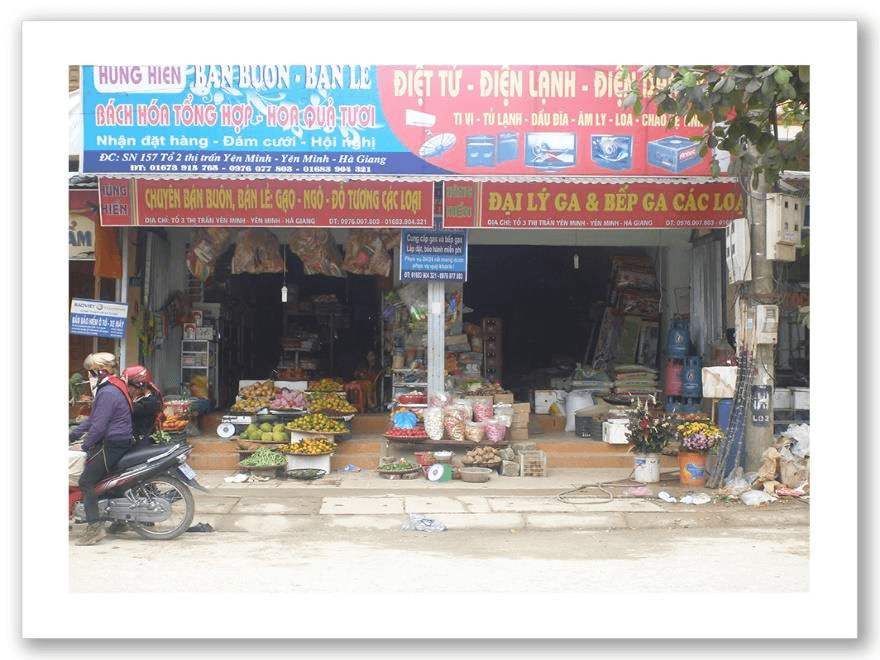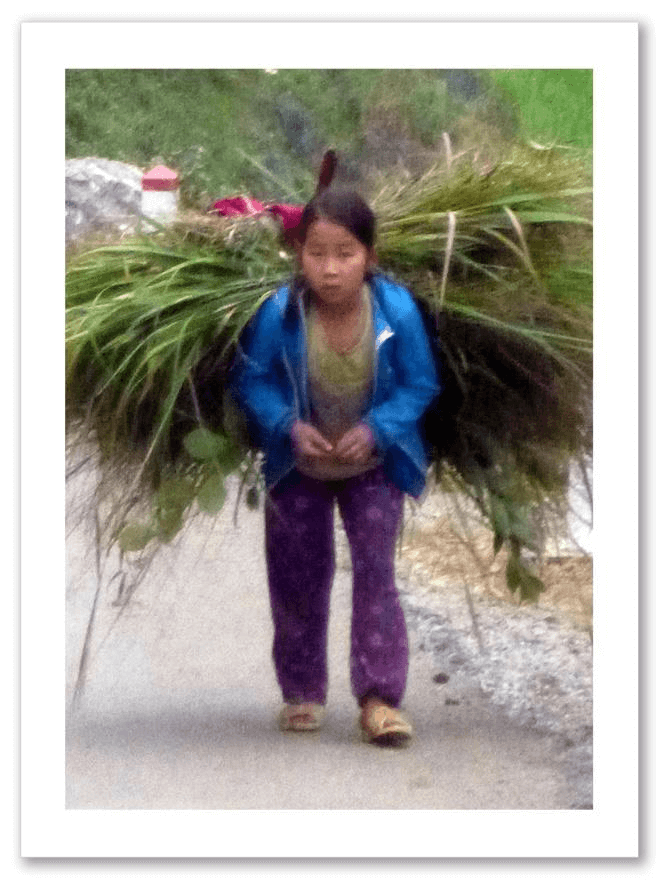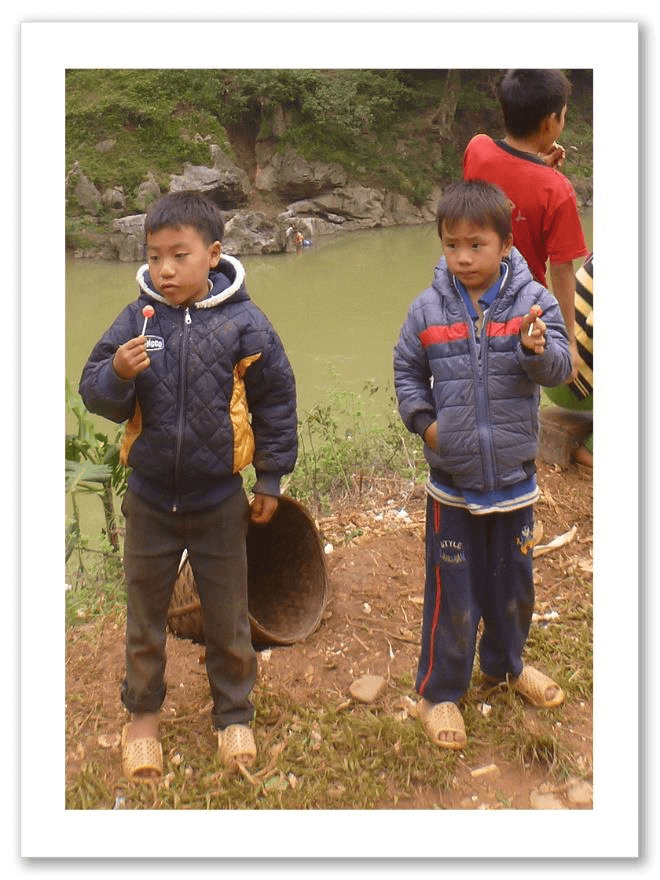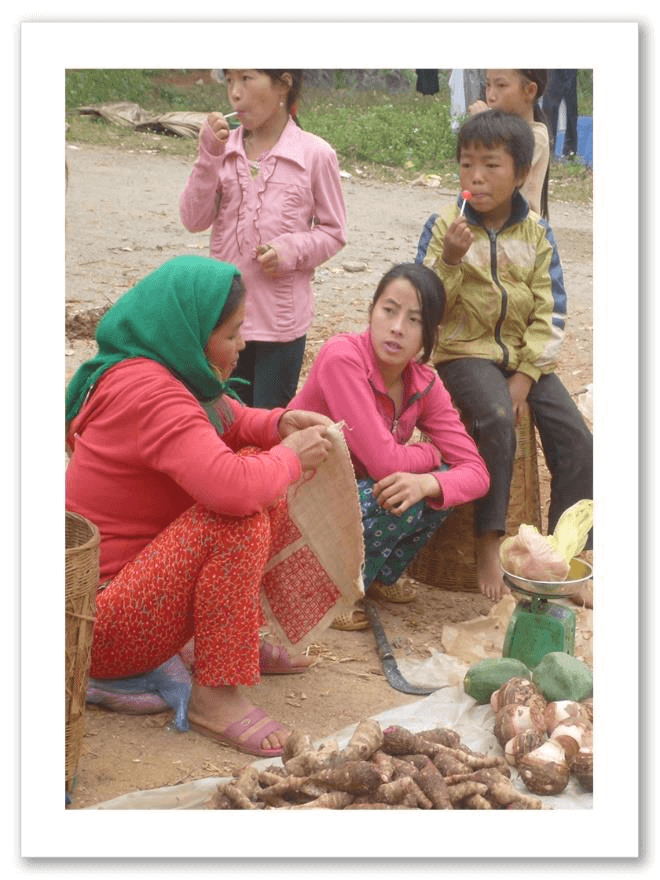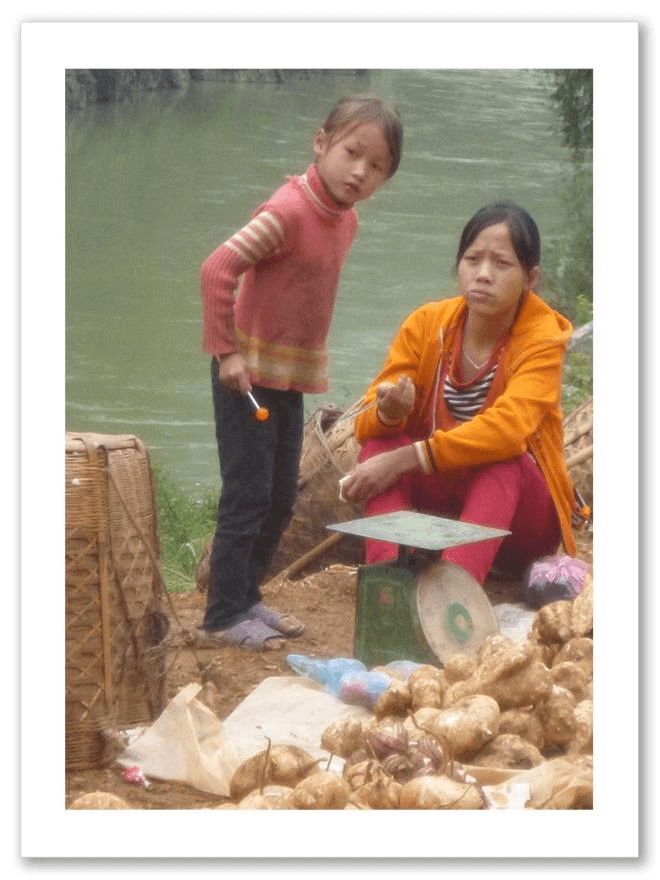 We pulled into Cao Bang and Ho may have liked it, but that was then, this
is now.  Cao Bang is a charmless, sprawling town that was to provide one of the
more humorous incidents of the trip.
While we were undressing that evening Stone noticed the progress of
the infection on my leg and expressed his concern.  He thought a massage might
help and he was not to be deterred, so off we went down some sinister side street
to a massage parlor—a seemingly legit one.  They front loaded the massage so I
paid for steam, a herbal bath, and then the massage.  I started off with steam
and, given what I had trained on, I found it very pleasant.  I paid no mind to the
passage of time—there was no way to do so—until I heard a clearly distraught
Stone banging on the steam room doors shouting my name.  When I answered
he came bursting in, fearing that the steam had caused me to have a heart at-
tack and that no one was paying attention.  I assured him that I was all right,
and I was led next to a lukewarm herbal bath.
This was no ordinary tub.  It was made of some very slippery type of wood,
and was so deep the water came up eight inches over my chest.  I settled in, and
settled in, and stayed in, and still no one came to retrieve me.  I subsequently
learned that Stone was watching Chinese soap operas.  I tried to get out using
various contortionate methods, each more unsuccessful than the last.  The smell
of the herbs was not unpleasant, but I kept falling back into the tub.  Finally I got
on my knees, pulled myself over the top and then flopped to the floor—the AFib
was going good and the room started to spin.
And still nobody arrived.  Seeing no other option, I used a towel made
for Lilliputians to cover my front and cimbed up forty steps—I counted them—
to arrive breathless at reception, just as a rather inappropriate couple appeared.
He, sixtyish and balding, she about one quarter that, and the arrival of this hir-
sute beast just prior to a "special service" being laid on was lost on no one.  I was
immediately hustled downstairs where a strong Vietnamese male went to work
on me.  My leg was such a mess I told him to try to get the circulation going, but
that I might have to stop him.  He worked very hard and, although it did not re-
lieve the pain, it was still worthwhile.  One of the first things I must do upon re-
turning home is to take instruction in how to get out of a bathtub.  I am glad
there is no video of my attempts to extract myself from the tub.
Day Twenty-one
Somewhat sunny, warmer
I got a good lesson in geopolitics today from Stone based upon our trip to
the waterfall Ban Gio.  These falls have been a source of friction between China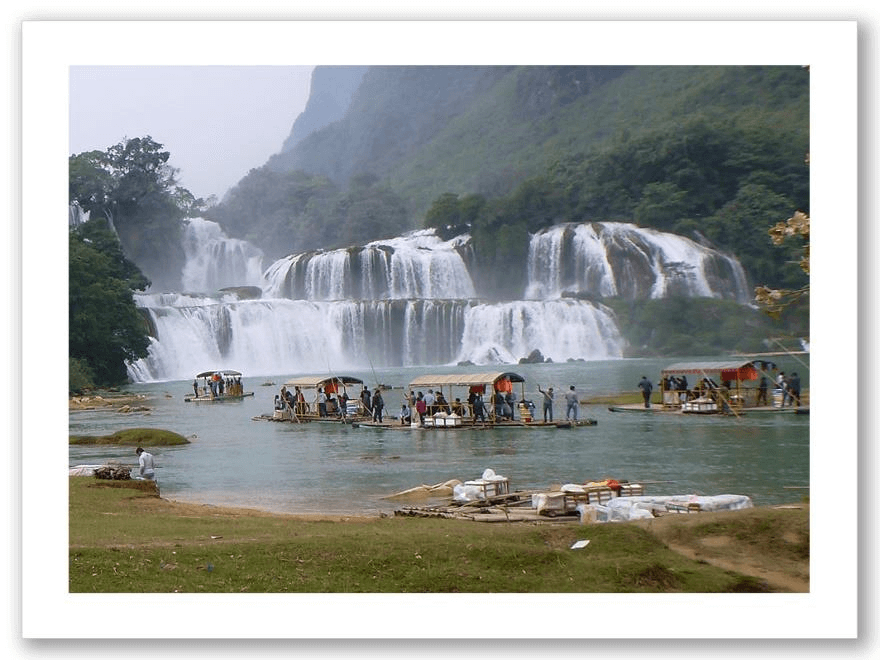 and Vietnam for decades,
and the matter was settled
several years ago.  Supposed-
ly, the falls were divided in
half and the Chinese side has
seen an explosion of tourist
related facilities on their side
of the river, including large
boats that are poled very close
to the falls.  I do not want to
be a spoil sport, but it does
appear that the Chinese got
the better part of the bargain.
Stone attributes this to "Big Brother Always Eats First and Gets The Most."
The Chinese boats leave their side of the river like clockwork and head for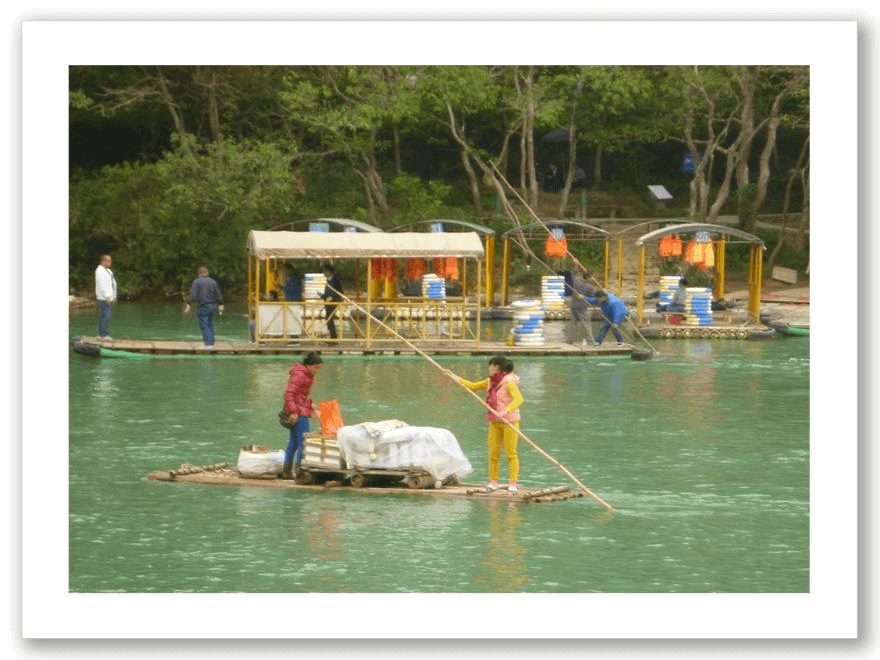 the falls.  A small group of bam-
boo rafts, lighter and faster,
are poled by the Vietnamese
up to, and I dare say they may
actually hang on to, the Chi-
nese boats, hawking clearly
counterfeit "brand name"
colognes and cigarettes.  The
Vietnamese are nothing if not
psychologically finely tuned to
this type of selling, putting
their comely young ladies in
the front of the boats and from
afar their pitch is a combination of near desperate gesticulation and ultra-coy
seduction.
In one instance, a rather hard-bitten seductress confided to Stone that it
was her lucky day as she had sold two cartons of allegedly smuggled cigarettes to
a Vietnamese male.  By this time Comrade Stone was wiped out and went to sleep,
on a boulder no less, which left me to contemplate whether I would be able to en-
dure another pho shop, and just how strong was Stone going to need to be as we
raced to the finish line.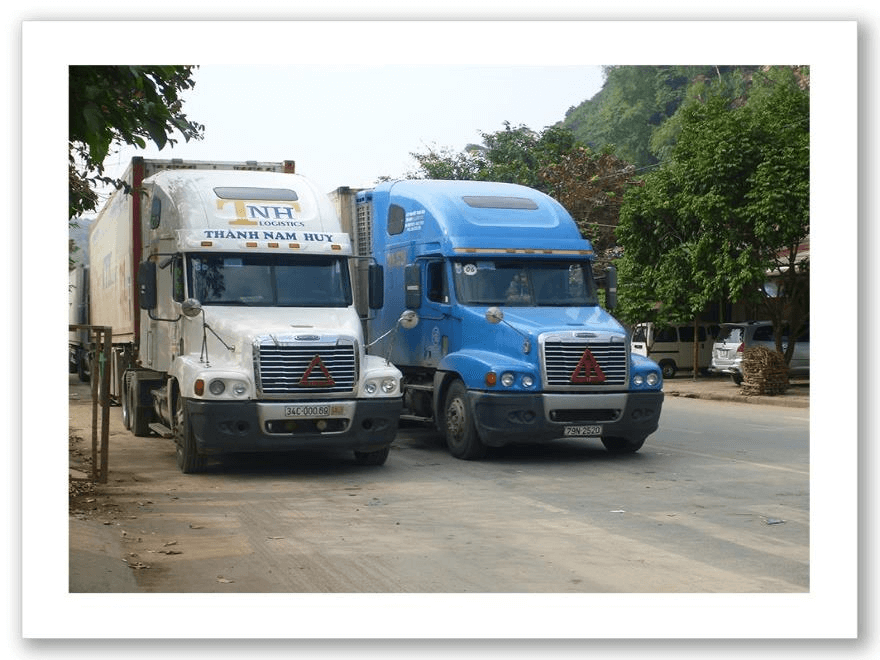 As we headed back to
Cao Bang, Comrade Stone
asked me if I wanted to see the
border crossing at Tan Thanh
and I readily agreed.  This was
an education: eighteen wheel-
ers backed up two abreast for
three kilometers.  Shippers
from everywhere, but very
few American.  I posted myself
at a pho shop and for the next
few hours watched the action.
Clearly trade is booming and
going both ways.  Stone pointed out that the trucks that were waved through
quickly contained perishable goods.  The great log loads could come from Laos
or Myanmar, and given the size of the loads there could be little doubt that the
authorities were looking the other way.  I could only contrast this hustle and
bustle to the pall of lethargy that hangs over Port New York—this was go-go busi-
ness, and it appeared from the containers that almost all the players—Maersk of
all the shippers had the most containers by far—were involved.
We headed towards Cao Bang but not before I had to endure another pho
shop.  My leg was acting up, so I would forego an ambitious dismount.  I had my
three eggs over hard.  As if out of Huxley's TV sets, I hear Rosemary Clooney
doing "Mambo Italiano", an inane song whose composer should have been im-
mediately consigned to the gulag.  I thought for a moment it was a Soviet plot in
mind altering, but the crowd stared blankly at the set.  I wasn't embarrassed
that Vietnamese TV would play such rubbish, just embarrassed that we had
unleashed it into the world.  I was soon to be spared further angst when a Viet-
namese crooner of uncertain age, with orange hair no less, poured his heart
into a Vietnamese love song.  The crowd remained motionless and continued to
stare blankly at the flickering screen, but what followed next—"Brigadoon" for
heaven's sake—made me realize the extent of the cultural pain we have inflicted
upon the world.
In the realm of ancient history I believe a woman I once knew, who was
young at the time, whose name escapes me, and who undoubtedly forgot my
name the moment she left me on the sidewalk, invited me to see "Brigadoon".
After the show I ungallantly opined that I thought it would be best if everyone
concerned—the cast, the orchestra, the audience—repaired to a nearby bar just as
a plane crashed inexplicably through the roof, dispatching one and all straight to
Paradise, if not to Brigadoon.  Back in Cao Bang the crowd watched with vacant
stares as a drunken Scotsman in a plaid skirt cavorted on the small screen.  I told
Stone we had to leave or else I would physically attack the TV.  He was more than
a bit puzzled and I said I would make it all clear that evening, which I miserably
failed to do.
From the beginning of the trip, Comrade Stone and I generally watched
Vietnamese television before turning in.  Despite my language limitations, it was
a most interesting educational experience.  Why?  In a most elegant and magnifi-
cent hall, the Ninth Session of the 13th National Assembly was in full swing, with
upwards of four hundred delegates, some in very colorful garb.  The performance
was most impressive, and Stone gravely tried to explain what was afoot.
Even without understanding the language it soon became apparent there
was no debate, and as soon as one speaker sat down, as if on cue the next one
arose and read from a script.  I hankered for the wonderful "participatory demo-
cracy" shoe fights that the Koreans and Japanese engage in—those really get the
democratic juices flowing.  Stone opined that failures were always blamed on
someone else, and I agreed that this phenomenon is also common in American
politics.  Hey, at least in Vietnam everybody shows up and looks good!
This evening the programming was devoted to a quaint village dedicated
almost exclusively to the creation of knives, scissors and all kinds of utensils by
means of hand forging.  The metal for this work comes from old truck springs; the
forges are fired by charcoal and wood.  The show was interesting, but we quickly
forgot about it.
As we were heading for the falls we hit that same quaint village quite by
chance, and we both recognized it at the same time.  We decided to stop and we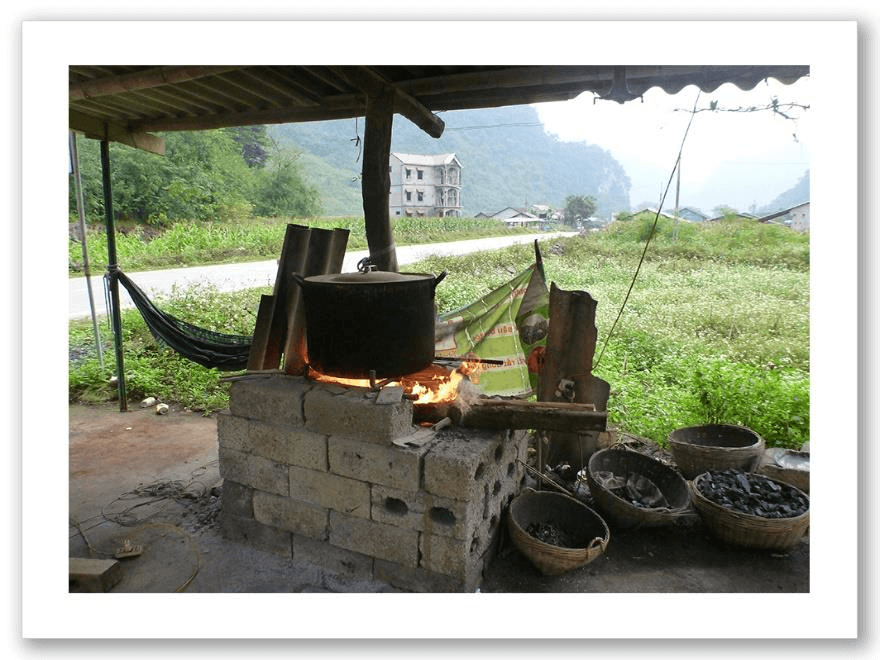 were in luck: the blacksmith
was just starting to fire up
the forge, and for about an
hour we watched him work.
The village was Lang Sen and
the owner was a young man,
twenty-eight years old, who
told us he had been in metal
working for about seven
years.  He remarked that it
was not the easiest of livings
and we both asked him to
make some knives which he
agreed to do.  We picked them up on our way back.  The sheath and blade han-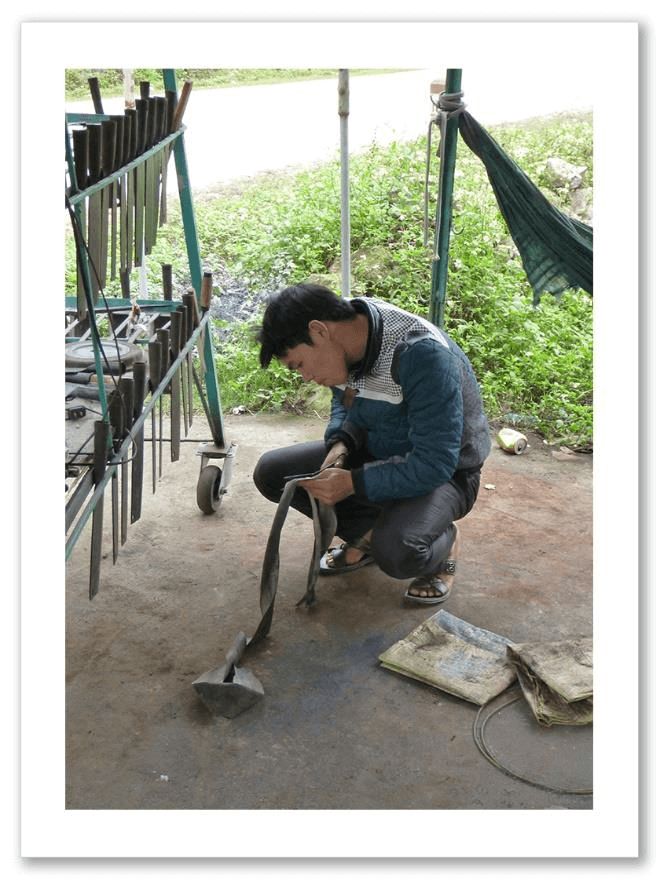 dles, because of the short notice, are crude,
but the blade is well done, and I noted the
young man oiled it with corn oil.  The whole
village was devoted to nothing but metal
working, and the highway is lined with
shops with their wares hung out on display.
Interesting guy, and a chance to walk back
in time quite a ways in an enchanted area.
I am concerned that my words
fail to convey the enchantment and good
karma that I felt everywhere in the Ha
Giang area.  Sure there are occasional gas
lines, but the majority of transactions are
conducted in a most refined manner.  The
roads on occasion may be crowded, but the
"Princess of the Mists" reigns supreme: the
beauty and majesty of the landscapes, the
pervasive spiritual presence, and human grace and decency at every turn.
Tough place to make a living, great place to dance with the Princess.
Day Twenty-two
Clear, warmer
I had originally planned to return to Hanoi and then to Ha Long Bay, the
Miami Beach of Vietnam.  Stone suggested I could save some money if we went
from Cao Bang to Lang Son, spent the night there, and then on to Ha Long Bay.
This would allow for more experiences with Nung and Dzao Montagnards.  There
was still some great scenery on the road to Lang Son, but it was not the scenery
that provided this day's emotional fault line.  That distinction fell to a three hour
talk with a ninety-one-year-old woman who had tragically "seen it all."
We commenced gentle climbs, although by this time Red Rage was ready to
pack it in, and just by chance we came to a soda stand, and because it was getting
hot, stopped for a while.  I had no one to impress with my dismount and, because
I had no feeling in my right leg, still about twice its normal size, my entry was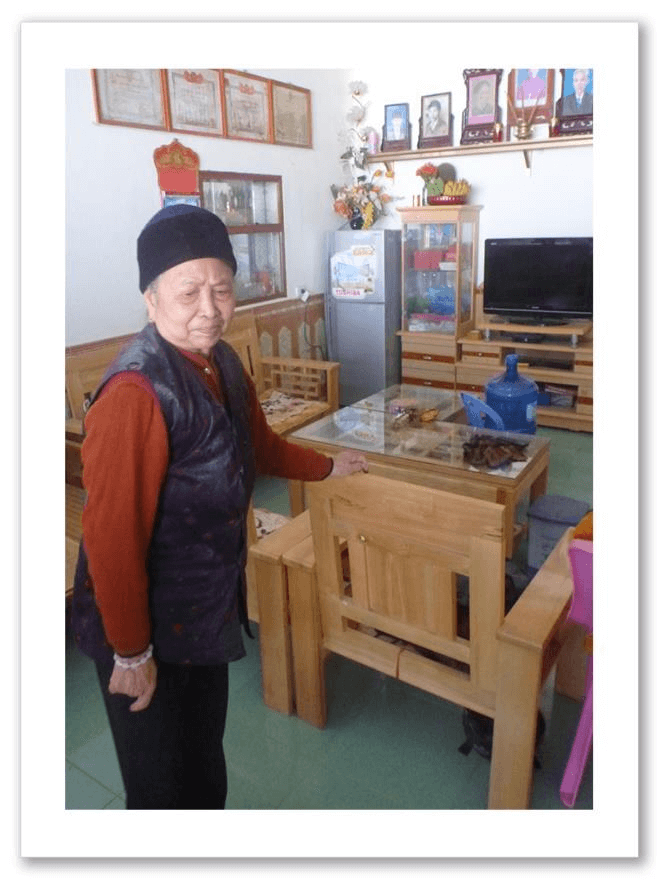 feeble at best.  I sat down to watch the
local action, but the real action soon
appeared in the person of an old woman
dressed in Mandarin garb wearing a
cross.  She immediately advised Stone
she was a Christian.  I had seen no other
cross-wearing Vietnamese up to that
point, and did not see one the rest of
the trip.
She matter-of-factly told us she was
raised by the French, attended French
schools and ended up working as a
teacher.  Anti-French sentiment was
rising, but her uncle was killed fighting
for the French and two brothers died
soon thereafter.  She clung to her
religious beliefs then and even now,
and this has caused her quite a bit of suffering.  She had three sons and all were
killed fighting in the South.  In her shop she had a shrine devoted to all of their
memories, and a large plaster statue of the Virgin Mary was prominently dis-
played.  She asked if we would have tea with her, and I would have stayed even
if she served that vile green tea, which she did.
Her village was Can Thanh, and Stone was aware of severe fighting that
took place in the area in the war against the French.  Stone asked her what she
knew about the fighting and she laid it all out.  When asked why the French lost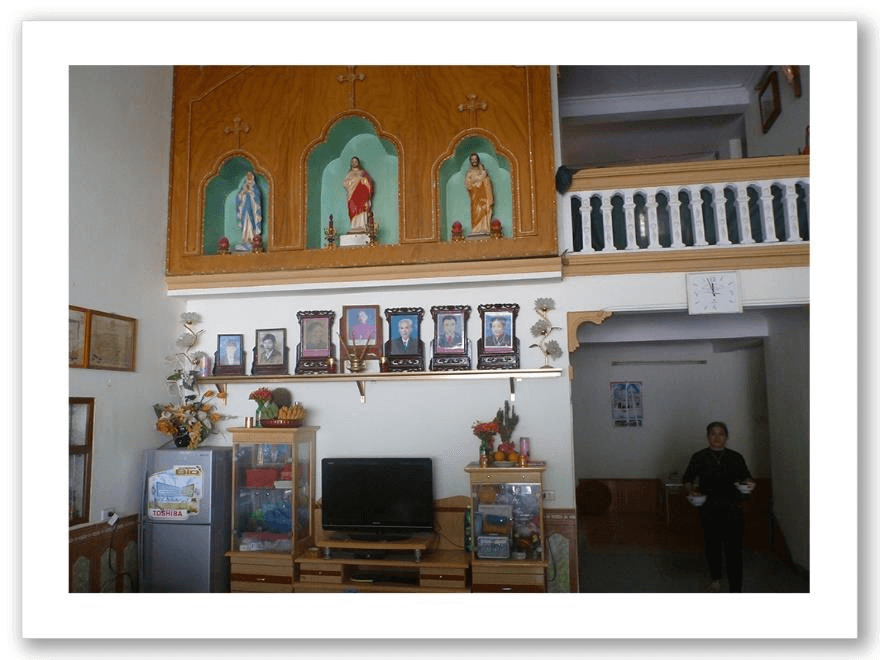 she said it was because they
were cowards, and that the
Americans lost because they
had no stomach for a fight
and too much—I gagged when
I heard this—too much rock
and roll.  Stone was non-com-
mittal.  I thought she was
spot on.
She told us that "they"
leave her alone now, but she
does not understand today's
lifestyle; things were more
"elegant" under the French.  Stone said he thought she was losing it.  I told him
he'd better pray that he can put together a simple declarative sentence when he
is ninety-one.
We headed off through clouds of dust, close shaves, and somewhat crazed
drivers for Lang Son where we toured the market, and I bought incense to be
burned in everybody's memory when I got back to Hanoi.  Much, much more was
to come.  As was our wont, we switched on Vietnamese TV, and Vietnam was
playing Indonesia in the opening round of the Suzuki Cup for Asian nations.  I
thought Stone would be souped up, but he said there was a pall over Vietnam-
ese soccer as several players had been banned for life for throwing games.  He
described it beautifully as "selling the flag".
Here was the rub.  Since the war anything Vietnamese was an anathema to
me.  How could I root for the Vietnamese without betraying everything I believed
in—no small choice to face over a trivial game.  Stone bet me 5000 dong (twenty-
five cents) the Indonesians would win—couldn't let that pass so I took the Reds.
Liked the Red crowd.  They have a drum, and with a heavy accent on the "Viet"
they then come in with "Nam".  Repeated often enough the chant becomes hyp-
notic.  Muslims score first and three of them immediately drop to their knees and
face Mecca.  Vietnam comes back and scores two and I loved the crowd.  They set
off, strictly illegal to do so, what appeared to me to be large confetti smoke bombs.
I had to be part of this, but on an egregious error by the Vietnamese goaltender
Indonesia tied it up in the last minute.  Not bad, I didn't lose, but I rooted for my
sworn enemy.
By way of background as to what follows, when I was in school in England
I was subjected to a never ending barrage of criticism of American football and
how we didn't understand soccer.  I tried to explain to them that in those years
soccer was the score announced at the half-time of the football game, and the
cheers, about twenty, were those of the families who had witnessed the game.
It got me nowhere and the ridicule continued unabated.  That is, until I turned
on the TV—I believe I was in Beirut at the time—Liverpool was playing Juventus
in the European Cup final.  It immediately struck me that something was a bit
amiss as firebombs were hitting the pitch with regularity, masked individuals
were hurling more firebombs into the stands, and organized groups with clubs
were battling each other.  The Italian police were useless in controlling the
violence.  Hey, the beautiful game with firebombs—a new approach.  Several
people died and scores were injured.  I no longer had to worry about taking crap
from Englishmen about violence in American sport.  It is interesting to see how
each side handled the issue.
The game was, I believe, held in Rome, not on Juventus Field.  The walls
the next day were spray painted with "Thank you Reds", congratulating the
English on inflicting death upon the hated Juventus side.  Do those Italians
know how to hate or what, and over a sporting contest in which some of their
own countrymen died, no less.
The Vietnamese press approach was more subtle, and took a good stab-
bing dig at the Muslim players throwing themselves into prayer after each goal
by archly noting that the Vietnamese appeared to have two sides playing: the
offense, which wanted to win, and the defense, which wanted to give it away.
Then the master stroke: Indonesia should give prayerful thanks for the goals
scored because of the woeful actions of the Vietnamese goalkeeper.  I knew I had
to get to one of these games and Stone advised that Vietnam would play Laos two
days after our scheduled return.  Can't miss that one, divided loyalty or not.
Day Twenty-three
Sunny, warm
As we leave Lang Son and head for Ha Long Bay we hit better roads, but as
we climb up a bit I hear a loud boom.  I know a grenade explosion when I hear
one.  I tell Stone to stop.  He says he knows where it comes from, and sure enough
there are two fishermen covered in water and silt and some fish on the rocks.
The fishermen are running around trying to catch whatever fish are slipping
away downstream.  We watch for a while but Stone is not impressed, remarking
that they did not get much bang for the buck.  We move forward and stop at a
particularly unappealing pho shop.  It is peopled by one Vietnamese young man
with seven inch spiked blond hair and the appropriate number of rips in his
jeans.  Just what is the appropriate number of rips, anyways?  I am positively
aglow with the knowledge that we have won the culture wars—Vietnamese
crooners with orange hair and young men wearing ripped jeans sporting seven
inch spikes in their bleached blond hair.
Then I spy an Evergreen container heading north.  The pain it engenders
travels 8,500 miles in a nanosecond and tears at my heart.  A blow not to the
solar plexus but to somewhere much lower and more vulnerable.  I simply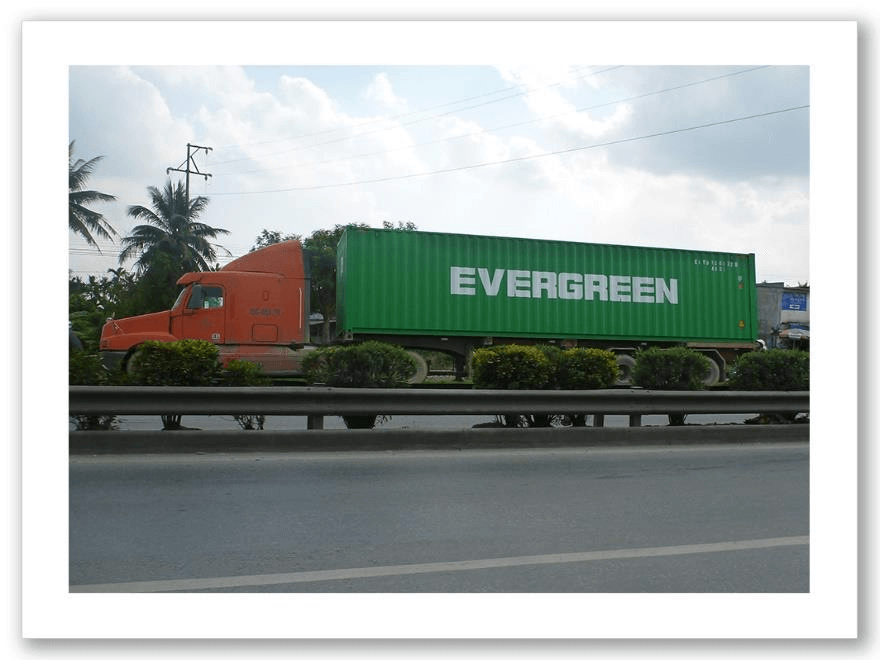 could not believe this was
happening to me here.
When about three
years earlier I was in the
midst of a most spectacular
implosion of my marriage,
I was introduced to ideas
such as time travel, numer-
ological sequencing, alien
intelligence, and other con-
cepts which, to be fair, I
was neither intellectually
nor temperamentally in-
clined to grasp.  One of these concepts placed the Holy Grail, whatever that might
be, within fifteen miles of Lyndhurst, New Jersey in an unused Masonic temple.
Because of my disinclinations, my wife christened me "Darkness", a male-
volent force who was extinguishing her light.  No matter how ludicrous it may be
to credit such an assertion, it wounds me to this day.
One of the concepts I was introduced to concerned the Evergreen contain-
ers: their locations, the numbers on them, and how they were part of some alien
or extraterrestrial force field.  I could easily dismiss these follies.  What I could
not easily dismiss was the calculated assault on a vulnerable first-rate mind by
pseudo-occult rubbish generated by her so-called "friends".
I did some work, and to be sure, Evergreen—get this—transported nuclear
waste.  Imagine if we had just a little leak on the George Washington Bridge and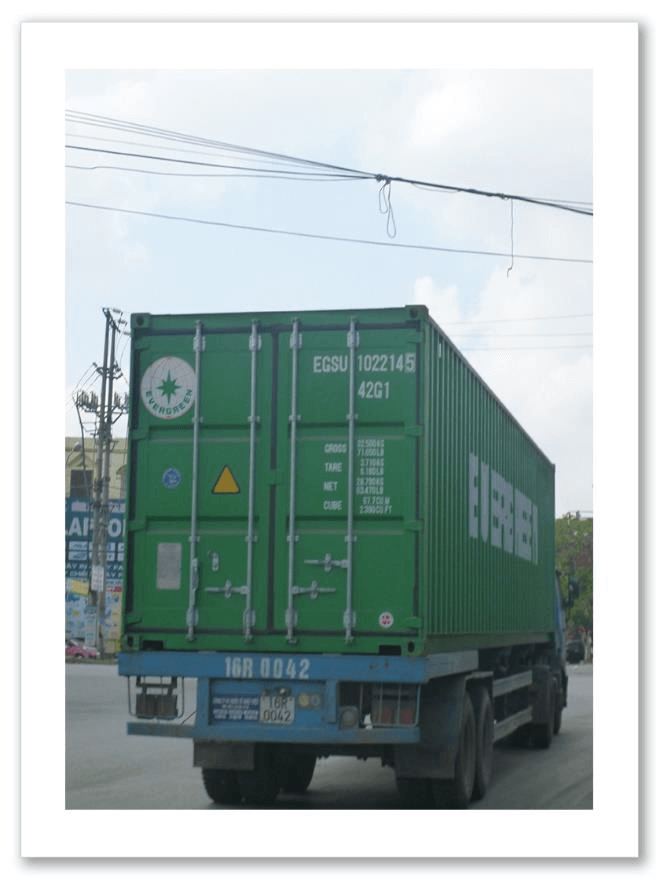 nobody could be held accountable.  Hey,
what's the problem with contaminating
the George Washington Bridge with a lit-
tle nuclear waste!  As ridiculous as it
was, on the back of a motorcycle in the
northwest highlands of Vietnam I went
on point as to Evergreen.  Although I
had never taken pictures from a mov-
ing motorcycle before, I was all over the
Evergreen containers.  As we headed
north I got about fifteen shots.  Comrade
Stone was concerned and pulled over.  I
tried to explain the significance to him.
His simple answer was that I had been
on the road too long, and that we needed
to get off this route, as it was the main
shipping road from Hai Phong to the
China border.
We turned to Ha Long Bay which is Vietnam's Miami Beach, and most
touristy.  Great karst and limestone formations in the bay, and hundreds of tour
boats eager to show them off while launching various scams on the unsuspecting.
As we rolled in we passed magnificent hotel after magnificent hotel.  Stone
drives to the end of the main drag and we are almost tackled, literally, by a hotel
owner.  We get a great room for $10 a night and take a stroll.  Not too many folks
about.  It is off-season and, for political reasons, the Chinese have not showed up.
We find a small shop and I allow myself a chocolate ice cream bar—it is quite
good.  Me, I am trying to square this carnival with the ambiance of the "Princess
of the Mists" in Ha Giang, and I like the mists far better.  Stone and I return to the
hotel to book a boat tour to do the bay.  The options are a four, six or eight hour
tour.  As my leg has no feeling and I am not up to entering caves with a conga line
of other tourists, I opt for the six hour tour—possibly not the smartest decision of
my life.  Pickup at 07:00.  I am up for it, perhaps a little too up for it.  Stone wisely
declines an invitation to join me, and I come to applaud his decision.
Day Twenty-four
Warm, humid
The madding crowd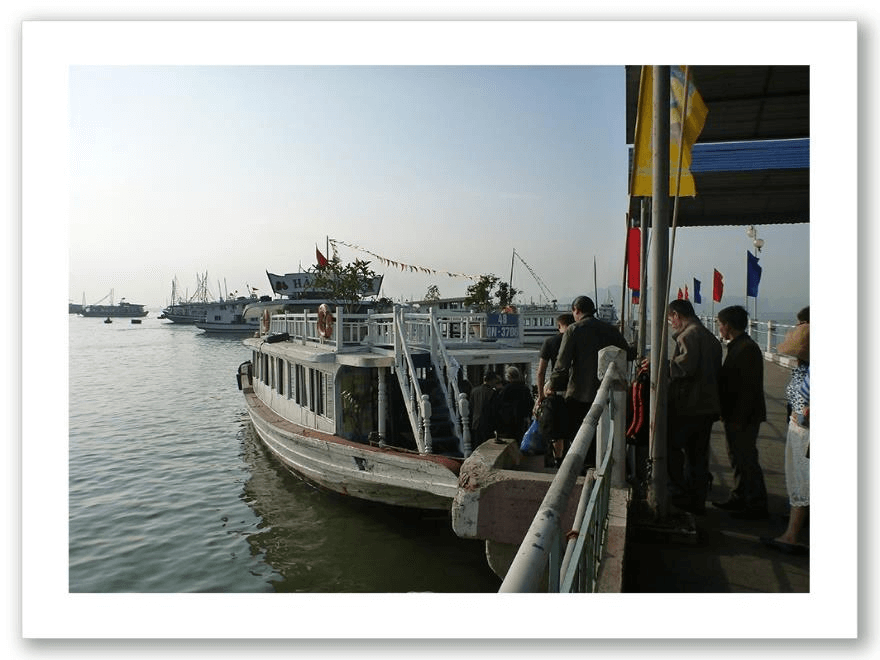 The van, a good one,
arrives on time, and, as is my
wont, I head for the back.  I
am the only roundeye in the
crowd.  We head for the boat
landing where we are herded
by a guy with a flag and told
to wait.  More people show up
and by the time we are ready
to leave I see that our group
is made up of one young Aus-
tralian couple and sixty Viets.  All aboard, but not until your ticket is examined
three more times.  I tell the Australians I am hanging with them in case we are
attacked, and we note that there are ten life jackets for the sixty-five on board.
The boat is comfortable, but in a variation on the theme at the falls, smaller boats
come alongside and try to peddle fruit and candy.
Despite the fact you can see little, everyone but me heads topside; I,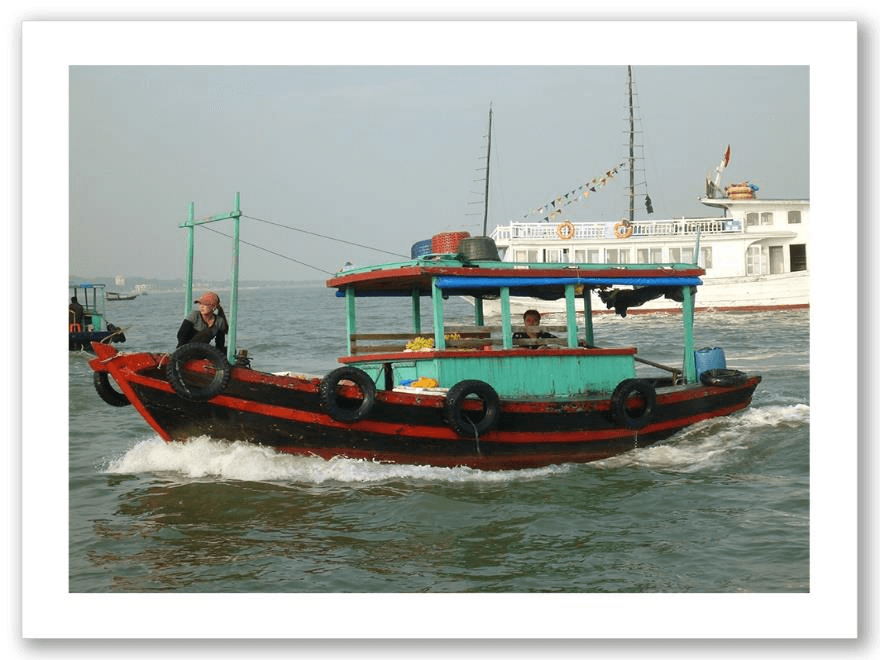 because of my leg, chat up
the boat staff who are most
pleasant.  We are underway
about five minutes when the
trays of jewelry come out,
as well as other tasteful
mementos of our journey.
I watch a well-off, middle-
aged woman examining a
tray of jewelry as though it
were a tray of snakes.  You
cannot get away from the
goods, as the trays are on
every table.  I resist an almost overwhelming urge to take home just one of these
mementos of the real Vietnam.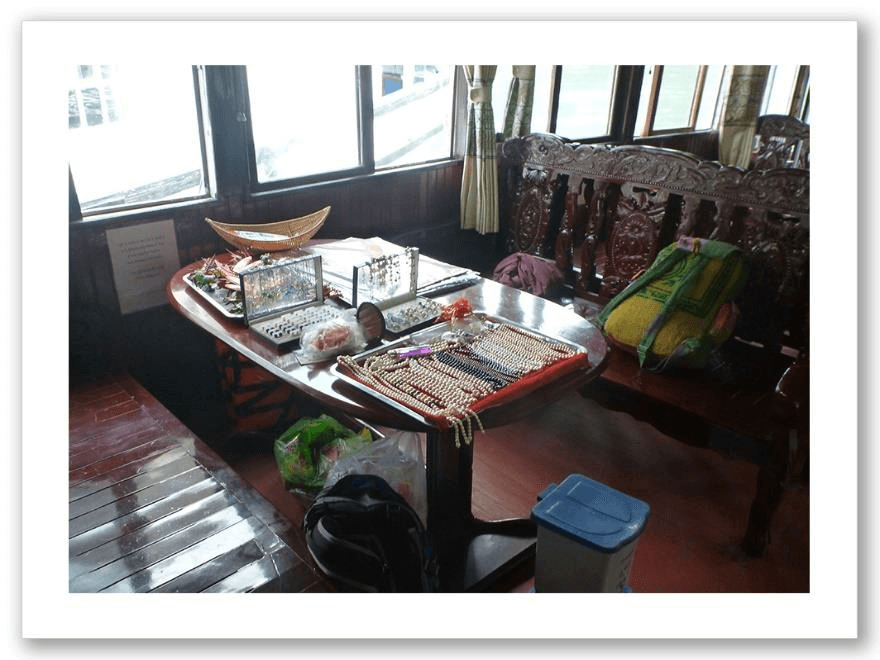 I have liked Australians
ever since I trained in their
country.  This pair was deep
into people watching, and they
surely made it interesting.  The
tour's first stop was to visit a
waterfall or cave of some sort,
and our skipper executed a
somewhat novel approach in
that he ran our ship up about
five concrete steps.  Here we en-
counter a typical conga line of
tourists, and I decline to join the
festivities.  I did note that to get to the attraction you had to breach a continuous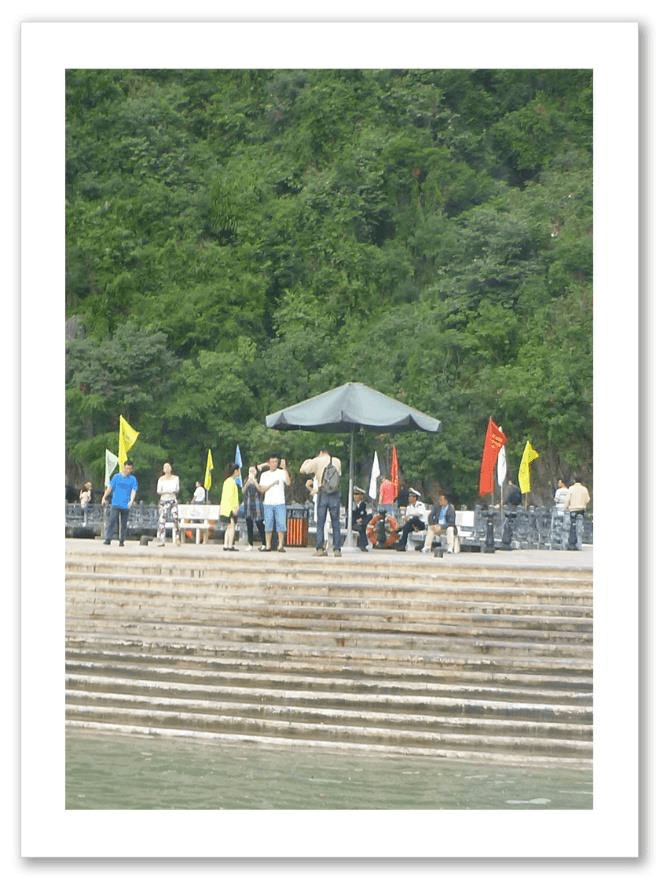 line of souvenir shops of the kind one sees
in Mexico where, if you buy a souvenir,
when you get it home you don't dare show
it to your friends.  As I waited in one of the
shops I spoke with the young saleslady
about business.  She said it was slow, and
that the Chinese tourists were not coming
because "Big Brother" had put a slowdown
on tourism to the area.  Even at this early
hour in the tour, and having banged away
merrily with my camera, I was ready to
pack it in.  Stone was smart—he was mis-
sing all this back in his bed.  I must con-
gratulate him.
We moved on, cameras at the ready
as we passed numerous karst islands and
formations, and then a second unnamed
attraction along with the five hundred person conga line.  The Australians
would not budge, but the Vietnamese braved the tourist storm and returned
with some grotesque souvenirs, looking much the worse for the wear.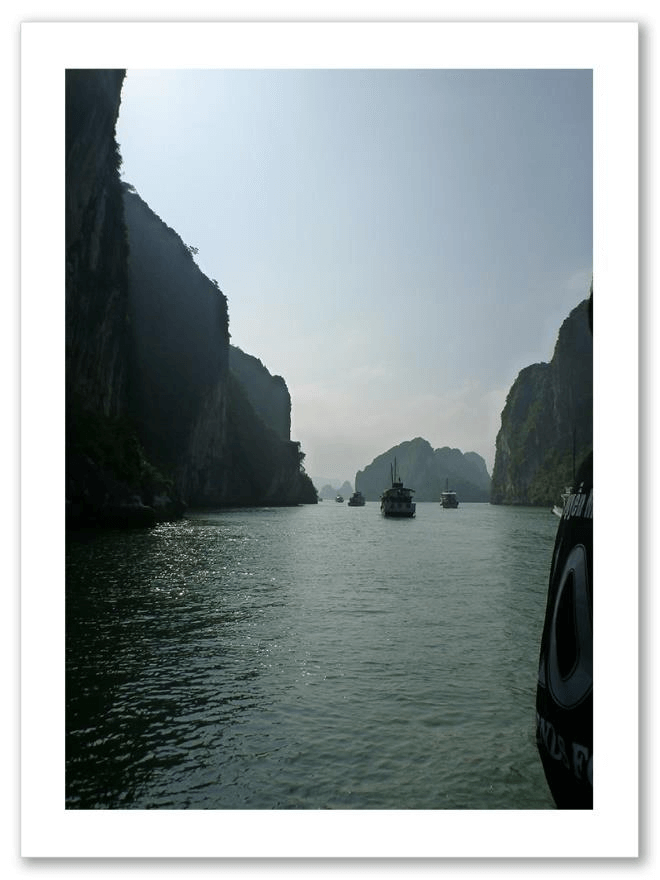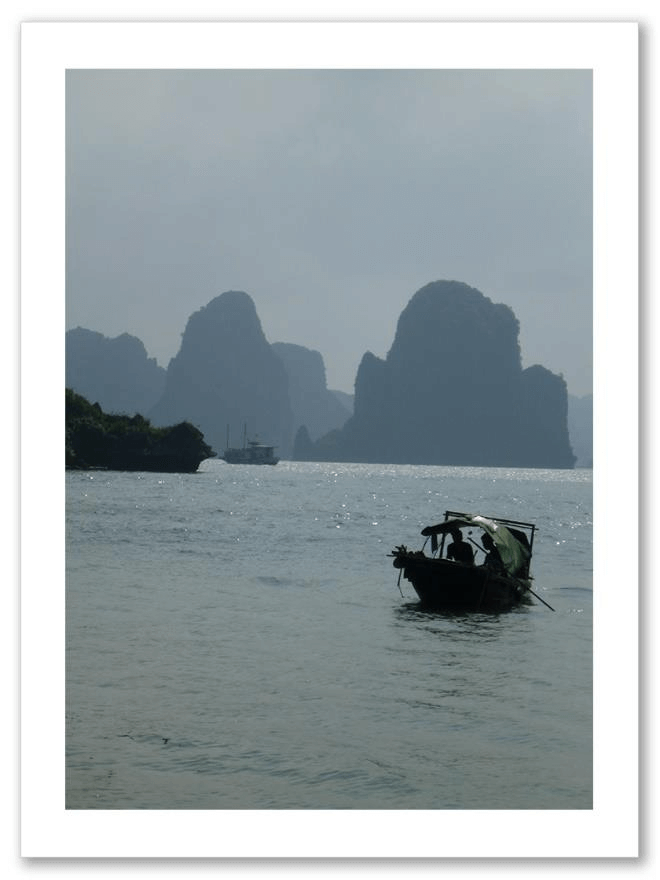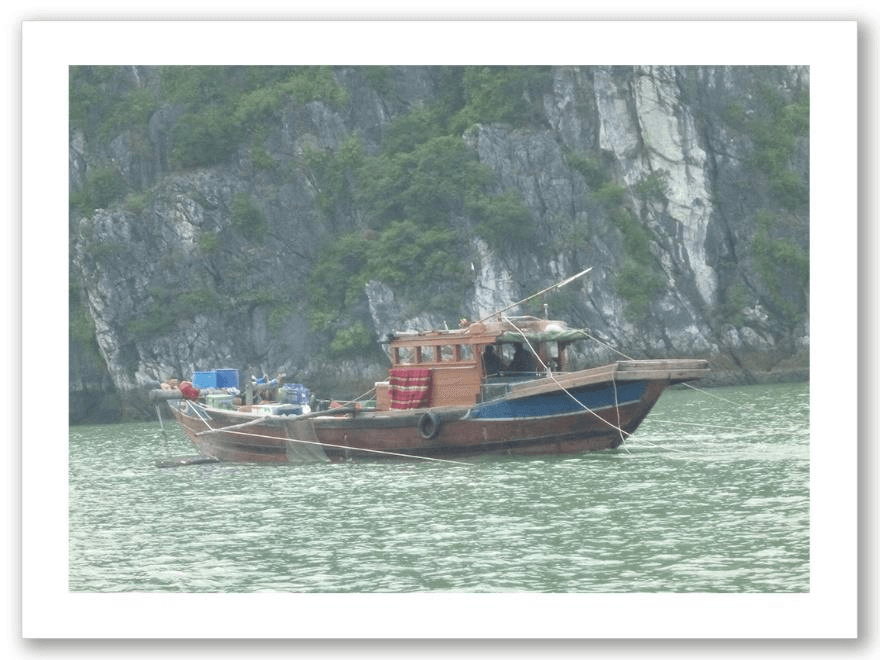 The Australians were looking at their watches and trying to figure out how
they could get off the boat in four hours rather than the six they had booked.
When advised this required a change of boats in mid-bay they were plunged
into dark despair.
It was then time for lunch.  Roundeyes at our table, the others at all the
other tables.  The male Australian announced, sotto voce, more food for us.  I
cautioned him that this was not necessarily a good thing and to wait until he
had seen the food.  By this time I can eat anything under any conditions and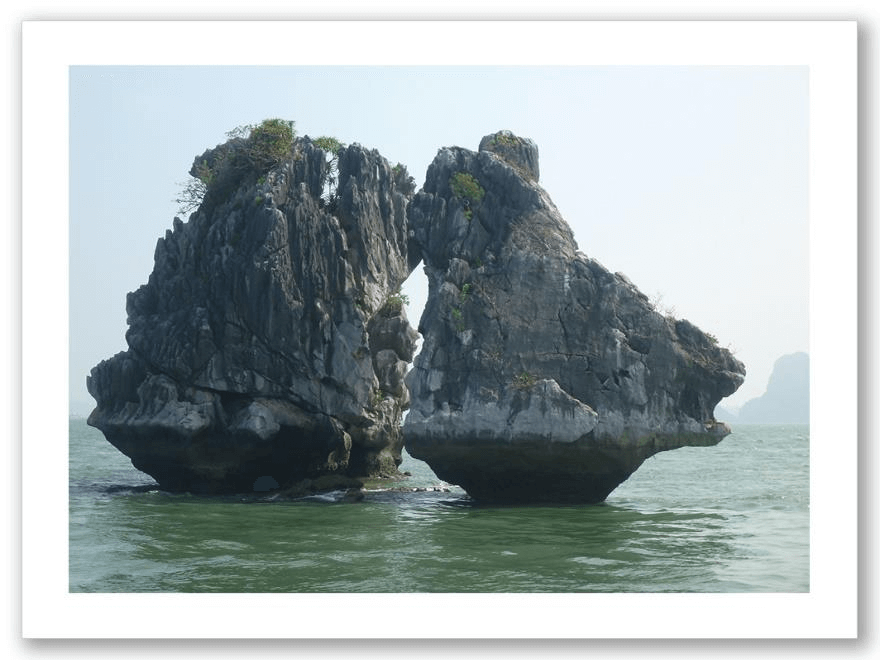 I did.  During lunch hour
much rushing topside to
see some famous karst—I
strolled to the front of the
boat, nonchalantly banged
away photos, and just as
nonchalantly returned to
my seat which I had select-
ed because it was the clos-
est to the open stern of the
boat.  As the Italians say,
in such circumstances it is
best to be prepared.  Much
agitation in the boat because a fishermen's commune or whatever was about
to appear.
This commune was a small floating island where, for a not insubstantial
sum, you could rent a sea kayak, or have some Vietnamese lady paddle you
into an opening in a karst formation.  I was pleased to see there were no sou-
venir shops, probably because why repeat the obvious.
I should note that all during the trip a majority of the Vietnamese were
on their cell phones, bringing home to their nearest and dearest our progress
as we navigated around this glass surfaced bay.  At least two of them never
went out to the deck but stared balefully at the jewelry trays which had reap-
peared almost immediately after lunch.  At about 14:00 ennui began to infect
the Vietnamese, especially the youth who were dressed in western Capezio-
style outfits, cavorting around, just so cool.  Eyelids drooped, heads rested
on the tables, people stretched out, as the endless karst islands passed by
unnoticed.  Heaven help those who signed up for the full eight hours.
Narcolepsy.
I dutifully banged away, but my photography was somewhat circum-
scribed by the other twenty boats in the vicinity of the same natural wonders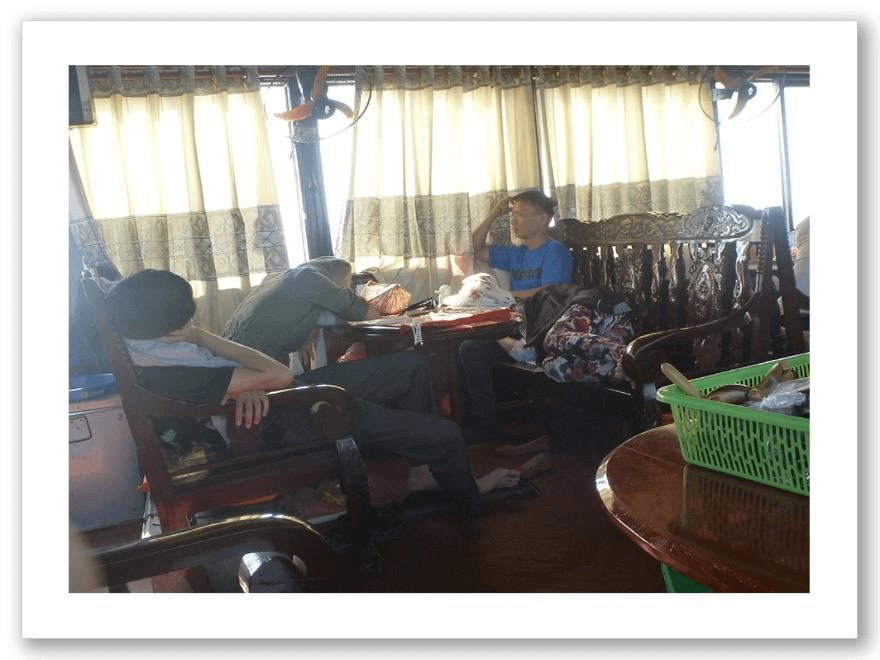 as our ship.  As we moved
through the day, my travel-
ling companions were drop-
ping like flies in the main
cabin.  A Japanese torpedo
could have ripped our boat
apart but they were so far
out of it they would have
gone to the bottom of the
bay without a murmur.
We three roundeyes
said we had to keep the flag
flying, and I am pleased to
say we stayed the course.  As we left there were some hardy souls going for
the eight hour tour, but so snuggled in they won't see much, not that there is
much to see, if I read the map correctly.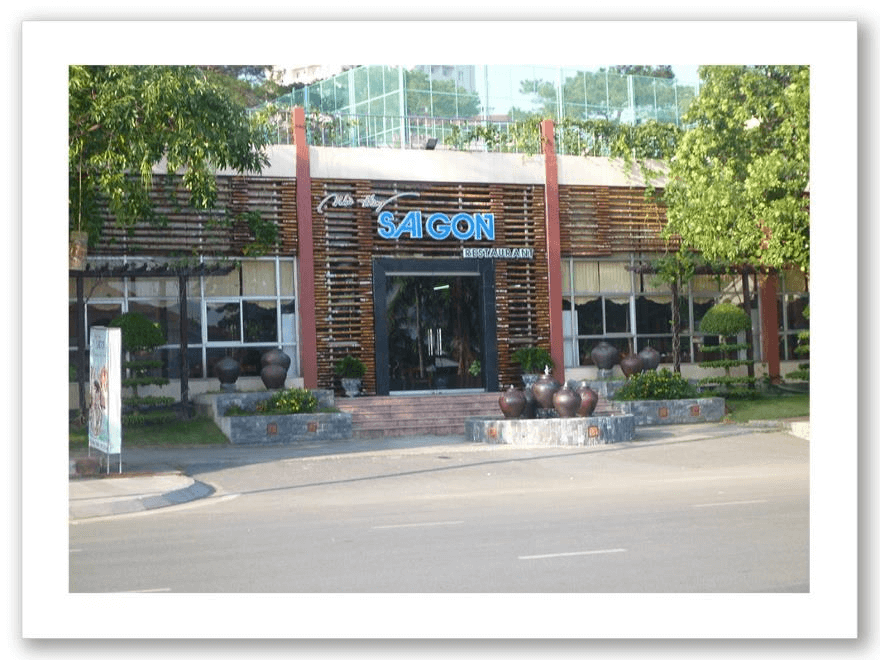 As I ascended the
steps I was asked for my
ticket again, and my hotel,
but I had been in so many
Vietnamese hotels in the
last month I had forgotten
its name.  I, jocularly and
stupidly as it turned out,
said I would walk.  Bad
move—over two miles in
the heat, with many stops,
and I treated myself to an
ice cream.  My journey was
not uneventful as a beautiful restaurant bearing the name "Saigon" appeared.
Quite a joint—take that, Politburo.  Another unsolvable Marxist contradiction.
Just as Stone was about to come looking for me I, like some rudderless ship,
hove into view.  I am standing there a bit out of sorts when Enya comes
floating from the shop next to the hotel.  Because of a lack of business the
proprietor of our hotel is burning fake currency, á la Chinese funerals, to
bring good luck.  I wonder if I get any good luck just by watching.  No harm
in trying to get in a free ride.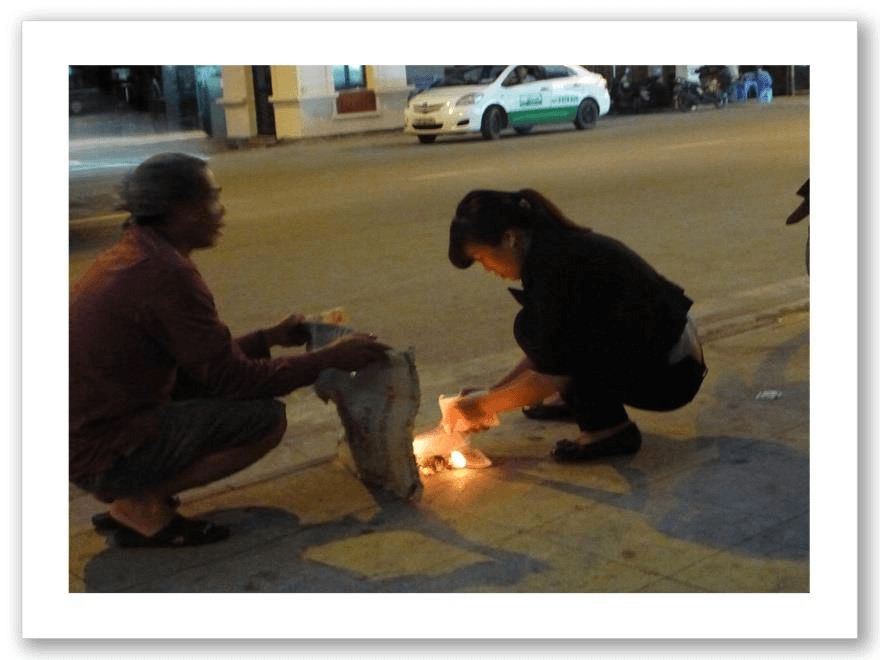 Stone had some mad
idea that required us to get
up at 04:30 to go to Coto
Island, a largely ignored
destination.  As I staggered
around the room trying to
breathe, I told him I was up
for it if he was.  I knew he
was never going to make it,
and neither was I, but let him
live the dream of adventure
travel, or something like
that.
Day Twenty-five
Warm, muggy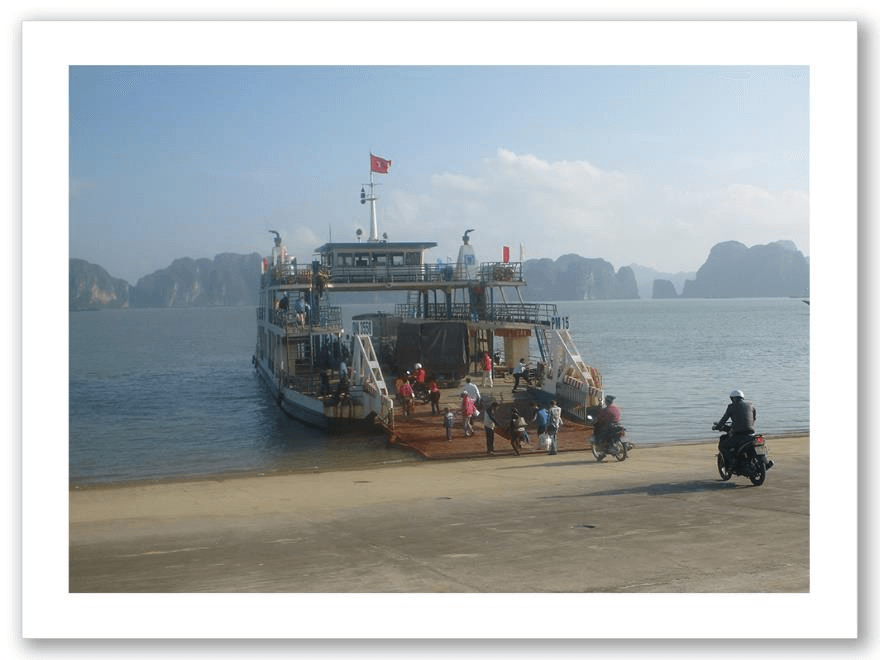 Stone's alarm goes
off at 04:30, and he does
not move.  For that matter,
neither do I, but I reset the
alarm for 08:00 as I have
had enough of Vietnam's
Miami Beach.  Stone rallies
and suggests we go to Cat Ba
Island as the ferry ride will
take us to parts of the bay
away from the madding
crowd.  We made the ferry
and the trip does provide
some spectacular vistas.  Only one problem: the camera has run out of
charge.
We head off to the island which is a national forest, and the scenery is
somewhat reminiscent, on a much smaller scale, of the northern mountains.
Arrive in Cat Ba City which is a town just waiting to get into some serious dis-
sipation.  Roundeyes everywhere, and a small main strip with enough human
interaction to satisfy the most vigilant voyeur.  We are almost tackled by an-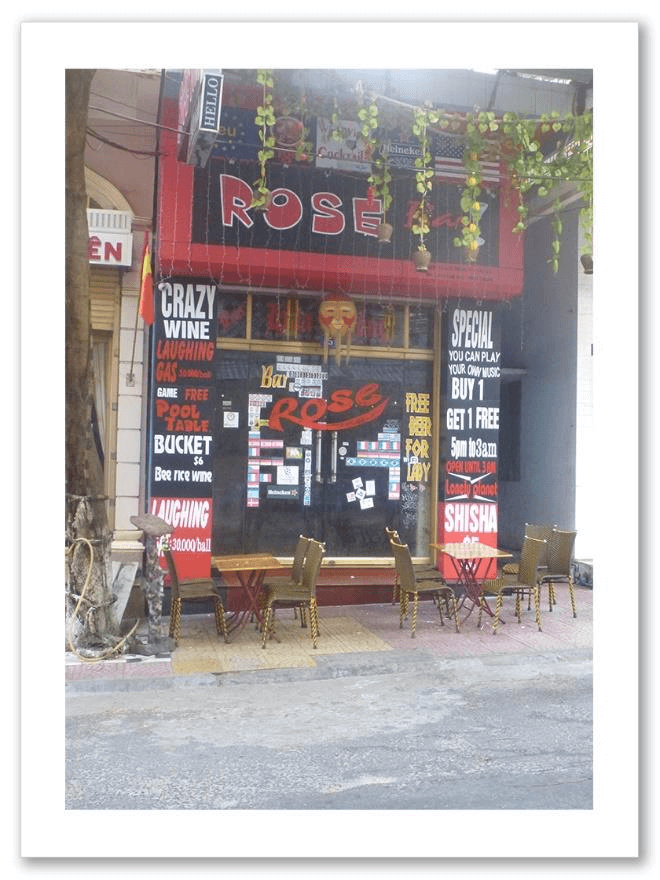 other hotel owner, and we land a smash-
ing room for $10.
I treat Stone to dinner, and I am
fascinated by the Rose Bar directly
across from our restaurant because over
the bar it advertises "crazy wine", what-
ever that might be, and nitrous.  Now this
is something you do not see every day!
That sign would have brought smiles to
the faces of one of my late New Hamp-
shire friends and his girlfriend at the
time, as they flattened every Ready Whip
can in the Ashland area Shure Fine Mar-
ket.  Lots of fond memories float by.  We
move to the veranda of our hotel and for
the next two hours listen to some very
romantic music.  Tomorrow we head for
Hai Phong and then to Hanoi.  The long winding road will soon be coming to
an end.
Day Twenty-six
Warm, sunny, humid
Up early, we head to the other end of the island to catch the ferry to Hai
Phong.  I am the only roundeye on the boat as we move out, and as I am stand-
ing, a middle-aged Vietnamese offers me a seat on his bike.  We sail on and I
spy what I believe will be the next instrument to spark a confrontation in the
South China Sea: a drilling exploration platform and a large marker buoy.
The drilling rig is heading into the harbor, the marker buoy heading out.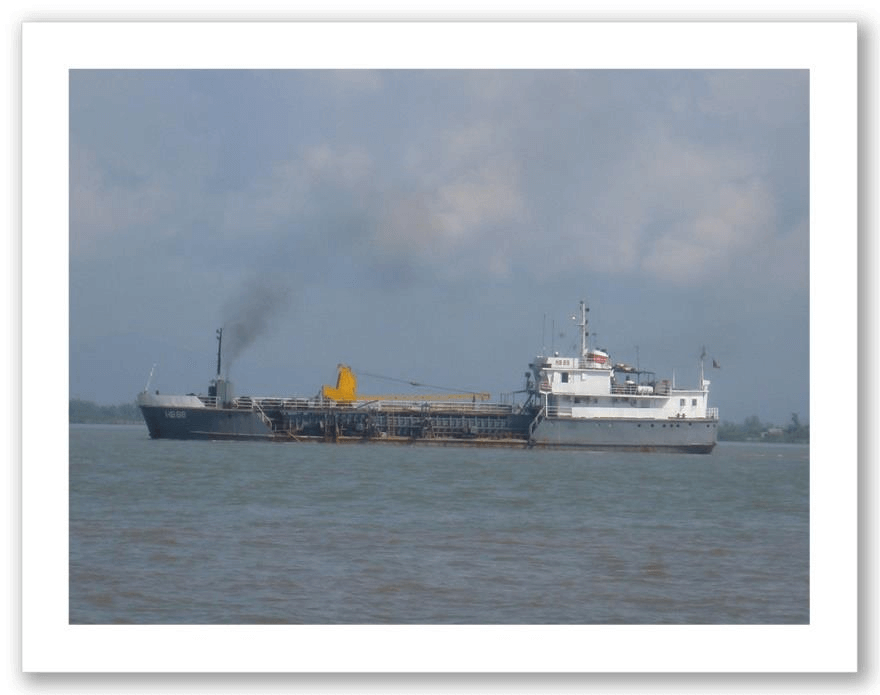 China and Vietnam
have been ratcheting up
the rhetoric, and there have
been small confrontations
over oil rights in the South
China Sea.  These have in-
creased during the past sev-
eral months, but the parties
have been wrangling over the
oil rights for years.  Vietnam
may drill and set marker
buoys, but the might of the
Chinese navy will, I fear,
crush the Vietnamese.  More-
over, I fear that, as the ninety-one-year-old woman said, America will have no
stomach for getting involved in a small island dispute with a country that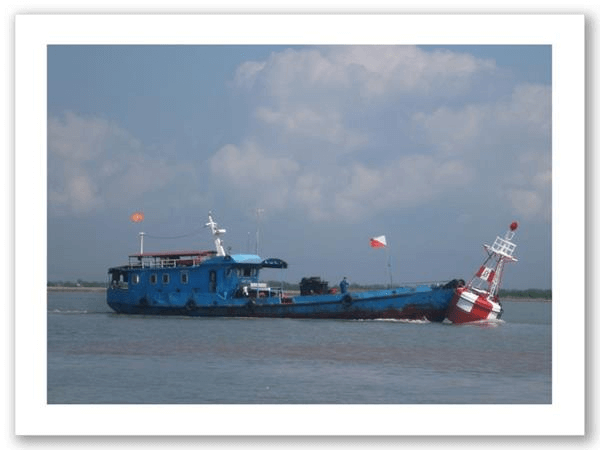 holds more than the gross
national product in debt.
Not a pretty picture.  As
Stone would put it, Big
Brother eats first!
We continue on and
are greeted by a harbor
bursting with activity.  I
compare it to Port Newark
and all that hangs over the
city of Newark: Hai Phong
is on the rise, Port Newark
is in need of a respirator.
As we disembarked we are confronted by acres and acres of neatly stacked
containers from all over the world, some even American.  The container yards
are immaculate, the traffic orderly, the size of the operation dwarfing Port
Newark.  But it is the near frantic activity that underscores the depressing
comparison.  Port Newark is in first gear, Hai Phong in overdrive.  The ques-
tion looms: how did a society transform itself in such a short time, and once
again there can only be one answer: education.  As we moved through the
yards, both Stone and I were on point for Evergreen containers, and we found
some neatly stacked in several locations; I took pictures and noticed that only
the yards with Evergreen containers had guard dogs.  As they say in the intel-
ligence business, this will be passed forward for appropriate evaluation.
We get on the highway to Hanoi, which I believe will be safer.  I am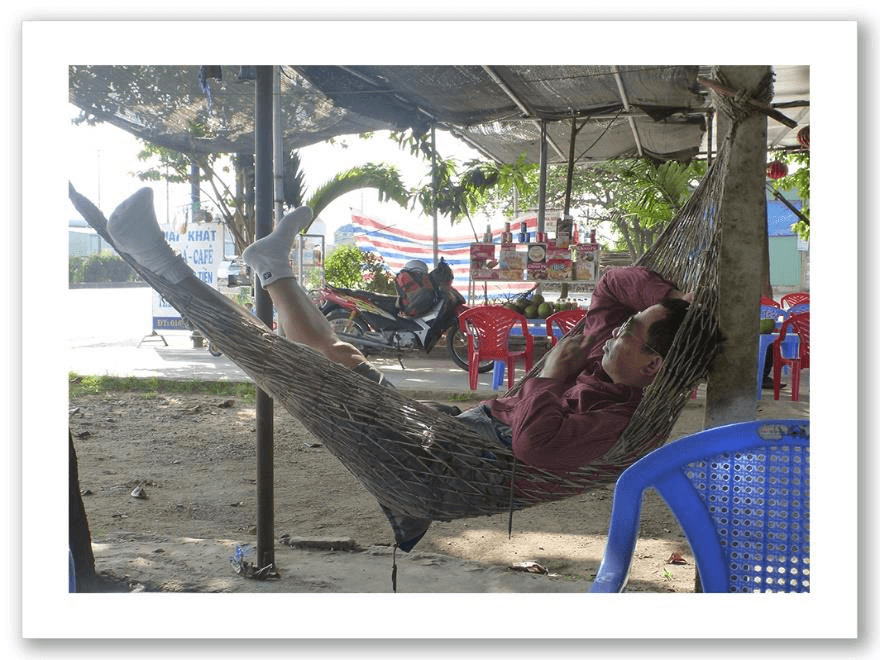 wrong.  Because of the
median dividers, and to
avoid having to backtrack
many kilometers, vehicles
wishing to drive in the
opposite direction from
the one in which you are
traveling simply move
into your lane and drive
directly against you!
We stop for cool
drinks.  I survey the road
for Evergreen containers,
and sure enough I see one.  I make a bet with myself, knowing that I am not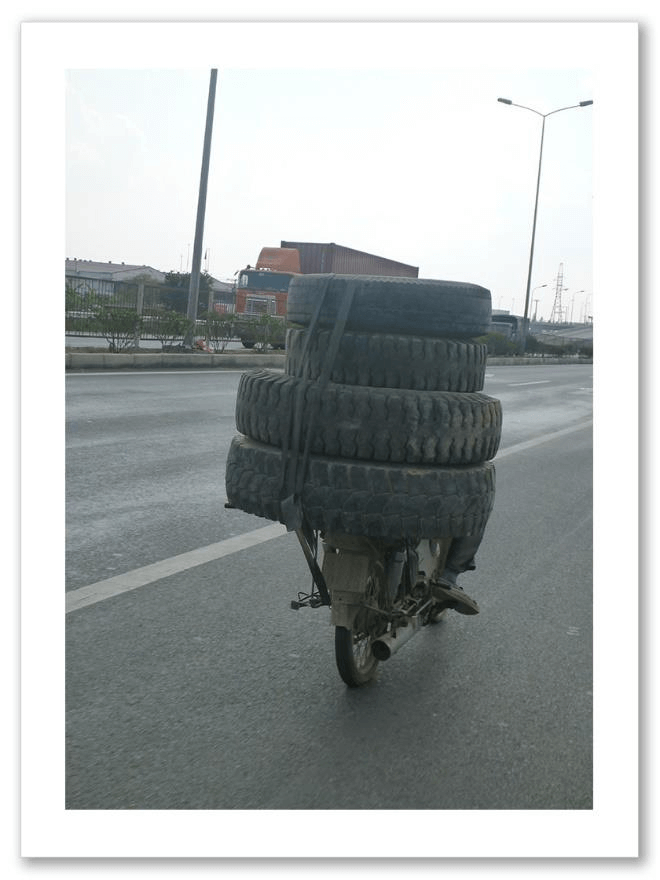 thinking logically, that it will be a good
sign if three Evergreens pass us before
we leave.  Another one does and just as
we are about to take off so does a third—
a good number.  The ludicrous nature of
this exercise makes it hurt all the more.
While I am engaged in such frivolous
activity, Comrade Stone is contempla-
ting the Atman and The Brahma Body.
As we near Hanoi we experience
capitalism at work.  The spear of the
revolution is not the gun so much as the
150cc motorcycle, which has made every
owner an entrepreneur.  As we come in-
to Hanoi I am pleased to note that "Old
Vietnam" is not dead!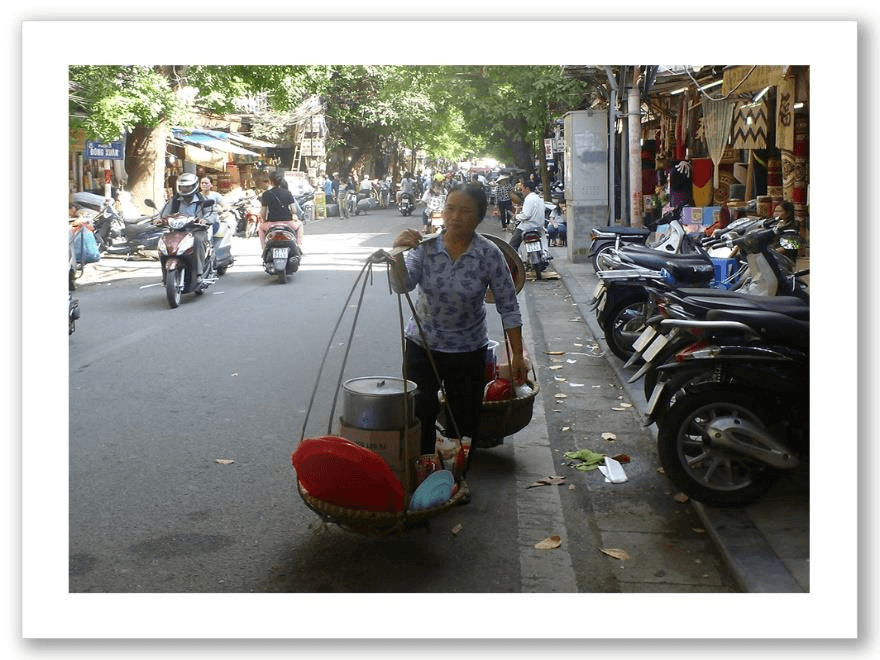 Stone delivers me to
my hotel, and I am home, in
a manner of speaking.  The
adventure is over, but just as
we are about to part, he turns
and matter-of-factly states
that he didn't believe I was
strong enough to make it past
Dien Bien Phu.  I thank him
for his observation—music to
an old man's ears.
He rushes off, probably
hoping I won't die taking the
pack up the two flights to the lobby.  What he didn't see was the porter come
and carry it up for me.  I must get tickets for the Lao game.
Day Twenty-seven
Sunny, warm
When I report for the free food in the hotel dining room, the young
waitress says "it is Harry, isn't it" and shows me to my usual table.  Can't get
too puffed up over it as there are only six tables, but it's nice to be recognized
in hip places.  Stone arrives and we are revved up to see the new chemically
balanced Ho, but we are greeted by a flinty-eyed guard who says no viewing
until the 6th, still a week away.  I tell Stone they had better get it right be-
cause in Russia many a good man has lost more than his job for not getting
Lenin's waxy remains in tip top form.  I advise him I will be closely following
the opening and will give him no peace until that fateful day.
We work through "gray" channels and obtain tickets for tomorrow to
the Lao game.  Stone purchases me a "Vietnam Will Win" head scarf and tells
me that I must wear it.  I agree to do so.  I take Stone to the bookstore and buy
him Lao Tzu's The Artof War in Vietnamese.  I explain that the same princi-
ples can be applied successfully to business, although I personally had been
unable to do so.
We then set off to find an ao dai seamstress to create a dress for a friend
of mine.  When I keep insisting it must be in the Hue style with blue on purple
I am questioned about how I know so much about the dresses.  I reply that the
ao dai is the most beautiful dress in the world which shows no skin.  I even
had a salesperson offer to put the picture of a temple on the dress.  Mab's
cries of anguish shook the heavens.  I politely decline and stick to my guns but
the measurements issue is a problem.  The declining number of "traditional"
seamstresses is a bigger problem.
Day Twenty-eight
Sunny, warm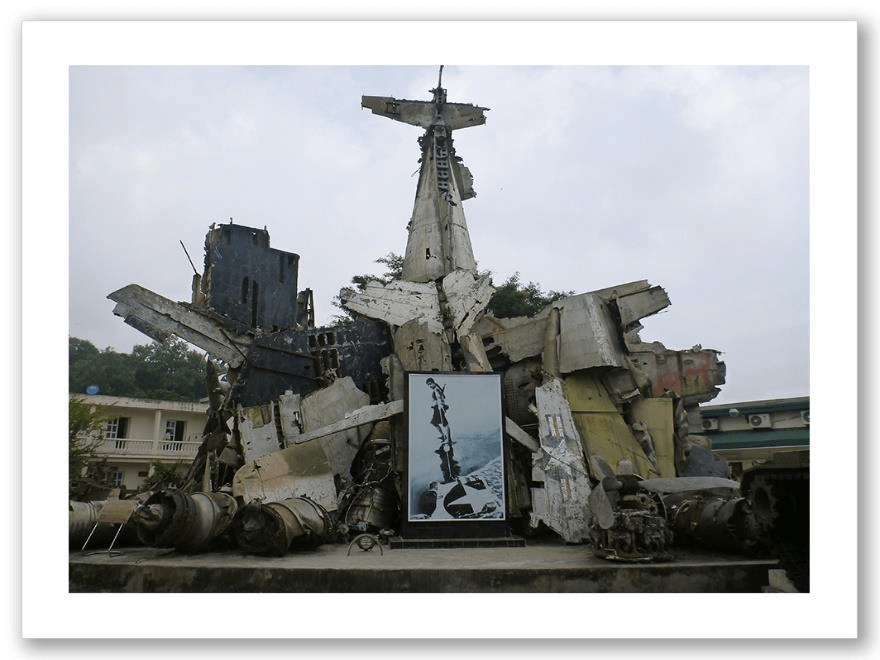 Today I hit the Museum
of Military History which is
small inside but has quite a
good collection of military hard-
ware outside, including the tank
which crashed the gates to the
Palace—it was staged, of course.
I took it all in, but when I saw
the MIG 21s with five and six
stars on them, the blood was
close to the surface.  The mu-
seum has a sedate terrace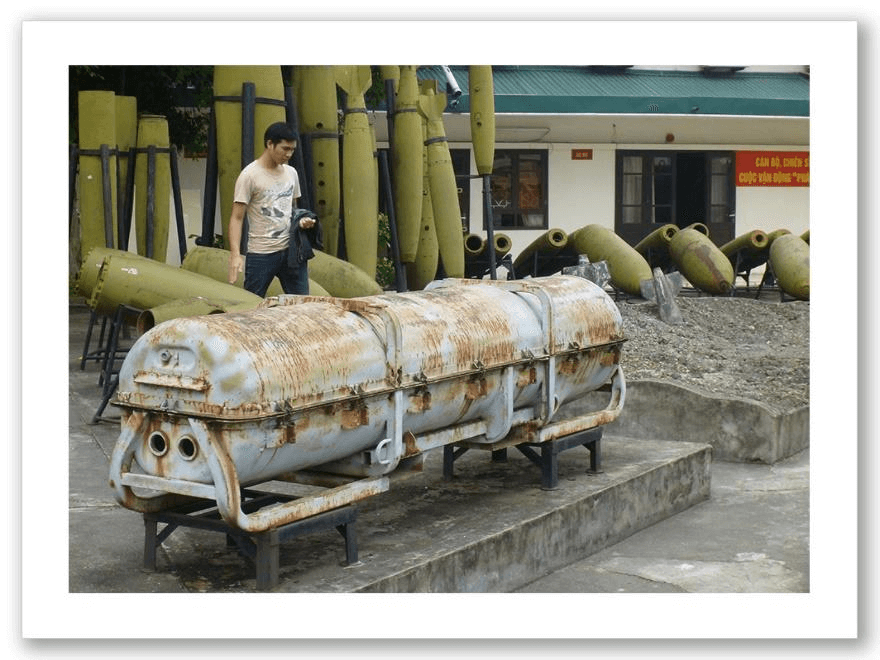 where the low key affairs are
sorted out.  Machines of death
including the canister which
delivers Agent Orange sur-
rounded by a terrace of mid-
dle-aged lovers.  If love works,
don't quibble about when or
where it happens.
Late in the afternoon
and the sky overcast, just the
right time to experience a tour
of the Hanoi Hilton, a/k/a Hoa
Lo Prison.  I had heard all the
stories and I credited them, but I felt I had to experience, if only for a few mom-
ents, if only on the most superficial level, what the conditions of the physical
confinement had been.  Years back I had a boss who had spent six years in Hoa
Lo and he was not cut from the same forgiving cloth as John McCain; if he had his
way Hanoi would not exist.
As Comrade Stone and I approached the entrance we encountered a group
of about fifteen well-dressed teenagers (in red, white and blue, no less) milling
about the front waiting to take the tour.  They were clearly not Vietnamese and
identified themselves, in a fairly toffy English accent, as high school students
from Singapore on a ten day vacation in Vietnam.  This revelation brought back a
memory of my high school vacation of one day to Canobie Lake Park, a fifth rate
amusement park in southern New Hampshire, where I got arrested for driving
too fast in the parking lot.  I, being somewhat behind the times, now realize that
today even Midwest American high school students regularly trip over to Europe
for the holidays.
Where the Vietnamese failed to convey the significance of Dien Bien Phu, in
the Hoa Lo Prison they hit it spot on.  The gloomy presence conveys the horrors
that took place here, and the Vietnamese, in a stroke of genius on the retribution
front, identify their French jailers by their nicknames, thereby ensuring that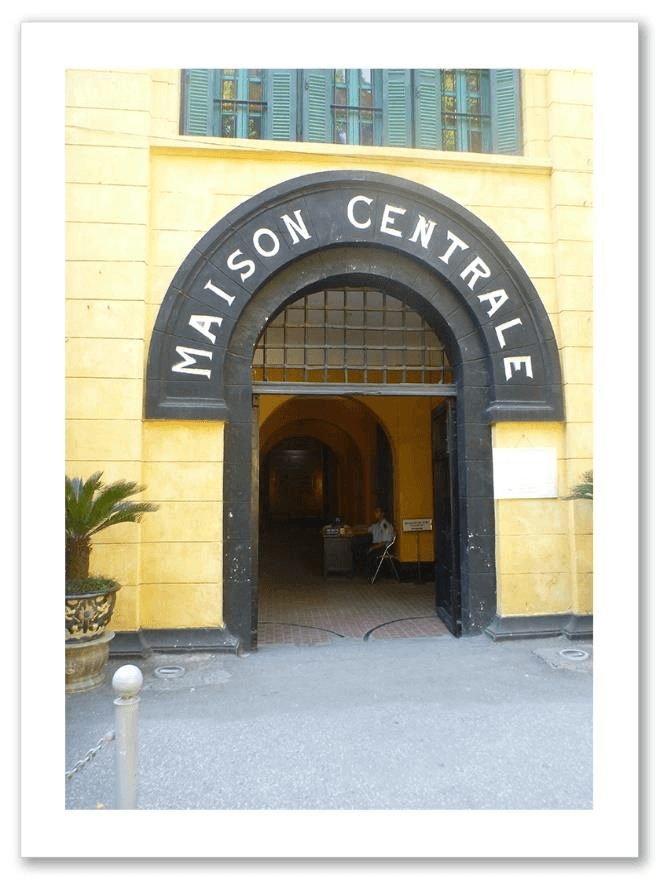 they will never fade from history.  Not
inconspicuous by their absence are the
names of the jailers during the period
Americans were incarcerated.
If your knowledge of the sacri-
fices endured by Vietnamese national-
ists under French rule is deficient, take
some time, preferably alone, in the execu-
tion room with the guillotine, and try to
recreate the sounds that must have
echoed on execution day.  Take your
time and the images soak in, and then
remember that our Vietnamese allies had
"tiger cages" on Con Son Island that are
not on anyone's tour itinerary.  Nobody
likes prisoners, and the conditions of
their confinement bring out the worst in
everybody.  A visit to Hao Lo Prison will not rest lightly on anyone's shoulders.
Still and all, the tour reveals the pluck of the human spirit under the most ex-
treme grueling conditions.  Not to be missed.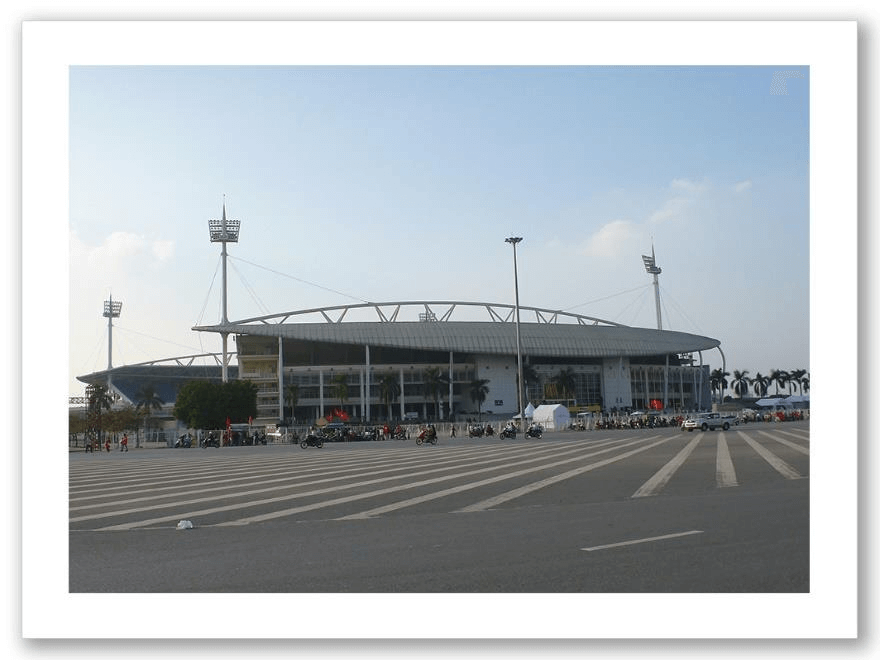 Later that evening
Stone took us to the stadium
which was donated to the
Vietnamese by the Chinese.
We and forty-two sparrows
got there early to watch the
Indonesia/Philippines game,
and there was no joy in the
Muslim world as the Philip-
pines spanked them good,
4–0.  I liked it a lot!  There
were a couple of hundred
Indonesian fans and they
were loud in support of their team; the Filipino fans, and I can never understand
this, were seated in a section right alongside.  They really gave it to the Muslims,
utilizing the old American chant "you, you, you old asshole, you."  Nothing like an
international soccer match to bring out murderous hatreds—Argentina/Brazil
springs immediately to mind.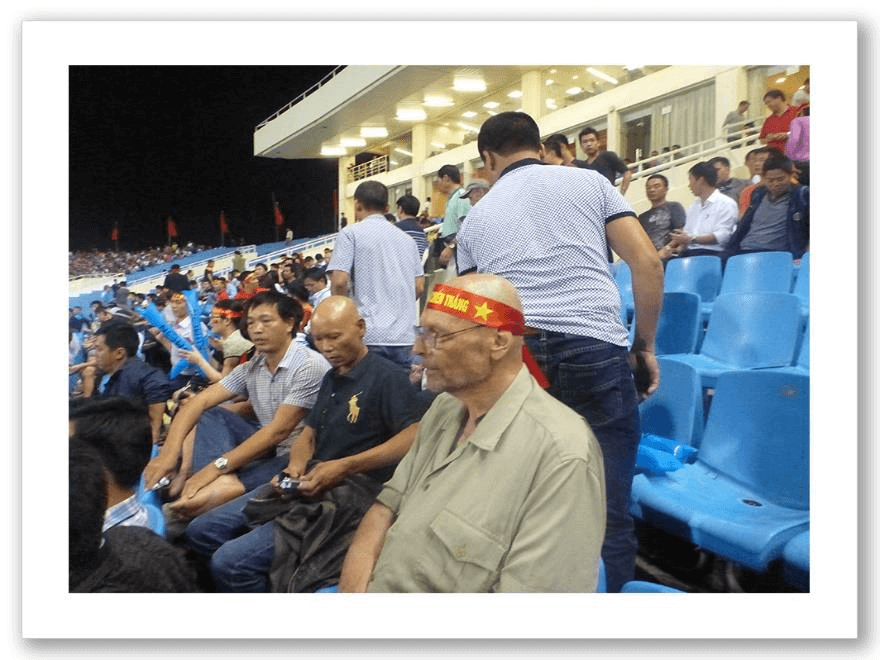 Stone had gotten us
good seats, and I was the only
roundeye in attendance.  In
fact, that whole evening I saw
no other Caucasian.  I was ap-
propriately attired so I would
not be mistaken for an embassy
type but the Lao match was not
the story; it was the half-time
show which featured scantily
dressed Vietnamese young
women and men performing
cheerleading routines.  We
were treated to the pyramids, the splits, the whole moronic American shake your
booty cheerleaders show.  My camera was banging away; Stone was aghast at
what he called "this revolution".  Then a scantily clad Vietnamese woman ap-
peared in the stands, reinforcing my observation.  I told Stone not to worry—we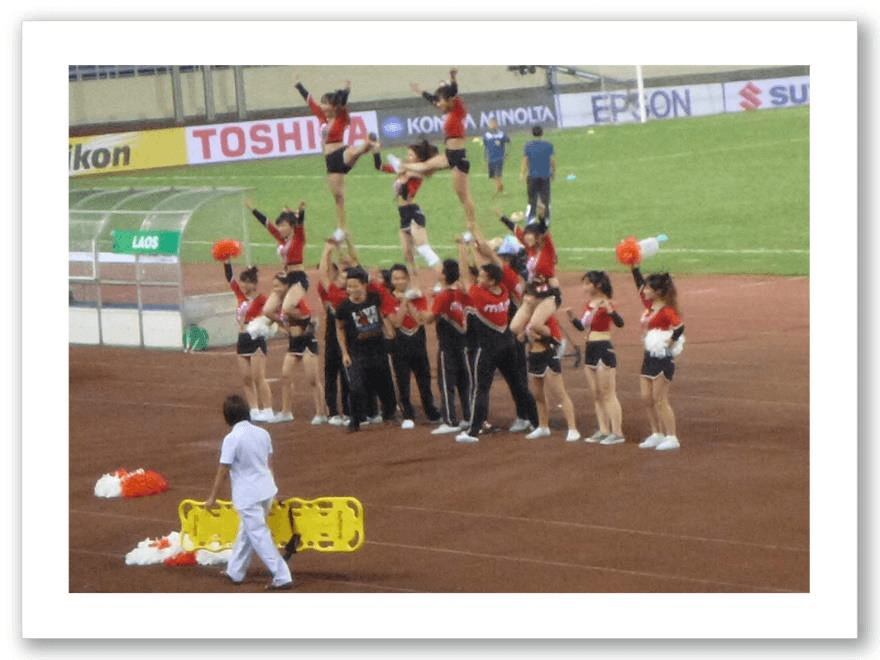 won the culture war hands
down.
As we came back to the
hotel area I could not fail to
notice that Hanoi was alive
with activity.  Buildings were
being torn down at night and
rebuilt the next day; single
shops were ablaze with light
as owners set up new stores.
Once again I shuddered at
the comparison to Newark.
There are more productive
people in the streets of Hanoi in the middle of the night than there are in Newark
in the daytime.  Clearly Hanoi is operating in an arena of ideological and econom-
ic schizophrenia, but there is no open poverty and no dole, and permissiveness
is not much in the air.  The politicians cannot seriously believe the economic poli-
cies they openly mouth.  Frantic hard work is the norm.
I had a bit of a spell at the night market and Stone escorted me home.  He
realizes I am a bit shaky and comes by every day to check up on me, bringing
bread and yogurt to make sure I eat.  The other evening he showed up espousing
a theory held by the Vietnamese sportswriters that both soccer teams would ad-
vance if they played to a draw.  The Vietnamese side did themselves proud and
won 3-1; unfortunately, because of the goal aggregate they did not advance.
Stone will be leaving for a trip on Thursday as I head home.  We finished
the Tao of the List, and tomorrow I will take him to the Vietnamese Stock Ex-
change.  Let's see if the 40 Wall Street business card gets us in, and then a
celebratory lunch on the verandah of the Metropole—is there a better way to
go out?
Day Twenty-nine
Overcast, cool, lowering
No revolutionary content
"The Attack On The Hanoi Stock Exchange"
Today is the Hanoi Stock Exchange day and Stone arrives freshly bar-
bered, sans bandana and wearing a tie, looking very well indeed.  I must have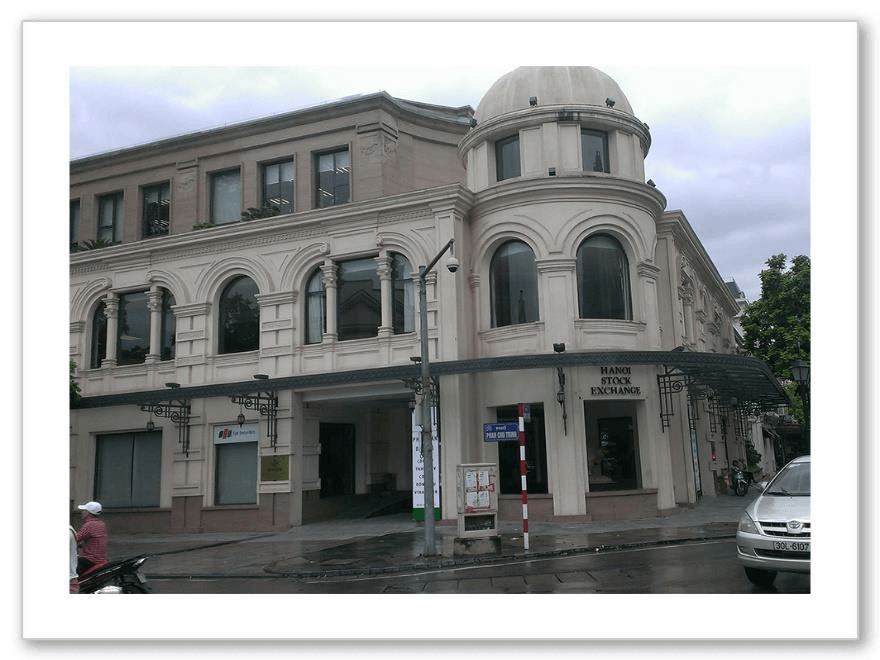 a word with him about his
choice of tie; it is best to be in
tip top form when dealing with
the smoke and mirrors crowd.
I was Brooks 346 all the way
except for the shoes, which
almost looked like brogans but
hopefully they would pass for
Clarks.  In my experience,
stock exchange types will
countenance some eccentricity
but nonconformist shoes may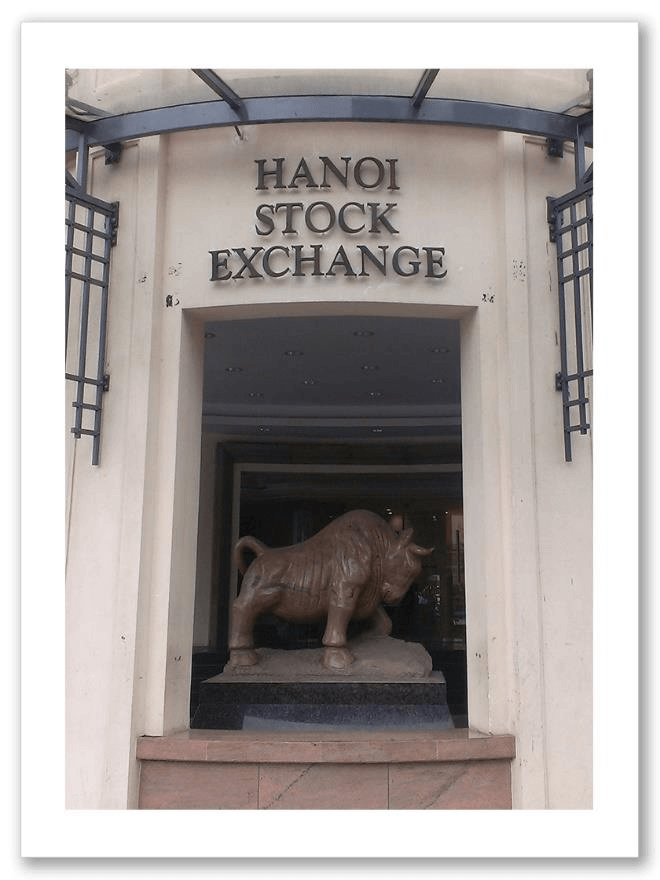 be the limit.
The Hanoi Exchange is housed
in a magnificent French Colonial building.
Stone, immediately grasping what is afoot,
parks the bike some distance away in the
Opera House parking lot—better not to pull
up to the Hanoi Stock Exchange riding tan-
dem on Red Rage.  Stone is progressing
very well indeed as he gamely attempts to
save me from social faux pas.
We, affecting our best hip New York-
er style, slowly approach the front desk
in a lobby that is truly magnificent, if des-
titute of anything going on.  I flash the 40
Wall Street business card and ask if we
may visit the Exchange.  There were no
fewer than three receptionists, all doing nothing at all.  I approached one young
woman who from the look on her face gave the impression I was speaking Hindu-
stani, but she passed along the information nevertheless.  A most charming P.R.
type appeared, soon to be followed by another, and we were off, chattering like
the good old days at Enron.  Stone and I were shown a very well-appointed Inves-
tors Room which was devoid of investors, and three traders who were allegedly
auctioning unregistered securities.  They looked like the penny stock brokers
I see on Wall Street every day—shifty eyes, bad off-the-rack suits.
Now, I have been told that in the old days, trading commodities and mining
stocks on the Vancouver Exchange was the true test of a trader's mettle, no pun
intended.  If you could survive six months on that exchange you could survive
six months in the Congo with a jack knife.  I told Stone later that I thought it best
we not involve ourselves with the local smoke and mirrors crowd—trading, nay
buying by auction, unregistered securities in a communist country beats the
notorious risk taking in Forex by a mile.
Two more charming and lovely young ladies arrive, identifying them-
selves as "from human resources."  They advise us that, contrary to their initial
agreement (and it was probably a result of my allusion to the SEC; that specter
never helps the digestive system in third world markets) we would not be able
to see the trading floor.  It was sweetly done.  I asked how the two worlds of the
Stock Exchange and the Communist party ideologies could co-exist.  Those
worlds are diametrically opposed, and as hard as I tried I could not reconcile
them.  The H.R.  lady was beyond excellent, and, with an almost beatific smile,
indicated that it was a matter of "policy", and that she did not have enough in-
formation to provide an answer to my question.  It was the fifteen second pause
before she responded that betrayed her concern.  A real concern, given that the
Party could shut down the Exchange in the blink of an eye.  I told her I complete-
ly understood, and I think I did.
The next question was based on a bet Stone and I had made one evening
when we were in the wilds and bored out of our skulls.  He knew nothing about
the stock market, but I told him that from what I saw the Hanoi market should
be booming.  I bet him 5000 dong (twenty-five cents) that the market was up and
he, by means of his magic phone, collected on my bet.  However, in addition to his
report every morning concerning the prospects for WWIII, he was required to
report on the market.  It had continued to go down.  In my best broker hip-speak
manner I reference Stone's concern that over the past weeks the market had
been falling off, as they like to say.
Stone launched this missile in the guise of a question, and think of this
in the Hanoi Exchange: a charming, well-spoken Vietnamese young lady comes
back with a response that would warm any penny trader's larcenous soul, "Oh, it
is only a temporary correction."  A "temporary correction" in a communist coun-
try—the schizophrenic economic dogs are out of the cage!  Stone nodded ever so
sagely.  I noted that the Exchange had umbrellas and other items bearing the
Hanoi Stock Exchange logo.  They loaded us up and I gave an umbrella to one of
my lefty friends, telling her to pop it open in front of her New York hipster col-
leagues.  Report back a five star triumph.
To celebrate our success we repair to the veranda of the Metropole, and
as an indication of just how far we have ascended in the Hanoi social firmament,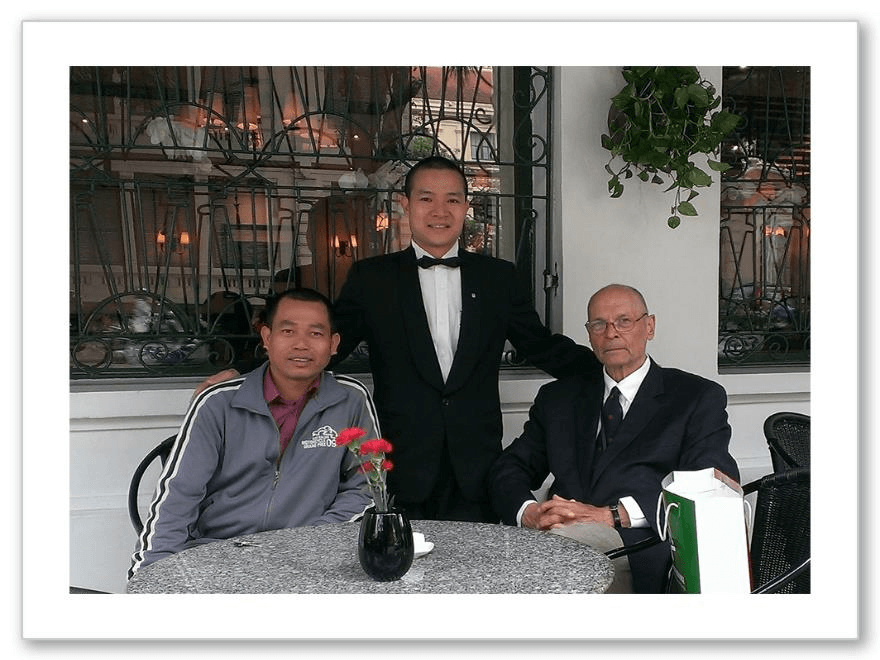 René spies me and guides
me to my usual table which
had not yet been set up but
is ready in a nanosecond.
René inquires solicitously
as to the whereabouts of
my colleague and at that
moment Stone appears, for
once not looking piratical,
and the bride judging be-
gins.  I am sorry to say
brides were light, but on
this most auspicious occa-
sion one wore jeans and ghastly flats under her bridal dress—she was immedi-
ately consigned to the social junk pile.
Stone is bringing a Vietnamese, nay almost a Lombroso-like, approach to
the grading, placing great emphasis on facial features and eyes.  This would find
great favor with my father who believed eyes were the highway to the soul.  In-
deed, Stone in assessing one bride said she had eyes that, if you took her home,
guaranteed she would fight with your mother.  A few made the cut, but given the
paucity of the candidates we did not think it fair to assign a clear winner.
What follows is yet another Hanoi treat, this one artistic.  I am a fan of
Sebastian Laval, a French photographer whose most notable works are shot in
black and white.  As Stone and I were proceeding to the hotel I saw a little shop,
no more than nine by fifteen, displaying black and white photographs which were
simply treasures.  We spent the next two hours perusing the works of Ta Quang
Bao, brother of the charming English-speaking Vietnamese woman who ran the
shop.  I savored every photo, but it was what happened when I first entered that
got me.  The proprietress asked whether I was living in Vietnam as she only saw
me with Vietnamese, which was unusual.  We started to chat and she said she
understood I was interested in photography as I had been seen taking pictures in
the vicinity of Hang Ga intersection.  Comrade Stone looked puzzled and I gave
him a brief explanation of my actions.  Jokingly, he asked if I had lost my mind
when he was not around.  I replied it was all in support of the revolution—that
quieted him down.  It was tough to leave the little shop with its wonderful photo-
graphic display of the real Vietnam, better than any museum I had visited.
Next we headed off to purchase some "Vietnam Will Win" bandanas, and to
yet another priceless Hanoi moment, as we enter a tiny shop selling Vietnamese
supporter gear for fans to wear to games.  I needed three bandanas, and Stone,
who never pays first price, starts bargaining with the proprietress, a pleasant
faced woman probably a little younger than me.  I tell him to get real and peel off
30,000 dong, about $1.50.  She gives me the three bandanas, and I kiss her hand.
She hands me another bandana and blows me a kiss with a big smile.  Who says
a seventy-eight-year-old man can't be gallant?
Comrade Stone and I go to the hotel and we both know it is unlikely we
will ever meet again.  I present him with the tiger calligraphy that I got at the
Temple of Literature and tell him to never forget he is "The Tiger"; I always be-
lieve the best gifts are those you want for yourself.  He roars off, but Comrade
Stone will never be forgotten, as he safely got me through a nearly month long
adventure when he hadn't thought I would last three days.  Yes, our office will be
only two minutes from the Exchange so we can hit the Metropole veranda every
day for lunch, where Stone can continue to share his insights into the universe
of the soul.
Day Thirty
Cool, damp
No revolutionary spirit
Back to the Metropole veranda, this time solo.  René, always solicitous,
gives me our regular table, but without Comrade Stone's commentary, the
experience will not be the same.  I decide to settle in, order a light lunch and wait
for the action.  There was no action but the lunch was delicious.  To add insult to
Gallic pride, and much to René's amusement, I finish off my meal with an English
Breakfast tea.
Only two bridal couples in sight, but the second was either to die for or to
retch over.  He, ramrod straight, in an Armani suit; I was a bit put off by the red
tie, but I did not mark him down thinking it was most likely a patriotic gesture.
Still, he was probably the most handsome Vietnamese male, in a very stiff way, I
had ever seen, until I got to the Confucian fingernails.  These were three inches or
more in length, the last one at least four inches long with that terrible Confucian
curve probably bringing it to five.  She, although a bit plump in the face, was at-
tractive and bubbly.  I thought she was giving it her all.
This was serious business and I signaled for René, as I clearly needed help.
When I asked him what was up with the fingernails he called in the assistance of
two female waitresses and the security guard who spoke good English.  To the
casual observer noticing the crowd around the table it must have looked like a
fly had died in my soup.  As judges we were in agreement that the photo poses
lacked any warmth whatsoever, and the tableaux were frigid, despite the bride's
best attempts to put a loving light on the situation.  All my colleagues in this con-
curred that there was something quite odd, in this day and age, about the finger-
nails.  I, as a disciple of Mao, hold to the view that the long fingernail guys ought
to do a bit of farm work to get with the program.  Perhaps my position was a bit
too strong but the groom was definitely off.  He looked to me like a potential axe
murderer, and we all feared for the bride's life with him.  Where is Comrade Stone
when you need him?
Later that day I headed off for another run through the Quang Bao photo-
graphs.  The experience was as magical as it had been the first time.  The pro-
prietress, looking me square in the eye, queried me again about my having been
seen with Vietnamese, and about my photo-taking at Hang Ga and Hang Got.
That took me back, as my East German garb fools nobody in Hanoi.  I told her
Comrade Stone was my guide and the other people were friends of his from a
motorcycle shop deep in the Quarter.  So much for anonymity.  I bought two
more photos I didn't have money for and walked back to the hotel trying to take
in every last smell, sight and sound that made up the ambiance of Hanoi.  It was
great fun, but then back to the real world of packing away the dreams of the
North.
As a last anarchist act I decided to try a street pho seller.  They come out
as darkness falls, and I wandered around until I found just the right one, with the
barest illumination, and had a chicken pho.  I hadn't eaten anything except the
light lunch and the food was most delicious; and thanks to the dim lighting no one
could see my bad chopstick etiquette.  Most filling and very cheap.  I must try
this again very soon.  Maybe I have been too harsh on yellow chicken.
Day Thirty-one
Warm, humid
No revolutionary fervor
"The Rickshaw And The Pedicab:
Constant Reminders Of Imperialist Suffering"
When I first arrived in Japan in 1958 I rarely visited Tokyo, so the rick-
shaw did not register prominently in my mind.  This was soon to change as I
traveled through Hong Kong, Singapore, Cambodia and Laos, eventually coming
to rest in South Vietnam.
I never liked the fact that overweight, beefy European men and their
"fancy ladies", a term my mother used to describe a variety of female sinners,
were constantly urging greater speed from their human beasts of burden.  I
formed an intense hatred of these men and women.  My anger was more than
matched by the two women, worlds apart, with whom I associated during the
years in Indochina.  One, a Cun Loi teenager in Saigon, the other a worldly Chi-
nese woman in Hong Kong who traveled at the periphery of the Taipan's world.
Both were apoplectic about the rickshaw, finding it to be a constant reminder
of the European subjugation of their race.
Although worlds apart in age, sophistication and political savvy—the
Chinese woman was an open and vociferous admirer of Chou En Lai, at a time
in Hong Kong when 99% of the population hated communism—both she and
the Saigon teenager had devastatingly effective approaches to inflicting public
humiliation on those who patronized the rickshaw.
Christine, ravishingly beautiful, would, when in a traffic jam where a rick-
shaw was near, first in Cantonese, next in Mandarin, then in toffy English, hurl
insults at the male passenger who had, until the English insult arrived, not a clue
what was being said.  She would then end up with a Mikado-like sing-song, attrib-
uted to the Shanghai ladies of the night who cried out as the Japanese were ap-
proaching: "Me no money, me no worry, me no cry, me just find another guy."
Christine did this in such a ladylike fashion it was almost art; but it was pure
malice.  When she started I could see cab drivers smile, and on one occasion a cab
driver refused to take money, saying in excellent English he "enjoyed the show."
As a final insult, although she had little money, Christine always handed some to
the rickshaw man.  It was a hard vaccination but I needed little prodding to join
the team.  If truth be told I was hoping for violence.
Mab was much younger, brought up in a tough milieu, not too far from the
street.  Her anger was not as subtle but the approach mimicked Christine's.  In
traffic jams she would start right in on the woman, first in French, then shifting
quickly to a grating Vietnamese loud enough so those around could hear.  In her
very prim blue and white Catholic schoolgirl's uniform the effect was devastating.
The fact that she was Cun Loi added to the incandescent ambiance; the insults
were generally hurled in beautifully unaccented French.
One cab driver congratulated her in perfect French and she responded in
kind.  Made me proud, right out of My Fair Lady.  I missed those encounters but
today I got to "trip back."
I was nearing the end, and a bit out of sorts, as the black flag and the sweet
smell of anarchy began to stir in a light psychological breeze.  I had overslept and
decided, although not a good photographer, to do as Neil Davis, a great guy and a
great war photographer in Southeast Asia once told me: "let the shot come to
you."  So I moved up the street from the hotel to the intersection of Hang Ga and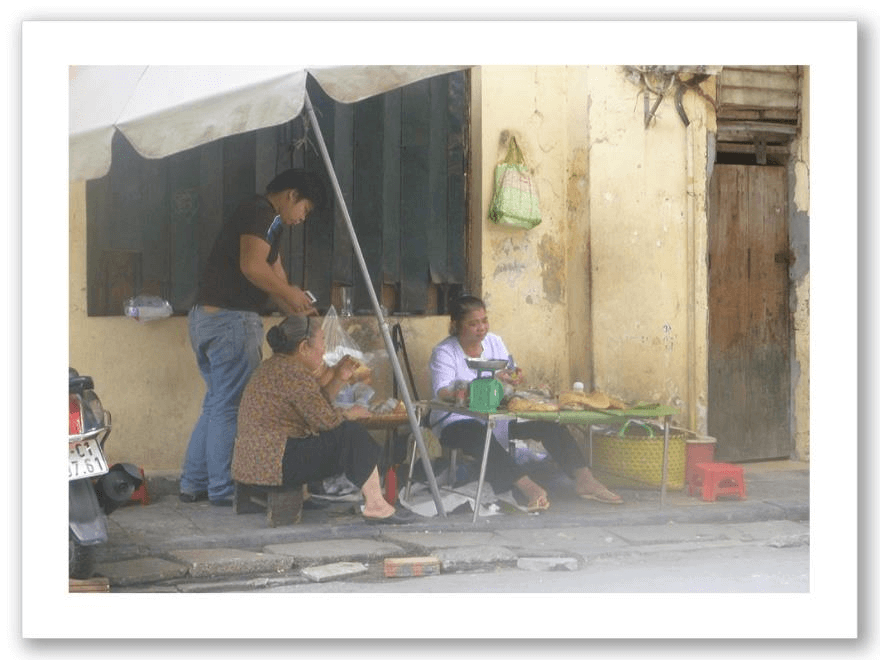 Hang Cot, got a bowl of rice
soup, and after a while moved
to the very edge of the street.
The owner of the soup
joint was more than pleasant,
especially when you consider
that roundeyes out front do
not draw in business.  I took
several shots, but noticed that
the pedicabs, and this was
most often around 10:00 am
and 3:00 pm, snake through
the quarter carrying syphilitic
European and American men, banging away at the "locals" with cameras costing
the equivalent of a year's wages for a Vietnamese worker.  These men were
accompanied by pasty-faced overweight western women, who were also banging
away like mad.
Christine and Mab's bile began to rise and I took the bait.  I stepped out in-
to the street to photograph the men and women who were taking pictures of us.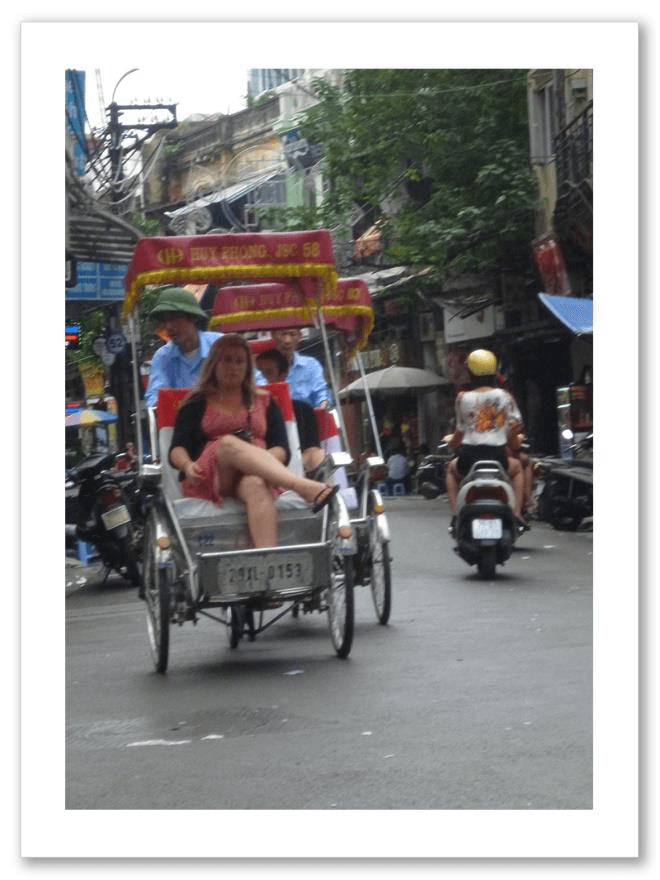 They stopped taking pictures, but I kept at
it.  A pedicab approached with a portly
plus American woman.  Her dress revealed
thunderous thighs with exposure just one
inch short of the promised land.  The pedi-
cab driver smiled when he saw what I was
about.  He shot me the clenched right fist
salute.  I shot one right back.  He laughed
openly and for a moment I realized just
how much I miss Chris and Mab.
I have never been anyone's hero or
warrior prince, and I know not where to
find Mab, stolen from me and robbed of
her life, or Chris, who was offered and pur-
sued many paths in the forest, but I hope,
if only for a moment on a street corner in
Hanoi, they knew I was their champion.
I staggered back to my hotel feeling stronger thanks to their rages.  What the
shopkeeper must have thought watching the clenched right fists flashed by the
strangest of persons in front of his shop is anyone's guess.  I went to sleep happy!
Leave-taking
Hard for me to leave this country I had fought against.  I contemplate the
seductive contradictions of Hanoi, the riot of color and sound at the Van Dong
market, the enchantment of the Princess of the Mists, the majesty and innocence
of the North, and the man who made it all happen for me, and a smile takes over
my face.  The bucket list is finished, but the memories will live to the last.
My plane was not scheduled to leave until midnight and so, as is my wont,
I arrive at the airport early to view the local fauna and the rich at play.  With
four hours to spare I had plenty of time to cruise the lounges and the departure
savannahs, and much was afoot.
My first encounter with the natives was at a tourist shop where an ener-
getic clerk was in high gear as he attempted to sell me a $6,000 jade bracelet
overpriced at half the price, even after I told him I had no woman in my life.  I
believe it is safe to say one should not buy jade just before one is to jump on an
international flight, perhaps never to return.  He was persistent and I stayed in
the game for about an hour.  When I offered to buy him a cup of tea we adjourned
to the food court and my Marxist economic lesson began.
There were three food vendors: Burger King, and two Vietnamese joints,
Big Rice Bowl and, I believe, Red Rice Bowl.  Burger King was booming and I
decided to get into the food fray.  The ordering process was unique.  You were
handed a menu card with photos of the selections, you pointed to what you
wanted, and after a short delay the food would appear.  The line was long; I was
the only roundeye.  I tasted the food and I had an epiphany: after taking just one
bite—the mess in your mouth a cross between shoe leather and cold cheese—no
sane person would ever enter another Burger King.
What got me was that the Vietnamese were not patronizing the Vietnam-
ese food stands, but were lining up for the tough, clammy Burger King!  The
Vietnamese stalls were patronized by the Birkenstock crowd, about five of them
with their intense '60s gazes.  Middle-aged, but going native.  Two men sported
those wispy beards that did not say much for their masculinity.
I pointed out this Marxist contradiction to my tea drinking friend.  He
opined that "average Vietnamese teenagers", if there be such a thing, were
crazy for western goods, and were turning their backs on street food sellers to
patronize places like Burger King and Kentucky Fried Chicken.  I asked him
the reason for such behavior and he answered "MTV."  Although this further
evidence of our victory in the war put a half smile on my face, the fact that
MTV was the vehicle for this triumph beyond saddened me.
I took my leave, the shop clerk asking me again if I could see my way to
$5,000.  I could have the bracelet—he would even take a check.  I politely de-
clined and boarded the steel bird for the flight home to the land of the "Big BX",
contemplating all the way the triumph of American food imperialism.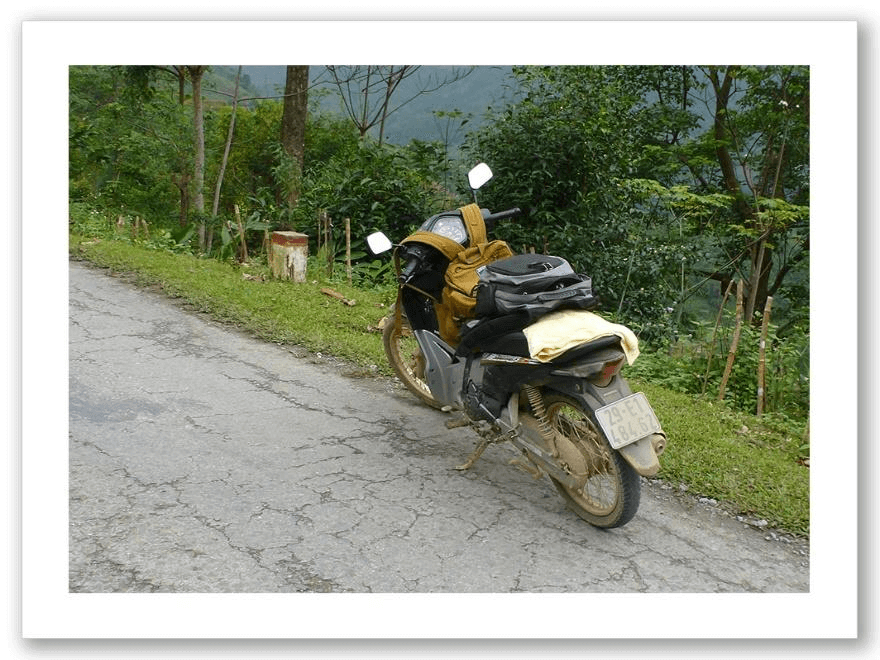 - Fin -
Special thanks go to Carol Prendergast and Andy Greenberg for their
personal and financial support without which this trip would never have seen
the light of day.
The trip itself would never have taken place without the skills—physical,
psychological and mechanical—of Comrade Stone who is simply the best motor-
cyclist anywhere, and who over the course of five weeks made sure that a sick
man "got there" safely and returned.  A friend for life, and as anyone who knows
me will attest, I have few of them.
To the People of Vietnam who, with every reason to hate, always showed
me what it takes to be a gentleman.
Harry C.  Batchelder, Jr.
November 2015
Sandwich NH
Harry C. Batchelder, Jr. served as an Assistant United
States Attorney in the Criminal Division of the United States
Attorney's Office for the Southern District of New York
from 1972-1979.  Throughout Harry's tenure the plaintive sounds
of his supervisors' voices could be heard echoing
down the hallways of the United States Attorney's Office:
"Has anybody seen Batchelder . . ."